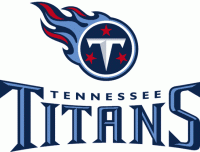 Nashville, TN – Tennessee Titans running back Chris Johnson has been named the AFC Offensive Player of the Week for his outstanding rushing performance in Tennessee's 35-34 victory at the Buffalo Bills.
Johnson rushed for 195 yards on 18 carries (10.8 avg.) and a pair of touchdowns, leading the Titans to their second consecutive victory. His 195 yards in a single game tied for 11th in franchise history, and the performance was the third-best of his career, topped only by a franchise-record 228 yards against Jacksonville (November 1st, 2009) and a 197-yard game against the Houston Texans (September 20th, 2009).
Johnson's 16-yard touchdown run, in which he scampered around the right side and dove into the end zone, gave Tennessee a 7-0 lead in the first quarter. His 39th career rusihng touchdown was his first since scoring twice at Buffalo on December 4th, 2011.
Later in the quarter, Johnson was at it again, bolting through the middle of Buffalo's defense and racing 83 yards untouched into the end zone to give the Titans a 14-7 lead.
Johnson's 83-yard run, the 40th touchdown of his career, made him the NFL's all-time leader with four touchdown runs of 80 yards or longer. He broke a tie with four other players who previously had three 80-yard touchdown runs: Barry Sanders, Ahman Green, Hugh McElhenny and O.J. Simpson. Johnson's run was the fifth-longest in franchise history and the fourth-longest of his career. Also, it was his 10th career run of 50 yards or longer and 13th career game with two rushing touchdowns.
In addition, Johnson went over 6,000 career rushing yards in the first quarter, joining Eddie George (10,009) and Earl Campbell (8,574) as the only players to reach the mark. He hit the 100-yard rushing mark for the 30th time in his career, joining Earl Campbell (39) and Eddie George (36) as the only players in franchise history to reach the mark.
As a franchise, the Oilers/Titans are the only club in NFL history to have three different players with 30 or more 100-yard rushing games.
It marks the fourth time Johnson has been named AFC Offensive Player of the Week. He also captured the honor in each of the last three seasons.