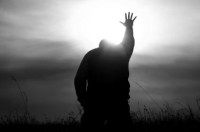 I started my morning with prayer (good time). Then, I ate (good food). Then, I praised the Lord on the way to LASATERS® in Cleveland this morning (Great Peace). Ahh, a great start to a great day! And THEN, I got on facebook. Wow. What the was I thinking? I should have known better.
The first post I saw was a status of a friend requesting prayer for her sister who is deathly ill. The next few posts I saw were political. That's enough to take a peaceful, joy-filled morning, and throw it out the window. I've been guilty of this, I know it, by adding more frustration with our political and economical climate in a post than I should have. But, this morning, was a little more than I could bear. I knew better. I knew that it was time to quickly close that window and turn on more worship music – in a hurry!
Before I closed my browser (on all of the arguing) I copied a post. It made perfect sense and seems to fall right in line with where probably most Christians want to be, but may not express it so clearly, including myself:
The saying is one should never discuss politics or religion. So, in the face of that adage, here we are: Christians discussing politics. Lord help us. Yes, too often our talk about politics degrades into challenges about how a "true Christian" should vote. Emotions are stirred as we express our convictions; truly we care about the issues of our times. Yet, let us show grace not rancor. For as important as our vote may be, it is of greater importance how we love and seek to heal the wounds that divide us. – Francis Frangipane
Right on the money, Francis!
I think the real challenge that many of us face is not expressing our opinions correctly or incorrectly, but how we respond to others when our opinions are disagreed with. Politics is an easy way to find out where someone's true heart is; not in hearing their opinion, but hearing their response to someone when there's a disagreement. Are we really honoring one another in our political discussions? Not just in our initial statement(s) of "I don't like this candidate for [this reason]" but in our responses to others when they have a different opinion?
I, too, am guilty of letting my spiritual guard down a number of times and getting personal instead of HONORING someone who disagrees with me. [So, again, my blog is for me, as well as anyone else who may need to see things from a different perspective. This one is definitely one for me!] :)
Sure, there are people who won't agree with me on political issues, and that's definitely ok, I'm not their saving grace – they don't need my approval. On the flip-side, I don't need their approval either. What we want, really, is peace during conflict, right?
What most people are looking for, I believe, is not someone to come along side them and say "I TOTALLY AGREE WITH YOU!" Rather, what we all long for in our hearts is true ACCEPTANCE. Many of us grow up rejected in one form or another. We translate this political climate, many times, to acceptance or rejection. I don't believe that the intention of all of this political gib-gab is to reject others for who they are as a person, but it may come across that way, at times. I, too, am REALLY looking forward to all of the political debating and arguing to be behind us as a country.
As I posted before, regardless who is president, Jesus is King! Please continue to pray for our country friends. One more thing… Romans 12:10 says "Love each other with genuine affection, and take delight in honoring each other." Let us HONOR each other when responding to comments that we may disagree with. I'll do my best to do the same.