APSU Sports: Austin Peay Volleyball

Clarksville, TN – Trailing 2-0 in its Ohio Valley Conference West Division contest against Southeast Missouri, Austin Peay State University's volleyball team channeled an impressive come-from-behind effort, rallying for a five-set victory (19-25, 20-25, 25-23, 27-25, 15-7), Saturday at the Dunn Center.

The match's first three sets were each wire-to-wire decisions. Southeast Missouri (18-12, 10-4 OVC West) used a match-opening 11-4 scoring run and never looked back to win the opening frame 25-19. The Redhawks repeated the feat in the second set, breaking out to a 9-4 opening lead en route to the 25-20 win.

Austin Peay (16-14, 9-5 OVC West) returned the favor in the third set, opening with a 9-3 burst. The Redhawks would close to within a point late in the set, but the Lady Govs fended off the challenge and junior middle blocker Lauren Henderson ended the set with a kill for the 25-23 victory that brought APSU back to 2-1 in the match.
The fourth set saw both teams battle throughout with nine ties and five lead changes. Southeast Missouri broke out of the gate with a 7-3 scoring run. Austin Peay would battle back to tie the set, 12-12, on an Alex Sain kill, but could not maintain its momentum in the face of a Southeast Missouri timeout. The Redhawks build another lead, 15-13, but again the Lady Govs battled and used a 5-1 run to take a 18-16 lead.
That lead would hold until Southeast Missouri rattled off four straight points to get to match point for the first time, 24-23.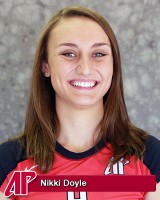 But Henderson ended the run with a kill to tie the set and senior outside hitter Nikki Doyle and senior opposite Alex Sain added consecutive kills to get Austin Peay to set-point, 25-24. Southeast Missouri fended off the first set point, but Sain again put down a kill and Henderson followed with a service ace to win the set, 27-25.
Austin Peay carried that momentum into the fifth set, opening with consecutive kills by Doyle, sophomore Jada Stotts and Sain. Another 4-0 run pushed the APSU lead to 6-2 and the Lady Govs led 8-4 at the switch-over. Austin Peay immediately scored three straight points after the mini-break to lead 11-4 and never looked back.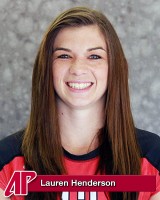 Four Austin Peay hitters reached double-digit kills territory, but Sain had the most impressive night with a career-high 18 kills – 16 in the final three sets – while posting a .441 attack percentage. Doyle added 19 kills while Henderson and Stotts each chipped in 14 kills.
Austin Peay recorded 75 kills in the win and posted a .204 attack percentage. The defense also made a statement with 101 digs – Sain accounting for a team-best 25 – and eight blocks.
Emily Coon led Southeast Missouri with 21 kills and a .378 attack percentage. Colleen Yarber added 11 kills. The Redhawks were held to 56 kills after recording 30 kills in the opening two sets.
The Lady Govs continue their regular-season ending four-match homestand with a 7:00pm, Tuesday contest against Murray State.
Notes
Austin Peay improved to 5-2 in five-set matches… the Lady Govs won for the third time when losing the first two sets… Austin Peay won its sixth consecutive home match… the Lady Govs secured a spot in the OVC Volleyball Championship, to be held at Morehead State in two weeks.
Doyle finished the night with 404 kills this season and became the first Lady Govs player to record three 400-kill seasons during their career… Henderson followed a 13-kill performance, Friday against UT Martin, with Saturday's 14-kill outing.
Photo Gallery
Box Score
Southeast Missouri vs Austin Peay
(Nov 3rd, 2012 at Clarksville, TN)
Southeast Missouri
ATTACK
SET
SERVE
SRV
DEF
BLOCK
GEN
##
Player
SP
K
E
TA
PCT
A
SA
SE
RE
DIG
BS
BA
BE
BHE
Points

1

KALINOSKI, Brittney

5

8

8

60

.000

1

0

2

1

12

1

1

0

0

9.5

3

LOWMAN, Samantha

5

0

0

0

.000

1

0

0

1

13

0

0

0

0

0.0

5

COON, Emily

5

21

7

37

.378

0

0

0

0

3

2

4

0

0

25.0

6

SHIVES, Julie

5

2

0

7

.286

45

0

2

0

19

1

0

0

0

3.0

9

MASTERSON, Taylor

5

4

0

17

.235

0

0

0

0

0

1

4

0

0

7.0

12

YARBER, Colleen

5

11

3

44

.182

0

1

0

2

17

0

3

2

0

13.5

4

BECK, Erica

5

0

0

0

.000

0

2

0

0

0

0

0

0

0

2.0

7

LURSEN, Karlee

2

0

0

4

.000

0

0

0

1

4

0

0

0

0

0.0

11

IDEL, Berkley

5

0

0

3

.000

1

2

0

3

21

0

0

0

0

2.0

13

KEEVE, Kelsey

5

10

1

26

.346

1

0

0

0

2

0

4

0

0

12.0

Totals

5

56

19

198

.187

49

5

4

8

91

5

16

2

0

74.0

TOTAL TEAM BLOCKS: 13.0
TEAM ATTACK BY SET
Set
K
E
TA
Pct
Sideout
Pct

1

16

3

33

.394

13-19

68%

2

14

1

33

.394

16-21

76%

3

11

6

48

.104

13-24

54%

4

12

5

64

.109

15-27

55%

5

3

4

20

-.050

5-14

35%

62-105

59%

SET SCORES
1
2
3
4
5
TEAM RECORDS

Southeast Missouri

(2)

25

25

23

25

7

18-12, 10-4 OVC

Austin Peay

(3)

19

20

25

27

15

16-14, 9-5 OVC
Austin Peay
ATTACK
SET
SERVE
SRV
DEF
BLOCK
GEN
##
Player
SP
K
E
TA
PCT
A
SA
SE
RE
DIG
BS
BA
BE
BHE
Points

1

FIELDS, Cami

5

1

1

6

.000

64

0

1

0

14

0

4

0

0

3.0

5

SAIN, Alex

5

18

3

34

.441

0

1

0

0

25

0

0

0

0

19.0

9

DOYLE, Nikki

5

19

8

62

.177

0

0

4

2

24

1

0

0

0

20.0

12

HENDERSON, Lauren

5

14

4

30

.333

4

3

1

0

6

2

1

2

0

19.5

14

STOTTS, Jada

5

14

8

47

.128

1

3

0

2

17

0

1

0

0

17.5

15

PLYBON, Hillary

5

9

8

32

.031

1

1

1

0

2

1

2

1

1

12.0

2

HULL, Calyn

1

0

0

0

.000

0

0

0

0

1

0

0

0

0

0.0

7

MARSELLIS, Aubrey

1

0

0

0

.000

2

0

0

0

0

0

0

0

0

0.0

8

LANDON, Liz

5

0

0

0

.000

1

0

0

1

12

0

0

0

0

0.0

Totals

5

75

32

211

.204

73

8

7

5

101

4

8

3

1

91.0

TOTAL TEAM BLOCKS: 8.0
TEAM ATTACK BY SET
Set
K
E
TA
Pct
Sideout
Pct

1

14

4

29

.345

13-25

51%

2

15

6

32

.281

15-24

62%

3

18

9

57

.158

14-24

58%

4

19

10

74

.122

15-25

60%

5

9

3

19

.316

6-8

75%

63-106

59%

Site: Clarksville, TN (Dunn Center)
Date: Nov 3rd, 2012 Attend: 421 Time: 2:01 Referees: James Lawson, John Hunley

| | | | | | | |
| --- | --- | --- | --- | --- | --- | --- |
| | 1 | 2 | 3 | 4 | 5 | Total |
| Tie scores | 2 | 0 | 0 | 9 | 0 | 11 |
| Lead changes | 1 | 0 | 0 | 5 | 0 | 6 |
Sections
Sports
Topics
Alex Sain, APSU, APSU Athletics, APSU Dunn Center, APSU Sports, APSU Volleyball, APSU Women's Volleyball, Austin Peay State University, Clarksville TN, Colleen Yarber, Emily Coon, Jada Stotts, Lady Govs, Lauren Henderson, Murray State, Nikki doyle, Ohio Valley Conference, OVC, OVC West, Redhawks