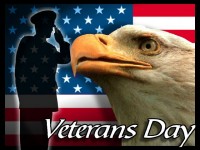 Clarksville, TN – When I woke up this morning, I had forgotten that the Veteran's Day parade was being held today. You see, I teach beginning digital photography for the Community School of the Arts (CSA) on Saturday mornings, and as I was nearing Austin Peay, I saw that 8th Street and College Streets were blocked and still didn't realize what was going on. I had to detour to get to my class and so did all of my students.
When we got to the classroom we discussed the parade and what a fabulous learning experience it would be for the class. Everyone grabbed their cameras and to the parade we went. All we had to do was walk outside the classroom and we were at the parade with a perfect spot to watch.
This would be a teaching tool that had meaning. I have many students with a military connection and this would not only be a photography lesson, but a life lesson too.
We were able to watch the entire parade. High School marching bands, ROTC groups, beauty queens, Girl Scouts, fire trucks, horses, classic cars, motorcycle groups and more, and most importantly the veterans. These were service men and women from many wars including this one.
What a spirit of unity and pride was demonstrated today. So many American flags were proudly waiving in the gentle breeze.  The parade participants proudly displayed other military and group flags, on cars, motorcycles, emergency vehicles and vehicles carrying participants. Flags for different Veteran's groups added a poignant reality to those we were remembering and honoring today.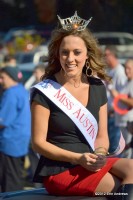 It was perfect weather to be at or in a parade. Young and old alike were showing their support by either being in the parade or by lining the streets in support. Politics were not present, only a unifying love of country could be felt. Smiles, tears, laughter, candy being tossed to the crowd, and the crowd shouting out to those passing by were things being witnessed.
My students were all rapidly taking photos. Standing on the wall and sitting on the ground they got a birds eye view of the celebration going on. This was a great lesson in using a fast shutter speed to stop action and take a photo that was not blurry.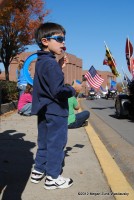 I asked my students how they enjoyed the parade and being able to photograph the event. "The parade was a good showing of the support Clarksville has for the military and the other community members in general," said Tiffany Korn.
Erin Andrews said, "The parade was the perfect opportunity to apply what we are learning in class. The movement of the parade, working around parade observers to get a clean shot, and the sun were all challenges that forced us to manipulate settings and apply what we learned to get the best shot. Taking learning outside the classroom took learning to a whole new level. It's one thing to shoot your weekly assignments and then get feedback when the class meets but to have immediate help and feedback during a shoot was very beneficial."
The pay off was seeing all of the photos that they took. You are getting to experience that with them, as these are all students' photos.  I could not be prouder of the job they did.  We hope that you will enjoy the photos courtesy of the Community School of the Arts beginning digital photo class.
I am proud of my students and proud of my Veterans. Today we honored you, but we thank you every day!
For more information on the Community School of the Arts and the Beginning Digital Photography class with Lois Jones contact Matthew Burns at: Phone: 931.221.7508 Email: csa@apsu.edu Web: www.apsu.edu/csa
Lois Jones is the Director of Student Placement at Miller-Motte Technical College, photojournalist, and instructor of Beginning Digital Photography for the Community School of the Arts.
Photo Gallery
Photographers
Christy Benacci
Damaris Mack
Megan Zunk-Wasilausky
Erin Andrews
Tiffany Korn