Oakland City vs. Austin Peay Governors
December 5th, 2012 | 7:00pm
Dave Aaron Arena/Dave Loos Court | Clarksville, TN

Clarksville, TN – Austin Peay men's basketball team will seek to bounce back from a disappointing performance when it plays host to Oakland City, 7:00pm, Wednesday.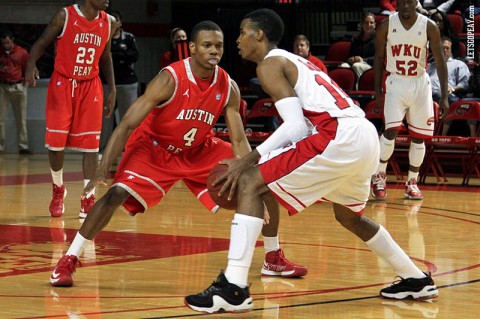 The young Govs were beset by 21 turnovers against a veteran Fairfield team, leading to APSU's first home loss this season.
Oakland City is averaging better than 90 points per game on the young season and comes in at 4-1.
Wednesday night will serve as Academics Night for APSU student-athletes, APSU will honor its OVC Scholar-Athlete, OVC Commissioner's and APSU Athletics Director's Honor Rolls at halftime.
Fastbreak
After playing four straight games away from Dave Aaron Arena, this is Game 3 of the Govs' three-game homestand. The Govs are 1-1 on the homestand.
This is Austin Peay's third meeting with Oakland City, the Govs owning a 2-0 meeting in the series.
Oakland City comes in with a 4-1 overall record.
The Mighty Oaks are a high-scoring NCAA Division II team, averaging 93 points per game. They average seven three pointers made per game.
Despite averaging more than 90 points per game, only two Mighty Oaks are averaging in double figures. Guard/forward Mitch Stahl is averaging 20.4 ppg, along with a team-best 7.8 rpg. He also is second in the team in assists, averaging. 3.4 apg.
In addition, guard Cameron LeFear is averaging 16.3 ppg, despite averaging only 20.3 minutes played per game.
Despite a roster with just one player standing taller than 6-6, Oakland City is out-rebounding the opposition by 9.8 rpg.
Mike Sandifar has been coaching for 35 years and has been with the Oakland City program since August 1987. He has served as either basketball or athletics director or both since.
What You Should Know
The Series: This is the third meeting between Austin Peay, a member of the Ohio Valley Conference, and Oakland City, a member of the National Christian College Athletic Association. The Govs own a 2-0 mark in the series, with the last game being played in the 2008-09 season, a 97-61 Governors win in Clarksville.
Deeper Meanings
What A Win Would Mean: The Govs would move back to the .500 mark at 4-4. They would go to 1-1 in December. The Govs would end their three-game homestand at 2-1. They would go to 3-0 all-time against Oakland City. Head coach Dave Loos would go to 3-0 against Oakland City. Loos would go to 3-0 against Oakland City coach Mike Sandifar. It would leave Dave Loos one victory shy of 450 for his career.
What A Loss Would Mean: The Govs would drop two games under the .500 mark at 3-5. It would be the Govs' second home loss of 2012-13. The Govs would fall to 0-2 in December. It would be Dave Loos' 315th APSU loss and 368th all-time.
Honored Again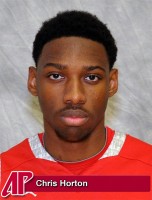 Center Chris Horton was named OVC Freshman of the Week for a third straight week after averaging 12 points and 7 rebounds per game. Horton shot 71 percent (10 of 14) from the floor during the two games and had five blocked shots.
He scored 15 points against Berea College and then had nine points and a team-high eight rebounds versus Fairfield. He becomes the first Governor to win the Freshman of Week honor three times in a season since Drake Reed won it four times in the 2005-06 season.
Finding The Range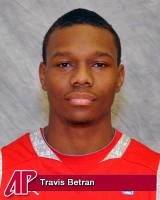 Junior guard Travis Betran was 3-of-6 from three-point range against Fairfield. It was the fourth straight game he had at least three three pointers.
Betran is now 18 of 39 from three-point territory this season, his 46.2 percent shooting ranked 30th nationally.
Turnover Troubles
The 21 turnovers against Fairfield was the second time this season the Govs committed 20 or more turnovers this season. They also had 27 against DePaul.
Possession Inefficiency
The Govs had 64 offensive possessions against Fairfield but only scored on 25 of them.
Horton Hears A Who
Center Chris Horton has blocked at least two shots in every game this season , with a total of 20. His 2.86 blocks per game are ranked 14th nationally in the last NCAA statistics.
Rest Is For The Weary
Travis Betran, who had the task of guarding Fairfield's all-conference guard Derek Needham on the night, played all 40 minutes in the contest, the first time he has done so as a Governor.
Hamstrung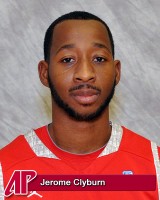 Senior point guard Jerome Clyburn, who has been battling leg issues in the early going, re-injured his right hamstring in the Govs loss to Fairfield and will miss at least the Oakland City game. He played four minutes against Fairfield before the hamstring created issues.
It was his second game back after initially injuring the leg against DePaul, forcing him to miss both Cancun contests. He has been battling leg problems all fall. The Florida native suffered a torn meniscus and underwent surgery, October 31st. He missed the first two games before returning November 17th to play 14 minutes at DePaul.