Austin Peay State University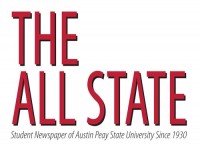 Clarksville, TN – For the first time in the 80-plus-year history of The All State, the student newspaper of Austin Peay State University, a staff member was named among the best nationally at the annual Associated Collegiate Press conference held recently in Chicago.
Christy Walker, editorial cartoonist for The All State, was given a second-place individual award for her cartoon depicting Clarksville Mayor Kim McMillan with religious items that accompanied an editorial about her private meetings with local religious officials.
Walker, an art education major, has earned regional awards for her cartooning, most recently at the Southeast Journalism Conference last February.
"I am so happy to have brought national acclaim to The All State by doing my favorite thing in the world — drawing," Walker said.
In addition to Walker's award, The All State's recently redesigned website, www.theallstate.org, also earned seventh place in the on-site Best in Show competition.
"I am glad to see that making the decision to redesign and rework our online presence has paid off," said Jenelle Grewell, editor-in-chief of The All State.
The website was redesigned earlier this semester to make it more user friendly and more fitting of the digital era. It now includes multimedia elements and the ability for readers to comment and share stories and content on social media.
"Technology runs our generation, and in order for our publication to succeed, it needs to embrace the digital world," said David Hoernlen, online editor. "Not only did we radically change our website, but we were able to immediately receive recognition for it. Our website traffic is rapidly evolving to support our vision and we are continually growing and adapting to the fact that we are no longer only a weekly print publication, but a daily."
A total of 370 colleges and universities from across the nation attended the conference from October 31st to November 4th in Chicago, IL. More than 2,500 individuals attended the conference, and more than 400 entries were submitted into several different Best of Show categories for newspaper, yearbook, website and magazine.