American Stroke Association and Ad Council launch new national PSA campaign to help bystanders recognize and respond to warning signs of stroke F.A.S.T.
Nashville, TN – The American Heart Association/American Stroke Association and Ad Council have unveiled a new, national multimedia public service advertisement (PSA) campaign to help people recognize and respond to stroke F.A.S.T.
Every 40 seconds a stroke occurs in the United States, according to the American Heart Association/American Stroke Association. Stroke is the No. 4 killer of all Americans and the No. 1 preventable cause of disability.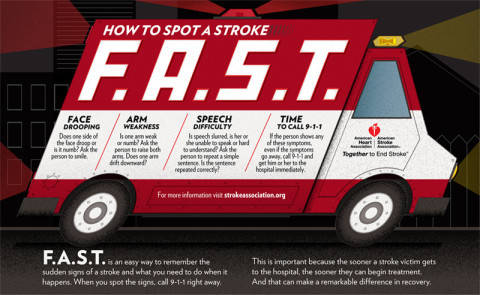 The new campaign raises awareness about F.A.S.T. — an acronym for recognizing and responding to the sudden warning signs of stroke.
F.A.S.T. is designed to help bystanders spot a stroke and seek immediate medical attention fast to improve chances of survival and recovery.
F.A.S.T. Stands For
Face Drooping – Does one side of the face droop or is it numb? Ask the person to smile.
Arm Weakness – Is one arm weak or numb? Ask the person to raise both arms. Does one arm drift downward?
Speech Difficulty – Is speech slurred? Are they unable to speak, or are they hard to understand? Ask the person to repeat a simple sentence like: "The sky is blue." Is the sentence repeated correctly?
Time to call 9-1-1 – If the person shows any of these symptoms, even if the symptoms go away, call 9-1-1 and get them to the hospital immediately.
According to a recent national survey conducted by the Ad Council, 28 percent of Americans did not know any stroke warning signs or symptoms. Most notably, the survey showed 46 percent of participants were not confident they knew what to do if they, or someone they were with, felt (or exhibited) symptoms of stroke.
The new television, radio, print, outdoor and Web PSAs were created pro bono by advertising agency Grey New York, and communicate that body language can signal that someone's having a stroke.  Through the PSAs, audiences are directed to visit www.strokeassociation.org for more information and to learn how to spot a stroke fast.
"We are all fluent in body language. We speak it all day, every day. We want to add the language of stroke to everyone's vocabulary, so they can spot one fast, and help save a life," said Rob Baiocco, executive vice president, executive creative director of Grey New York.
"We are proud to continue our longstanding partnership with the American Stroke Association to raise awareness of stroke warning signs through F.A.S.T.," said Peggy Conlon, president and CEO of the Ad Council. "Time is critical when someone is suffering a stroke. F.A.S.T. empowers would-be bystanders to save lives."
For more information about F.A.S.T, visit www.strokeassociation.org.
About the Survey
The online survey, commissioned by the Ad Council, was conducted in partnership with LightSpeed Research. The survey was conducted nationwide from October 4th -15th, 2012. The sample consisted of 1,000 adults 25 and over, augmented to include readable samples of African-American, Hispanic, and low-income respondents.  All respondents were required to answer a short online survey.
American Heart Association/American Stroke Association
The American Stroke Association is devoted to saving people from stroke — America's No. 4 killer and a leading cause of serious disability. We team with millions of volunteers to fund innovative research, fight for stronger public health policies, and provide lifesaving tools and information to prevent, treat and beat stroke. The Dallas-based association was created in 1997 as a division of the American Heart Association. To learn more or to get involved, call 1.888.4STROKE or visit www.strokeassociation.org.
Ad Council
The Ad Council (www.adcouncil.org) is a private, non-profit organization with a rich history of marshaling volunteer talent from the advertising and media industries to deliver critical messages to the American public. Having produced literally thousands of PSA campaigns addressing the most pressing social issues of the day, the Ad Council has effected, and continues to effect, tremendous positive change by raising awareness, inspiring action and saving lives. Follow the Ad Council at facebook.com/adcouncil and on Twitter @adcouncil.
Grey
Grey New York is the flagship and largest office of Grey, the advertising network of Grey Group.  Grey Group ranks among the largest global communications companies.  Its parent company is WPP (NASDAQ: WPPGY).  Under the banner of Grey Famously Effective Since 1917, the agency serves a blue-chip client roster of many of the world's best known companies:  Procter & Gamble, GlaxoSmithKline, Diageo, Darden Restaurants, Pfizer, Canon, 3M, E Trade, NFL, Boehringer Ingelheim, Marriott and T.J. Maxx.  FAST COMPANY named Grey in its "The World's 50 Most Innovative Companies" issue in 2010 and 2011.  (www.grey.com)