APSU Sports: Austin Peay Men's Basketball

Murray, KY – In a season of frustrating losses, chalk up maybe the most painstaking for Austin Peay State University men's basketball team, Saturday afternoon in the CFSB Center.
All-America guard Isaiah Canaan connected on a traditional three-point play and a long three-point shot in overtime to lead Murray State to 78-65 victory in an Ohio Valley Conference.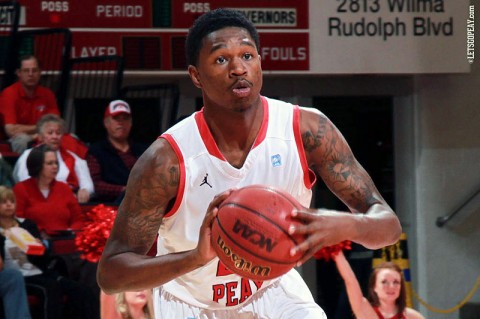 The victory improved the Racers to 16-5 overall and 7-2 in the OVC while Austin Peay incurred its sixth straight defeat, falling to 5-18 overall and 1-8 in the OVC.
The Governors led by five points with 1:55 left in regulation after Jerome Clyburn, playing for the first time since December 1st after incurring a serious hamstring injury, buried a pair of free throws and then followed with a baseline three pointer. But the Govs would not close the door. Stacy Wilson hit a short lane jumper to make it a three-point game.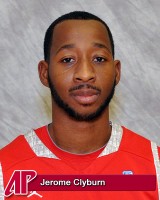 Then with 1:11 left, a pass from Clyburn was tipped and then went off the hand of Anthony Campbell. The Govs then fouled Latreze Mushatt while shooting. The forward proceeded to knock down a pair of free throws to make it a one-point game, 63-62, with 58 seconds left.
Clyburn then missed a baseline three pointer with 37 seconds left. Will Triggs grabbed the rebound and missed the put back. He grabbed it again this time was fouled with 33 seconds left. However, Triggs was fouled by Ed Daniel.
But APSU's junior forward, who battled foul troubles much of the game, missed both free throws, keeping it a one-point Govs game, 63-62.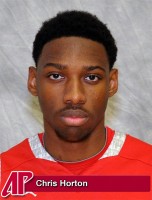 Chris Horton then fouled Canaan with 14 seconds left. It was instrumental in that the foul was the fifth for the freshman center, who not only scored 11 points but grabbed 10 rebounds and blocked six shots in 29 foul-plagued minutes.
Canaan, however, missed the front end of the two-shot foul before tying the game, 63-63. The Govs called timeout to set up one final shot but Travis Betran's forced perimeter shot didn't come close, sending the game into the extra session.
In overtime, the Govs lost Chris Freeman to fouls and just converted 2-of-8 field-goal attempts while also going just 1-of-3 at the line.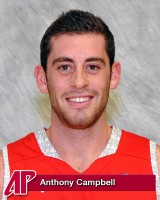 Campbell led the Governors in scoring with 16 points while Betran added 15. Horton had his second double-double in the last three games.
Canaan, who was held to just two free throws in the first half, led all scorers with 19 points while Mushatt added 14 and Daniel 13.
APSU converted more field goals (26-24) than Murray State, including a 9-4 edge in three-point shots. But the difference came at the free-throw line. The Racers went to the line 34 times, making 23, while APSU was just 7-of-14 at the line.
APSU led by as many as 10 first-half points early in the contest and trailed by as much as nine early in the second half before clawing back in it.
Next Game
Austin Peay Men's Basketball hits the courts Thursday, February 7th to take on the Tennessee State Tigers at the Dunn Center in Clarksville. Tip off is at 7:00pm.
Box Score
Austin Peay vs Murray State
2/2/13 12:00pm at Murray, KY
Austin Peay 68
Total
3-point
Rebounds
##
Player
p
fgm-fga
fgm-fga
ftm-fta
off-def
tot
pf
tp
a
to
blk
stl
min

04

BETRAN, Travis

*

5-17

3-11

2-4

0-1

1

2

15

6

3

0

0

41

05

HORTON, Chris

*

5-9

0-0

1-2

3-7

10

5

11

0

1

6

0

29

10

TRIGGS, Will

*

1-2

0-0

0-3

3-2

5

4

2

2

1

0

0

24

12

PURVIS, Jeremy

*

0-2

0-1

0-0

0-3

3

3

0

2

0

0

1

27

25

CAMPBELL, Anthony

*

6-14

4-8

0-0

2-5

7

2

16

2

6

0

0

38

01

CLYBURN, Jerome

–

2-5

1-3

2-2

0-4

4

1

7

0

0

0

0

18

11

GREER, Thomas

–

0-0

0-0

2-3

0-0

0

1

2

1

0

0

0

5

15

FREEMAN, Chris

–

4-8

0-0

0-0

2-0

2

5

8

0

0

0

0

13

20

ARENTSEN, Cory

–

1-3

1-2

0-0

0-2

2

1

3

1

0

0

0

14

21

HERRING, Preston

–

2-2

0-0

0-0

0-1

1

2

4

1

1

0

1

15

TM

TEAM

–

–

–

–

2-3

5

–

–

–

–

–

–

–

Totals…………..

–

26-62

9-25

7-14

12-28

40

26

68

15

12

6

2

224

41.9%

36.0%

50.0%

Team summary:
FG
3FG
FT
1st Half:

12-28

2-8

2-3

42.9%

25.0%

66.7%

2nd Half:

12-26

7-14

4-8

46.2%

50.0%

50.0%

Overtime:

2-8

0-3

1-3

25.0%

0.0%

33.3%
Murray State 75
Total
3-point
Rebounds
##
Player
p
fgm-fga
fgm-fga
ftm-fta
off-def
tot
pf
tp
a
to
blk
stl
min

01

WILSON, Stacy

*

4-11

0-4

4-4

0-2

2

3

12

2

1

0

0

34

02

DANIEL, Ed

*

4-10

0-0

5-8

3-5

8

4

13

1

2

2

3

40

03

CANAAN, Isaiah

*

6-18

1-7

6-9

2-6

8

2

19

3

1

1

3

45

13

GARRETT, Brandon

*

3-3

0-0

1-3

1-1

2

3

7

0

0

0

1

12

23

FIELDS, Dexter

*

2-7

2-5

0-0

1-1

2

0

6

0

0

0

0

20

04

MUSHATT, Latreze

–

3-6

1-2

7-10

3-5

8

3

14

0

1

0

1

28

11

FORD, CJ

–

0-4

0-1

0-0

0-3

3

0

0

1

0

0

0

15

14

MCCREE, Erik

–

1-1

0-0

0-0

1-1

2

1

2

1

1

0

0

10

31

MOSS, Jeffery

–

1-2

0-1

0-0

1-0

1

1

2

5

0

0

0

20

35

HENDERSON, Zay

–

0-0

0-0

0-0

0-1

1

0

0

0

0

0

0

1

TM

TEAM

–

–

–

–

2-2

4

–

–

–

–

–

–

–

Totals…………..

–

24-62

4-20

23-34

14-27

41

17

75

13

6

3

8

225

38.7%

20.0%

67.6%

Team summary:
FG
3FG
FT
1st Half:

9-29

3-13

8-12

31.0%

23.1%

66.7%

2nd Half:

13-28

0-5

8-15

46.4%

0.0%

53.3%

Overtime:

2-5

1-2

7-7

40.0%

50.0%

100 %
| | | | | | |
| --- | --- | --- | --- | --- | --- |
| Score by Periods | 1st | 2nd | OT | Total | |
| Austin Peay | 28 | 35 | 5 | 68 | Record: (5-18, 1-8 OVC) |
| Murray State | 29 | 34 | 12 | 75 | Record: (16-5, 7-2 OVC) |
Officials: Greg Rennegarbe, Craig Murley and James Hicks
Technical fouls: Austin Peay-None. Murray State-None.
Attendance: 6111