APSU Sports: Austin Peay Football

Clarksville, TN – Despite the program being without a head coach, Austin Peay State University signed 12 players, Wednesday, to National Letters of Intent on the first day of signing for 2013.
"I believe this is one of the finest recruiting classes we had since I have been here," APSU interim coach Granville Eastman said. "We addressed needs and added some real quality depth to this program."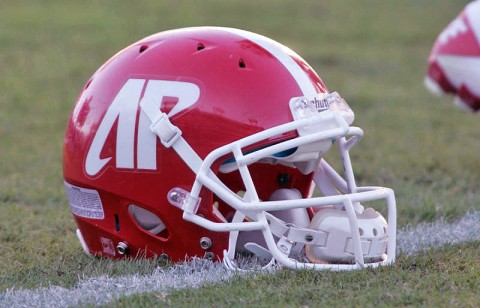 With injuries depleting the Governors secondary in 2012, the Governors were able to sign four defensive backs.  They also added a linebacker on the defensive side.
On the offensive side, the Governors were able to sign a pair of offensive linemen who both stand 6-5 and weigh more than 300 pounds. In addition, with Devin Stark finishing his outstanding career at wide receiver, the Governors added two speedy hopefuls to that position for 2013.
The Governors also added a running back to a strong returning corps at that position.
With record-setting kicker Stephen Stansell having completed his senior year, APSU signed White House High School kicker Chase Dunlap.
The most intriguing signee could be 6-3, 190-pound Devon Jones, who earned all-state as an athlete. He played linebacker, running back, wide receiver and kick return specialist as a senior. He accounted for 24 TDs on offense but was first-team all-district as a linebacker.
APSU connections helped in the process. Germantown running back Justin Roberson is the nephew of former APSU safety and NFL player Michael Swift.
Defensive back signee Roderick Owens played his football at Whitehaven in Memphis. Former Govs Rod Saulsberry, who is the program's head coach, along with Teddy Carruthers and Earl Harmon are his coaches.
2013 Recruiting Class
Ashton Cooper
Wide Receiver
6-2, 180
Overton High School
Memphis, Tenn.
Caught 25 passes for 425 yards and 5 TDs as prep senior…eared second-team all-district…track star who participates in 400m, 200m and 4 x 100m relay.
Chase Dunlap
Placekicker
5-8, 135
White House High School
White House, Tenn.
Three-year starter as kicker…was 20 of 20 on PATs as senior…booted 21 career field goals, a long of 43 yards…as senior 71 kickoffs were touchbacks…also averaged 35 yards per punt as senior…earned District 9-AAA Placekicker of the Year…also selected All-Sumner County first team.
Zack Escue

Offensive Line
6-5, 305
White House High School
White House, Tenn.
Four-year starter on offense line for team that won 28 games during his prep career and four playoff appearances, including three state quarterfinal berths…selected 2012 Class 4-A All-State…also named to Tennessean's All-Midstate team as well as all-district and News Examiner All-County team.
Max Ewoldt
Offensive Line
6-5, 315
Grainger High School
Blaine, Tenn.
Three-year starter during prep career…recorded 120 pancake blocks while allowing only two sacks during 31 career starts…two-time first-team all-conference…earned second-team all-league as sophomore.
A.J. Gray
Linebacker
5-10, 205
Lexington High School
Lexington, Tenn.
As senior credited with 110 tackles, including 22 for loss…also tallied three sacks and three interceptions, returning one for TD…voted District 14AA Defensive Player of the Year…selected to play in Tennessee All-Star game.
Devon Jones
Athlete
6-3, 190
Lake County (Tenn.) High School
East St. Louis, Ill.
Played linebacker, running back and wide receiver as senior…on defense, tallied 62 solo stops and 28 assists, including 28 for loss…also had two fumble recoveries and one interception…on offense, carried the ball 124 times for 1,262 yards and 22 TDs…also caught 15 passes for 226 yards…also averaged 41.5 yards per punt returning, including 2 TDs…chosen first-team All-State as athlete…named first-team all-district as linebacker.
Jalen Miller
Defensive back
6-1, 182
Oak Ridge High School
Oak Ridge, Tenn.
On defense, recorded 59 tackles along with four interceptions…also blocked kick and recovered one fumble…on offense, had 22 receptions for 377 yards and 5 TDs as wide receiver…honorable mention all-district as senior.
Deondre Moore

Wide Receiver
6-1, 185
Fairview High School
Fairview, Tenn.
Combined for 107 receptions for 1,985 yards and 35 TDs in his final two seasons…also totaled 1,027 return yards on special teams along with 11 TDs…chosen Class 3-A All-State receiver as junior and senior along with being named to Class 3A All-Midstate team both seasons…named to district all-super region as junior and senior…named team MVP as senior…chosen to play in Tennessee/Kentucky Border Bowl.
Roderick Owens
Defensive Back
5-10, 175
Whitehaven High School
Memphis, Tenn.
Picked off 7 passes as senior to go with 25 solo tackles…forced one fumble and recovered another…chosen first-team all-region…named Best of the Preps All-Metro…selected to Memphis Commercial Appeal Best of the Preps…selected to play in Memphis High School Liberty Bowl All-Star game.
Mitchell Potts
Defensive back
6-2, 190
Cheatham County High School
Ashland City, Tenn.
On defense, credited with 57 stops… ended career with 291 tackles and 10 interceptions…on offense, ran for 1,480 yards as senior, including 21 TDs…also passed for 486 yards…for career, ran for 4,344 yards and 62 TDs…named third-team all-state as senior…three-time all-district selections, earning player of the year honors as junior and senior…selected for Toyota East/West all-Star game.
Justin Roberson
Running back
5-10, 180
Germantown High School
Germantown, Tenn.
Rushed 114 times for 1115 yards (9.8 ypr) as senior, including 13 TDs…also tallied three receiving TDs…selected second-team all-district…selected to play in Memphis Liberty Bowl High School All-Star game…also plays soccer.
Damien Whitfield
Defensive Back
6-0, 170
McAdory High School
McCalla, Ala.
Two-year starter…recorded 7 interceptions as senior, returning 3 for TDs…earned all-state as senior along with All-West Alabama and All-Metro…played in state title game as senior…multi-sport athlete who also plays basketball and baseball, having participated in the 2007 Dixie World Series.