David overheard the doctors talking in the hallway.  The weather was so bad, it was doubtful that the helicopter could fly and the Vanderbilt Extraction Team could retrieve the heart.  They would classify this as a "dry run" and let Suzanne go home.

David went back into the room to be with his wife.  Doctors and nurses were attending to her, monitoring her condition.

Just as the surgical team was about to call the operation off, a member of the medical team burst into the room.

"They've taken off.  It's a go!"
4:30pm, February 9th, 2011,  was the day that Suzanne Simpson got the call about a donor.  When the phone rang, she didn't answer it right away because the area code was from Florida, and Suzanne thought it was another annoying telemarketer.  When the answering machine picked up, it was a woman's voice.  She said that she was calling about a donor heart that was available, it was a match, and Suzanne needed to call her back.
Suzanne frantically tried to catch the call but missed it.  When she tried to return the call, it was busy.  They were calling David.   As David was talking to the woman about the donor, Suzanne "clicked" in.  She told David, "They've called about a heart!"   He said, "I know, I'm on the phone with her now." The woman called Suzanne back.  She told her that there was a heart available, and it was a match.   Did she want to accept it?
Suzanne said "yes."
The woman told her she needed to be at Vanderbilt by 6:00am the next morning.
Suzanne said, "Ok."
But wait, it was 4:30pm Wednesday afternoon, and they said to be there by tomorrow morning?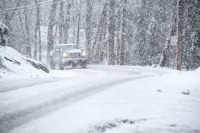 David and Suzanne had been told by the Vanderbilt Transplant Team that when she got the call about the organ, she would need to be prepared to get to the hospital within four hours. They had also warned the Simpsons about scams.
Scammers will call their victims, who are waiting for a life saving transplant, and promise to move them up the waiting list, IF you pay a nominal fee.  Since the caller told Suzanne that they didn't need to be at the hospital until the next morning, it was cause for suspicion.
A massive snowstorm had hit middle Tennessee on this day.  It brought heavy snow and ice, causing serious traffic problems in Nashville.  Many drivers reported it taking two to three hours to get home from work during the afternoon rush hour.  The interstate was littered with cars that couldn't make it home. It would take David over six hours to get to Clarksville.
It was bad.
David and Suzanne just weren't sure if the call was legitimate.  It just didn't sound right.  So David called a member of the Vanderbilt medical team and told her about the call.  She recognized the name of the woman who had called about the donor and said, "Oh yes.  We've worked with her before.  It's legit!"
"I've got to get home" David said.
Meanwhile, Suzanne was making phone calls.  The first person she called was her sister Katrina.  They needed to discuss what to do with their parents.
"When she called and said they had found a donor, it was just amazing" said Katrina.  I was nervous, but excited.  We had to get our parents to her house and tell them."
Suzanne's daughter Melanie remembers, "I was cooking dinner when Mom called.  I just stopped what I was doing, packed a bag and went to her house."
Brad Simpson learned about the news in Knoxville.
"I was at church when Mom called.  I was overwhelmed.  It was a huge relief.  Mom had reached a point where she was fed up with being sick."
So the Simpsons relied on their good friend, Dr. Ron Whitford, who would pick up Suzanne's parents and bring them to her.  He would also take care of Suzanne's dogs while she was in the hospital.
That's what friends do.
Meanwhile, David was stuck in Nashville.  Traffic was at a standstill.   He had to get home.
Chuck Ingram was a project manager for one of the companies that O'Charleys did business with when he and David became friends.  David was almost like a mentor to Chuck.  They worked on several projects together and had become close.  He lives in Franklin Tennessee, but more importantly, he drives a Hummer.
He and David were supposed to go to Memphis on a business trip when the snowstorm hit.  Chuck said, "I can go anywhere in this Hummer, so don't let the weather keep us from going."  David decided they would cancel the trip to Memphis, then he got the call about Suzanne's donor.  David called Chuck back to give him the news.
He also told him he was stuck in traffic, and the snowstorm was making it worse.
Chuck said, "I'm leaving right now.  I'll go get her.  My wife and I are on the way."
David told him to just wait in Nashville, and if he needed him, he would call.  David was going to get Suzanne and get her to Vanderbilt.
Meanwhile, Suzanne was busy getting ready.  Dr. Whitford had brought her parents to her.  Melanie and her husband Tony were there.  There was excitement in the air.  Suzanne had waited for two years, and now it was time.
But there was also sadness.
"I kept trying not to think about what was happening" said Suzanne.  "Another person has died and I was praying for that family.  It was hard to process everything that was going on, but God said it was ok."
Suzanne sat her mother down and explained everything that was about to happen.  She told her about the surgical procedure, the risks, and the possibility that it wouldn't go well.
Suzanne could die.
Her father was kept busy by Dr. Whitford.  He didn't want to hear the details.
David was slowly creeping down I-24 to Clarksville.  Cars were scattered everywhere.  The storm had claimed many victims.  He finally made it home at 10:30pm.  He had started his journey home at 3:30pm.  When he arrived, the house was filled with people.  Suzanne was ready to go.  Then David's phone rang.
It was Chuck Ingram.
"What does your house look like?" he asked David.
"Why?" was his reply.
"I think I'm in front of your house."
Chuck Ingram and his wife had driven to Clarksville.  The Hummer had arrived.
David was overcome with emotion.
"I couldn't believe they drove all the way from Franklin for me and Suzanne" David said.  "I couldn't hold back the emotion."
"David is the real deal" said Chuck. " My wife and I prayed all the way to Clarksville.  We were going to get Suzanne to Vanderbilt."
So it was time to go.  Everything was ready.  The Simpsons got in the car, and headed back out into the snowy night.
There was no traffic on the interstate.  Just the abandoned cars left from the afternoon.  The three car caravan was on their way.  The Simpsons, Melanie and Tony, and Chuck Ingram; in the Hummer.
Suzanne remembers the drive to Nashville.
"It was the calmest, quietest drive I think I've ever had.  David and I didn't talk much, we just drove.  It was the most beautiful thing.  Just these three cars.  I kind of thought it was illegal for us to be out here" she said.
They arrived at 2:30am at the Vanderbilt Medical Center Emergency Room.  David pulled up to the door and Suzanne got out.  She walked up to the registration desk and said, "Hello, I'm Suzanne Simpson, and I'm here for a heart transplant."
Tomorrow:
The snowstorm threatens to ground the flight crew from flying to get the heart that Suzanne desperately needs.
Plus:
David hugs his wife before they take her away, and wonders if this is the last time he'll see her alive.
My strength has come from faith in God and I feel His love throughout all my life experiences.  It has reached into my depression and has been carried with me into celebration.  I can never lose His love and wish others to know and experience this love.  Suzanne Simpson