Austin Peay Governors vs. Belmont
Saturday, February 9th, 2013 | 7:30pm (CT)
Clarksville, TN | Dave Aaron Arena/Dave Loos Court

Clarksville, TN – Austin Peay Men's Basketball will entertain Belmont, 7:30pm, Saturday in Dave Aaron Arena, the first time the two teams have played as Ohio Valley Conference foes.
The Bruins joined the OVC in the summer and are running away with the OVC East Division with a 10-1 record. However, Rick Byrd's club incurred its league defeat, Thursday night, at Murray State, 79-74.
The Governors, meanwhile, are reeling from another painstaking overtime defeat, losing to Tennessee State, 88-82, Thursday. It was APSU's second straight overtime defeat and third in four league overtime contests.
Austin Peay Governors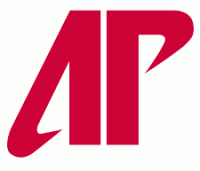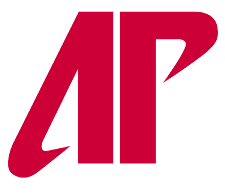 This is Dave Loos' 23rd season as Austin Peay head coach and he is 368-329 at APSU-the winningest basketball coach in Ohio Valley
Conference history-while 450-382 all-time in his 27th season as a college head coach
Austin Peay was picked to finish third behind Murray State and Southeast Missouri in the newly-formed OVC West Division in the preseason poll.
This is the second of a short two-game homestand for the Govs. APSU lost to Tennessee, 88-82 in overtime, Thursday.
The Govs enter the game having lost seven straight and 15 out of their last 16 games following the overtime defeat against Tennessee State.
This will be Austin Peay's first meeting with Belmont since the Bruins officially joined the conference last summer.
Belmont Bruins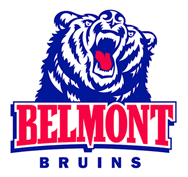 Belmont comes in after incurring their OVC season's first defeat, 79-74, at Murray State, Thursday night. The Bruins rallied from a 15-point second-half deficit to tie the game only to have Murray State pulled away in the closing minute.
The tandem of Ian Clark and Kerron Johnson is considered one of the nation's top backcourts. Clark is averaging 19 ppg, shooting 58 percent from the floor that also included 52 percent (80 of 15) from three-point range. Johnson averages 13.6 ppg and 4.6 apg. He has gone to the free-throw line 149 times.
Belmont is shooting an OVC-leading 49 percent from the floor, including 40.7 from three-point territory.
Forward Trevor Noack has been a surprise up front, averaging 12.3 ppg.
What You Should Know
The Series: This is the 41st meeting between Austin Peay, a member of the Ohio Valley Conference, and the newest OVC member Belmont. In fact, this will be the first meeting between the two teams as OVC combatants. The two previously battled as conference foes when both were members of the Volunteer State Athletic Conference during the 1950s and early 1960s. The Governors hold a 30-10 lead in the series, but the Bruins have won the last three meetings, including a sweep of last season's two contests.
Deeper Meanings
What A Win Would Mean: The Govs would win their second OVC game…they would improve to 6-19…they would go 1-2 in February…the Govs would go to 2-4 in OVC home games….they would improve to 31-10 all-time against Belmont…it would snap a seven-game losing streak…it would make Dave Loos 16-11 all-time against Belmont…
it would make Loos 10-6 all-time against Belmont coach Rick Byrd…it would be Loos' 451st career victory.
What A Loss Would Mean: The Govs would drop 15 games below the .500 mark at 5-20…the Govs would lose their eighth straight game…it would be APSU's seventh home loss this season, the most since the 1992-93 season…it would be APSU's fourth straight loss in the series…it would be Dave Loos' 330th APSU loss and 383rd all-time.
Be-Train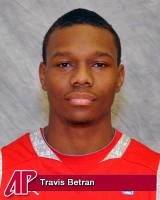 When junior guard Travis Betran scored 28 points against Tennessee State, Thursday night, it was the eighth time this season he has scored 20 or more.
However, it was the first time he reached that plateau since scoring 27 against Murray State, January 12th.
Bounce Back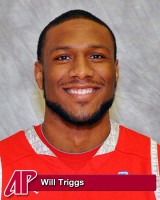 After being held to just two points at Murray State, junior forward Will Triggs rebounded with his season's second double-double against Tennessee State, scoring 18 points and grabbing 11 rebounds–tying a career high.
Triggs also set a career high with with four assists while tying a career best with five steals.
Double-Digit Streaks
With his 28 points, junior guard Travis Betran now has scored in double digits 12 straight games. Meanwhile, senior forward Anthony Campbell scored 15 points, making it four straight games he has reached twin figures.
Board Work
When Austin Peay out-rebounded Tennessee State 41-36, Thursday, it was only the second time this season the Govs held a rebounding edge during conference play.
Overtime Blues
The Govs have played four overtimes games in the past month and a half–all in OVC play–and they have won just one of the extra-session contests. In fact, the Govs enter Saturday's game coming off two overtime defeats, a 75-68 defeat at Murray State and Thursday's 88-82 home loss to Tennessee State.
Upon Further Review
The Governors shot an unseemly 63 percent (17 of 27) from the free-throw line against Tennessee State. But when you eradicate the combined 13 of 14 from Travis Betran (6-of-6) and Anthony Campbell (7-of-8), the 4-of-13 from the remaining Govs becomes unsightly.
Clyburn Makes Start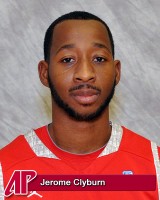 After playing in his first game since December 1st at Murray State, senior point guard Jerome Clyburn made his season's first start, Thursday night against Tennessee State. He picked up two early fouls against TSU and ended up playing 20 minutes. He finished with six points, both coming on two key second half three pointers.
Clyburn missed the season's first week-plus after knee surgery. Then his first game back against DePaul, he suffered a hamstring injury, later diagnosed as a tear. As a result, he missed the next two months.
Percentage Decrease
After going 11 straight games shooting 50 percent or more from the floor, Govs junior Will Triggs fell short of that number against Tennessee State. Triggs finished the night 8-of-20 from the floor (40 percent).
Media Center
Radio: Governors Radio Network
Play-by-Play: Greg Walker
Analyst: David Loos
Statistics: Patrick Miller
WVRY 105.1-FM
www.letsgopeay.com
Television: Peay Nation Broadcasting