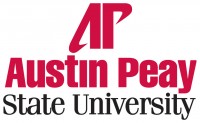 Clarksville, TN – Dr. Bob Shelton, Austin Peay State University associate professor of chemistry, has an idea for an extremely efficient automobile. He'd like to see a vehicle powered by water and sunlight rather than gasoline.

"In some ways, that's the way plants work," he said. "That's what we're going to try to mimic with our photocatalytic hydrogen producers that mimic the reaction of the oxygen-evolving center in plants."

Shelton has partnered with researchers from the University of Memphis to investigate the potential of artificially replicating the process of photosynthesis to harvest light energy. If the project succeeds, it could one day lead to vehicles equipped with a new type of solar panels and hidden containers of water instead of fuel tanks. Ultimately, these vehicles would be powered by hydrogen.

"Water is a great source for hydrogen fuel," Shelton said. "Every molecule of water contains the same amount of hydrogen as a molecule of hydrogen gas – and water is safer to carry around and store than hydrogen gas."

Shelton's project proposal recently impressed officials with the Tennessee Solar Conversion and Storage using Outreach, Research and Education (TN-SCORE) program, and they awarded him and his Memphis colleagues a Research Opportunity Award of $20,000 to continue their work.

TN-SCORE is network of researchers and both academic and industrial institutions funded by a more than $20 million National Science Foundation RII Track 1 Research Infrastructure award.

"These awards are highly competitive, and your selection in this highly esteemed group deserves congratulations," Dr. John Hopkins, TN-SCORE program director, said in a letter to Shelton.

The project to achieve artificial photosynthesis by using organometallic catalysts will begin this summer with Shelton and his Memphis colleagues modeling on computers how these reactions might work.

"Once we have an idea of how this works, what we can do is easily go in and modify everything that is around the metal and see if we can tune, improve and show what works and what doesn't work before we even go into the lab," he said. "It speeds up the experimental time. Instead of searching hundreds or thousands of modifications, we can narrow it down to five or six."

Shelton will travel to Memphis and work at APSU on the project. He also plans to involve APSU students in this research.

"Hopefully, we'll have a few (APSU) undergrads as well participating in the summer research that will last well into the next academic year," he said. "This is one of the hot topics in chemistry, all these alternative energy sources and hydrogen fuel conversion. We have a lot of students trying to get involved in this project."

For more information on this project, contact Shelton at .



Sections
Education
Topics
APSU, Austin Peay State University, Clarksville TN, Gasoline, Grant, Hydrogen, National Science Foundation, Photosynthesis, University of Memphis, water