Clarksville, TN – Austin Peay State University women's golf team will pursue its first Ohio Valley Conference tournament championship, Sunday-Tuesday, when it travels down the road to GreyStone Golf Club in Dickson, TN to battle a 10-team field in the 54-hole league title event.

Jacksonville State is the tourney defending champion. With SIU Edwardsville becoming a full-fledged conference member this year and Belmont joining the OVC as well, this will be the largest tourney field—only Southeast Missouri and UT Martin fail to have women's teams—in league history that will attack the par-72, 5,964-yard course, with a 132 slope rating.

After a Saturday practice round, the teams will begin play at 8:00am, Sunday. Austin Peay will have a 9:40am tee time.
Four—seniors Tabitha Beard and Lauren Bond, juniors Tala Mumford and Rachel Deaton—of the Lady Govs starting five played in the tournament a year ago. Only freshman Jessica Cathey has not seen the course.
"With four of the golfers having played this course, their experience should help in preparation for this year's tournament," APSU coach Sara Robson said. "Jessica can talk to them and draw on that experience.
"Tabitha is a member at GreyStone so she has played that course many times, I think that not only will that help her but the whole team as far as sharing local knowledge."
Weather literally put a damper on much of the Lady Govs early spring play. Their first three tournaments were interrupted by either cold temperatures or rain, causing APSU to lose multiple rounds. However, in the last two regular-season weeks, the Lady Govs benefitted from more favorable weather conditions and were able to complete six rounds, including a trio of dual matches last weekend.

"I think the last two weeks has helped a lot," Robson said. "Being able to have some great weather in those two weekends, just having the confidence we have built over those two weeks is going to be huge for the girls."

In particular, senior Tabitha Beard has taken advantage of the better conditions. APSU's best tourney finisher (t8th/233) a year ago, the senior closed out her spring with six straight sub-80 rounds.

Meanwhile, Cathey was OVC Newcomer of the Week after shooting two sub-80 rounds last weekend, including a 1-under 71 that included four straight birdies, Monday, at the Clarksville Country Club. Mumford shot APSU's low spring round with a 70 at Eastern Kentucky two weeks ago.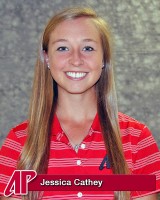 "I think both Jessica and Tab along with Tala have had some phenomenal spring rounds," Robson said. "After her struggles at EKU, Jessica has really bounced back and has played some great golf, culminated by her under-par round Monday.
"Tabitha also played really well these past few weeks and had an amazing round on Monday except for one hole (No. 14), where the ball ended up on the lip of a bunker and it was impossible for her to get out. It took her three shots to get out of that bunker and she played 4-over (76) for the day."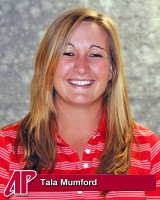 Cathey is the only Lady Gov ranked in the OVC Top 15 in scoring (78.5/12th, but throw out her out-of-character EKU weekend and her stroke average is nearly one shot lower.

All five Morehead State golfers are ranked in the Top 10.

"It is definitely going to be a great tournament," Robson said. "Morehead is probably the favorite but there are several teams that have the capability of winning it. We just hope we are in that last group on Tuesday."

"In golf you really can't play defense so our goal is to be in the last group on the last day. I really believe with this team that is possible. If we play the golf we are capable of playing, we will be able to be in the last group on the last day."

Designed by PGA Tour pro Mark McCumber, GreyStone opened in 1998 and has hosted numerous high profile events including PGA Tour qualifying, Senior PGA Tour qualifying and the Tennessee State Open. This marks the fourth year in a row that GreyStone has hosted the OVC Women and Men's Championships.
"At Greystone you can get into the most trouble off the tee boxes," Robson said. "We must hit fairways and have good speed on the greens to be successful. We have all played some great rounds this year. We need to draw from those experiences and focus on what we did well during those rounds, how we felt, and what our tempo was like.
"If we can maintain good tempo in our golf swings, make some putts and play within ourselves while following our game plan on each hole we will put ourselves in position to be in the last group the last day of the championship."
Sections
Sports
Topics
APSU, APSU Athletics, APSU Golf, APSU Sports, APSU Women's Golf, Austin Peay, Austin Peay State University, Belmont, Clarksville Country Club, Clarksville TN, Dickson Tn, Eastern Kentucky, EKU, Golf, GreyStone Golf Club, Jacksonville State, Jessica Cathey, Lady Govs, Lauren Bond, Morehead State, Ohio Valley Conference, OVC, OVC Newcomer of the Week, OVC Tournament, PGA Tour, Rachel Deaton, Sara Robson, SIU Edwardsville, Southeast Missouri, Tabitha Beard, Tala Mumford, UT-Martin