Competition Designed to Increase Seat Belt Usage among Teens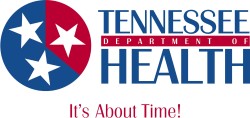 Nashville, TN – Sullivan East High School in Bluff City, Tennessee has been awarded the top prize in Tennessee's first-ever "Battle of the Belt" competition. The Tennessee Department of Health Injury Prevention Program, in partnership with the Tennessee Trauma Centers, sponsors this statewide competition for Tennessee high schools designed to increase seat belt usage.

"We are very proud of the creative work our Tennessee high school teams put into this competition to help educate their peers and their communities about saving lives with seat belts," said TDH Commissioner John Dreyzehner, MD, MPH. "Young leaders like these impact their peers and communities so we can feel sure their actions will help prevent a car crash tragedy for someone in our state."

Schools participating in the Battle of the Belt held unannounced safety belt checks during the 2012-2013 school year to record the number of students wearing seat belts and created educational campaigns striving to achieve 100 percent seat belt use. Teams were judged on the percentage of increase of seat belt use at their school and on their campaigns.

Teams participating in the Battle of the Belt and completing all requirements this year include Campbell County High School in Jacksboro; Cookeville High School; Fred J. Page High School in Franklin; Midway High School in Kingston; Pigeon Forge High School; Sullivan East High School and Sullivan South High School in Kingsport.

Data show the need for improvement in seat belt usage in Tennessee. More than 624,000 Tennessee licensed drivers aged 15 to 24 were involved in traffic crashes in 2012, according to data from the Tennessee Department of Safety and Homeland Security.

The 2011 Child Fatality Review team report found deaths related to motor vehicle incidents represent the highest number of fatalities among all external causes of death for Tennessee children and youth aged 17 and under. The State Child Fatality Review Team has recommended incorporating safety programs such as Battle of the Belt into high schools as a strategy for reducing these deaths.

The Tennessee Trauma Centers act as site coordinators to implement the Battle of the Belt program in high schools throughout Tennessee. Collaborative partners also include AAA East Tennessee, the Tennessee Department of Education and the Health Occupational Students of America organization.

The Battle of the Belt program was created by the Missouri Emergency Nurses Association and St. John's Hospital, and was taken statewide in Missouri by the Missouri Coalition for Roadway Safety in conjunction with American Family Insurance. It has since been implemented by several other states and has been proven effective as an evidence-based program for increasing safety belt usage.

For more information on Battle of the Belt or to enroll your school for the 2013-2014 contest period, go to www.battleofthebelttn.org/.

The mission of the Tennessee Department of Health is to protect, promote and improve the health and prosperity of people in Tennessee. For more information about TDH services and programs, visit http://health.state.tn.us/.



Sections
News
Topics
Battle of the Belt, Bluff City TN, Campbell County High School, Cookeville High School, Franklin TN, Fred J. Page High School, Jacksboro TN, John Dreyzehner, Kingsport TN, Kingston TN, Midway High School, Missouri, Missouri Emergency Nurses Association, Nashville TN, Pigeon Forge High School, Seat Belt, St. John's Hospital, Sullivan East High School, Sullivan High School, TDH, TDOH, Tennessee, Tennessee Department of Health, Tennessee Department of Safety and Homeland Security, Tennessee Trauma Centers