Johnny Hellweg Throws 6th Quality Start; Blake Lalli Cracks 6th Homer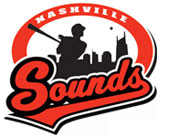 Nashville, TN – The Nashville Sounds toppled the visiting Omaha Storm Chasers, 5-2, Tuesday night at Greer Stadium, highlighted by a three-run homer from Blake Lalli and a quality start from starting pitcher Johnny Hellweg (6-4).
After Omaha starter Yordano Ventura (0-1) retired the first three Nashville batters using fastballs touching 100 mph, the Sounds adjusted to the hurler's speed and hammered out four consecutive hits to lead-off the second inning.
Hunter Morris belted a ground-rule double into left field and moved to third on a single from Josh Prince, 3-for-4. Lalli cleared the bases to give Nashville a 3-0 lead with a home run to left field. The homer was Lalli's sixth of the season and extends his hitting streak to a season-best seven games.
Second baseman Hainley Statia added another run to the Sounds tally with a single into right field that scored Sean Halton, 2-for-3, who legged out a double earlier in the second inning.
From the hill, Hellweg delivered his sixth quality start for Nashville, scattering six hits across seven innings of work to pick up his sixth win of the year. The only earned run charged to Hellweg was a home run he surrendered to Irving Falu in his final inning. The outing dropped Hellweg's season ERA from 3.25 to 3.06.
The Storm Chasers picked up their first run in the fifth inning on Hellweg's throwing error. In an attempt to pickoff Jarrod Dyson, Hellweg tossed the ball over Morris, which allowed the runner on third to score. The Sounds quickly reclaimed their four-run advantage with an RBI-single from Prince in the home half of the inning.
Finishing up Nashville's work from the hill were relievers Kyle Heckathorn , who logged a scoreless eighth inning, and Rob Wooten, who closed out the game with a hitless ninth for his 11th save of the season.
Ventura was charged with the loss, his first, giving up five runs on eight hits to Nashville across 4.2 innings. The right-handed pitcher fanned five strikeouts and walked two.
The Sounds will look to take the lead in the four-game series against the Omaha Storm Chasers Wednesday at Greer Stadium. Throwing for Nashville in the 7:05pm game will be RHP Jimmy Nelson (0-1, 0.00) opposite Omaha's LHP Justin Marks (1-5, 6.75). Fans attending are encouraged to look for the Great Clips #WebWednesday Steal of the Week before the game on the Sounds social media accounts
Box Score
Nashville Sounds (22-41) 5, Omaha Storm Chasers (28-34) 2
June 11th, 2013
1
2
3
4
5
6
7
8
9
R
H
E
Omaha Storm Chasers
0
0
0
0
1
0
1
0
0
2
7
0
Nashville Sounds
0
4
0
0
1
0
0
0
x
5
8
1
BATTING
HR: Falu (1, 7th inning off Hellweg, 0 on, 0 out).
TB: Dyson, J 2; Falu 4; Giavotella; Hayes; Ramirez, M; Nady.
RBI: Falu (17).
Runners left in scoring position, 2 out: Seratelli; Giavotella 2; Falu.
GIDP: Falu, Colon, C.
Team RISP: 0-for-7.
Team LOB: 6.FIELDING
DP: (Colon, C-Falu-Nady).
BATTING
2B: Morris, H (11, Ventura), Halton (13, Ventura).
HR: Lalli (6, 2nd inning off Ventura, 2 on, 0 out).
TB: Prince 3; Lalli 4; Halton 3; Statia; Morris, H 2.
RBI: Lalli 3 (13), Statia (6), Prince (25).
2-out RBI: Statia; Prince.
Runners left in scoring position, 2 out: Lalli 3.
GIDP: Parker, S.
Team RISP: 4-for-8.
Team LOB: 4.BASERUNNING
SB: Prince 2 (8, 2nd base off Ventura/Hayes, 2nd base off Sherrill/Hayes).FIELDING
E: Hellweg (1, pickoff).
DP: 2 (Statia-Morris, H, Davis, B-Morris, H).
Nashville Sounds
Player
IP
H
R
ER
BB
SO
HR
ERA
Johnny Hellweg (W, 6-4)
7.0
6
2
1
2
2
1
3.06
Kyle Heckathorn (H, 2)
1.0
1
0
0
0
0
0
4.32
Rob Wooten (S, 11)
1.0
0
0
0
0
1
0
2.78
Totals
9.0
7
2
1
2
3
1
4.49
WP: Ventura.
IBB: Morris, H (by Ventura).
HBP: Taveras, W (by Hellweg).
Pitches-strikes: Ventura 93-59, Sherrill 14-8, Sanches 26-19, Hellweg 87-52, Heckathorn 16-11, Wooten 13-9.
Groundouts-flyouts: Ventura 4-4, Sherrill 1-1, Sanches 3-2, Hellweg 9-4, Heckathorn 2-0, Wooten 1-0.
Batters faced: Ventura 23, Sherrill 4, Sanches 6, Hellweg 28, Heckathorn 4, Wooten 3.
Inherited runners-scored: Sherrill 2-0.
Umpires: HP: Marcus Pattillo. 1B: Alex Ortiz. 3B: Mark Ripperger.
Weather: 90 degrees, partly cloudy.
Wind: 2 mph, R to L.
T: 2:28.
Att: 3,811.
Venue: Herschel Greer Stadium.
June 11, 2013
Sections
Sports
Topics
Batters, Blake Lalli, ERA, Great Clips, Greer Stadium, Hainley Statia, Hunter Morris, Irving Falu, Jarrod Dyson, Jimmy Nelson, Johnny Hellweg, Justin Marks, Kyle Heckathorn, Nashville, Nashville Sounds, Nashville TN, omaha, Omaha Storm Chasers, Pacific Coast League, PCL, RBI, Sean Halton, Social Media, Sounds, Steal Of The Week, The Storm Chasers, webwednesday, Yordano Ventura