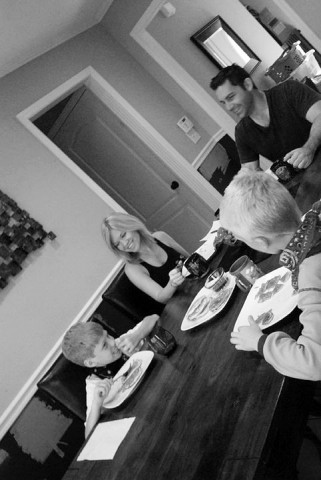 Clarksville, TN – I respect step-parents. They are really special people. I was divorced in 2005 and I remarried in 2010.
My husband stepped onto the scene when my boys were 3 and 6 years old. My ex-husband remarried last year to a woman with children.
So basically, 3 out of 4 of the adults that my children live with are a step-parent to someone.
I am the oddball out. I don't know what it's like to raise a child that is not from my DNA.
I don't know what it's like to:
Wonder if the kids even like me.
Try to learn the little things about the children that make them tick.
Love a child unconditionally even though I don't "have" to.
To tuck in, bathe, tote around, do homework with, go to a recital for, make a sack lunch for, plan a vacation for, pay for private school for, and a million other things for a step-child.
To feel like a visitor in my own home at times because there are things, traditions, memories and feelings that I was not a part of and cannot recreate, no matter how much I want to.
To be trumped by the birth parent every time, and not really have the "right" to feel entitled to certain emotions or expectations.
But even though I am not a step-parent, I was a step-child, at least until my "step-dad" adopted me many years ago. Even after the paperwork was signed though, we drove each other crazy. They say it take about 6-8 years to bond with a step-parent/child. In my experience, this is roughly accurate. Being a step-parent requires the patience of a saint!
Step-parenting has been around a very long time and about 1 in 3 families are step-families.  And in all this time, no one has coined a better name for a stepparent than this awful, compound word grossness that screams "You came later, your genes were omitted, and you're not as valued!" Say it out loud: STEP-PAR-ENT. Are you covered in warm fuzzies?
Both research scholars and clinical experts agree that the stepparent role is more difficult and less clearly defined than the parent role. In part, some of the difficulty of parenting someone else's children stems from the negative or pejorative meaning attached to the term step" in fairy tales, in popular literature, and as perceived by people in general.*
I have racked my brain for years to come up with something that shows the honor to the stepparent that they deserve. This is no easy task! My thesaurus and I go way back, so I have visited it numerous times to no avail. So in honor of Joseph, the earthly father to Jesus, I have landed on Jo. It works for a man or woman, it's easy for any age child to learn, and won't offend the birth parent. Get creative if you want to: Mama Jo, Papa Jo, JoJo…the options are endless.
Jo simply means: "I love with all my heart, I patiently endure as a parent, I am chosen, and I am as real as they come!"
Happy Father's Day to all the wonderful dads and Jo's everywhere!
*http://www.stepfamilies.info/articles/the-role-of-the-stepparent.php