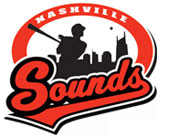 Nashville, TN – The Nashville Sounds rallied past the Oklahoma City RedHawks Sunday night at Greer Stadium to pick up the 5-3 victory and give relief pitcher Tim Dillard (1-1) his 36th win as a Sound to become the club's career wins leader.
Dillard, who has pitched for Nashville in each of the last seven seasons, entered the game with 35 wins, tied with former Sound Keith Brown (1988-92) for the most in Sounds history.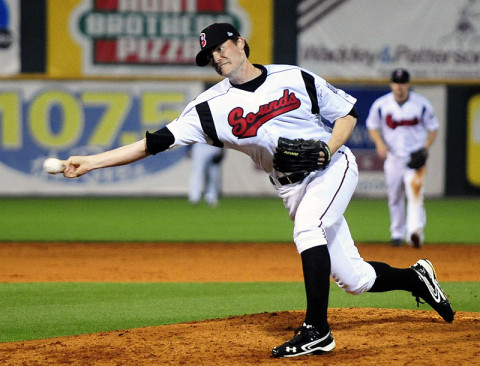 The 29-year-old took the hill for Nashville with the game tied in the fifth inning and stayed in to face the minimum in his 2 1/3 innings of work. He inherited two runners from starter Johnnie Lowe and induced Carlos Perez into an inning-ending fly out to keep the score at three runs apiece.
He continued to strike out the side in the sixth and have each of his seventh-inning batters ground out.
In the home half of the seventh inning Caleb Gindl snapped the tie by hitting his ninth home run of the season. The solo shot to right field put the Sounds up 4-3 and Dillard in line for the milestone win.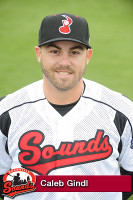 Nashville added an insurance run later in the inning when RedHawks catcher Carlos Perez committed a throwing error when trying to pickoff Blake Lalli at third, and instead sent the ball into left field, which allowed Lalli to score.
The RedHawks held the initial lead after second baseman Marwin Gonzalez hit a sacrifice fly in the top of the first inning to score lead-off batter Jonathan Villar, who started the game with a triple to centerfield. Josh Prince got a piece of the ball at the wall, but could not make the out.
Jose Martinez's solo home run in the fourth put the RedHawks up 2-0 before, the Sounds strung together a three-run rally in the bottom of the inning to take a 3-2 lead over Oklahoma City.
First baseman Hunter Morris led off the frame with a double to centerfield and was driven in two outs later by Prince's shallow single into right-field.
Infielder Hainley Statia tied the game with an RBI double to left field on a well-struck ball that just got by Robbie Grossman. Blake Davis followed with an RBI double of his own for the go ahead run.
Down 3-2 in the fifth, Oklahoma City connected for three consecutive two-out singles to level the game and end Lowe's night. The right-handed pitcher, making his fourth start, allowed three runs on nine hits across 4 1/3 innings of work for Nashville. Lowe fanned two RedHawks and walked none, before giving way to Dillard.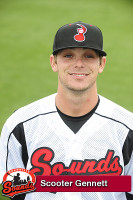 Both Michael Olmsted and Rob Wooten recorded scoreless innings from the hill for Nashville. Wooten collected his 17th save.
Every Sounds player in the line-up recorded a hit; Scooter Gennett, Robinzon Diaz and Khris Davis each recorded two-hit nights.
The Sounds welcome the Round Rock Express, Houston Astros affiliate, to Greer Stadium Monday night for the first game of a three-game set. Throwing for Nashville will be RHP R.J. Seidel (1-3, 5.98) against Round Rock lefty Ryan Feierbend (4-2, 3.90). Fans attending the game will enjoy $1.00 hot dogs for Dollar Dog Night.
Box Score
Nashville Sounds (29-55) 5, Oklahoma City RedHawks (44-39) 3
June 30th, 2013
1
2
3
4
5
6
7
8
9
R
H
E
Oklahoma City RedHawks
1
0
0
1
1
0
0
0
0
3
9
1
Nashville Sounds
0
0
0
3
0
0
2
0
x
5
12
0
BATTING
2B: Lin (8, Lowe).
3B: Villar (7, Lowe).HR: Martinez, Jo (1, 4th inning off Lowe, 0 on, 2 out).
TB: Laird; Lin 2; Villar 3; Martinez, Jo 5; Springer 2; Singleton 2.
RBI: Gonzalez, M (2), Martinez, Jo (11), Singleton (3).
2-out RBI: Martinez, Jo; Singleton.
Runners left in scoring position, 2 out: Villar; Perez, C.
SF: Gonzalez, M.
GIDP: Grossman.
Team RISP: 1-for-4.
Team LOB: 7.FIELDING
E: Perez, C (5, pickoff).
DP: (Gonzalez, M-Singleton).
BATTING
2B: Morris, H (16, Humber), Statia (6, Humber), Davis, B (12, Humber), Diaz, R (1, Berger).
HR: Gindl (9, 7th inning off Berger, 0 on, 0 out).
TB: Prince; Lalli; Diaz, R 3; Gennett 2; Davis, B 2; Davis, Kh 2; Gindl 4; Morris, H 2; Statia 2.
RBI: Prince (31), Statia (13), Davis, B (20), Gindl (40).
2-out RBI: Prince; Statia; Davis, B.
Runners left in scoring position, 2 out: Gindl; Prince 3; Diaz, R 2.
GIDP: Statia.
Team RISP: 3-for-14.
Team LOB: 10.FIELDING
DP: (Gennett-Davis, B-Morris, H).
Oklahoma City RedHawks
Player
IP
H
R
ER
BB
SO
HR
ERA
Philip Humber
5.0
10
3
3
0
3
0
4.76
Eric Berger (L, 3-2)
2.0
2
2
1
1
1
1
4.00
Rhiner Cruz
1.0
0
0
0
2
2
0
5.32
Totals
8.0
12
5
4
3
6
1
4.32
WP: Humber, Cruz, R.
IBB: Davis, Kh (by Berger), Gindl (by Cruz, R).
HBP: Springer (by Lowe), Gennett (by Humber).
Pitches-strikes: Humber 79-50, Berger 27-17, Cruz, R 23-10, Lowe 89-52, Dillard 26-19, Olmsted 19-12, Wooten 7-5.
Groundouts-flyouts: Humber 6-3, Berger 3-2, Cruz, R 0-0, Lowe 3-5, Dillard 3-0, Olmsted 2-0, Wooten 1-0.
Batters faced: Humber 25, Berger 9, Cruz, R 5, Lowe 23, Dillard 7, Olmsted 4, Wooten 3.
Inherited runners-scored: Dillard 2-0.
Umpires: HP: Ryan Blakney. 1B: Scott Mahoney. 2B: Jordan Baker. 3B: Blake Davis.
Weather: 79 degrees, overcast.
Wind: 3 mph, R to L.
T: 2:51.
Att: 5,744.
Venue: Herschel Greer Stadium.
June 30, 2013