Written by Sgt. 1st Class Mary Rose Mittlesteadt
101st Sustainment Brigade, 101st Airborne Division (AA) Public Affairs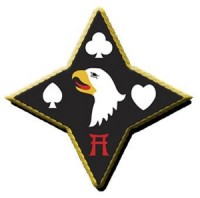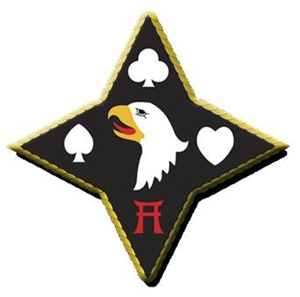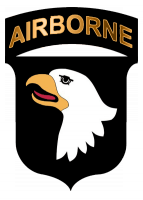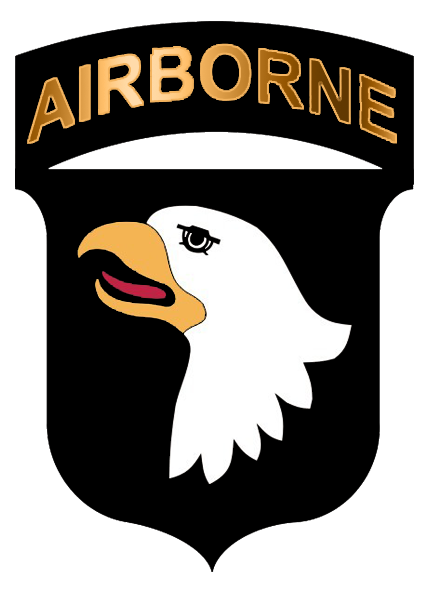 Bagram Air Field, Afghanistan – They call themselves the Mavericks. Members of the 32nd Transportation Company, 157th Combat Sustainment Support Battalion in support of Task Force Lifeliner.
Their mission is a big one. To make sure supplies get out to remote operating bases. Then to turn back around with equipment that is no longer needed. Ensuring security for those full, heavy loads; they travel some of the most dangerous highways in the world. Not a job that could be considered typical.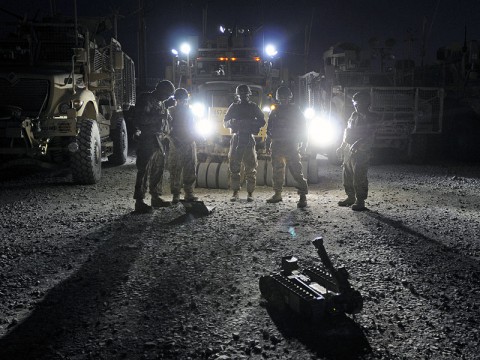 The Mavericks, who serve in Afghanistan, love to tell their story and proclaim their pride in being Army truck drivers.
Sgt. Carlos Ortega, one of the key leaders for the Mavericks, explained their mission in his own words, "we provide a lot of these FOBs (forward operating bases) with food and supplies they need to keep fighting everyday and we also take out whatever they don't need so the enemy can't get their hands on it."
The Mavericks are well aware of the dangers that go with their mission.
Unlike what you see on the roads in America, truck drivers in Afghanistan travel in convoys, which consist of multiple trucks, and prepare extensively prior to leaving the confines of a military base. The Mavericks, like many other teams, primarily provide security for the loads that are being pulled by their local Afghan counterparts. This gives the Mavericks a duel role, logisticians and a security asset for whatever commodity they are hauling.
The Maverick team takes extreme care to ensure not only their team, but also their Afghan team they travel with, is protected from the dangers they face on the roads.
"We prepare for anything from traffic, to IEDs (improvised explosive devices), to small arms fire, and RPGs (rocket-propelled grenade)," said Ortega, who hails from Chicago, IL.
Ortega made it clear that no Maverick will ever hit the road without extensive training and insight into what is going on in the local areas where they will be traveling. They make sure they have that knowledge of enemies of Afghanistan action, washed out roadways, or celebrations and holidays in a particular Afghan city. He continued by reiterating how much they train, "You know we train pretty much every day. We talk about stuff that we can do better on the road."
Although training is a significant portion of what they do prior to driving the roads, the Mavericks have a very methodical process they use before they actually drive their trucks into the dangers that the Afghanistan roads sometimes bring.
Maintenance is essential to keep the heavy vehicles moving and agile on the long missions. This maintenance takes time to be completed correctly according to Sgt. Michael Edmonds, the Maverick's mission commander and a member of the lead or "scout" convoy element with Ortega. "We go through a quality assurance, quality check process with our maintenance personnel. They'll check our vehicles to make sure nothing is wrong with them, and then fix them if there is."
There are a few maintenance soldiers who are part of the Maverick team that keep the convoy moving both prior to and during their missions according to Edmonds, who hails from Bethlehem, Pa. "Whenever there's an issue or a truck breaks down, they see what's wrong and they try and get the situation fixed as soon as possible so we can keep rolling."
With all the prep that goes into moving out and onto the roads, the Mavericks ensure they all get good rest and a good meal prior to missions. It is a tradition for the senior soldiers of the 32nd Transportation Company to serve the Maverick team a hearty meal, just after they wake up from a deserved down time and they're done prepping their trucks for movement. This is a way for the team to gather together, check on each other and share camaraderie. This is an important part of their mission preparation as the long hours on the road can be tiresome.
"Stay Alert Stay Alive, keep your eyes open, stay vigilant," Ortega said with sober honesty. With the Mavericks many missions, thousands of miles have been logged. These missions range from six and 30 hours in length, with few extended breaks. "It is a long time, so you can get complacent out there," he added. He tells his soldiers, to "just keep your head up, stay on the mission."
Ortega speaks proudly of his team and how they have become family.
"We train together; we bleed, sweat, and shed tears together. It's unexplainable, if you will. You've got to live it to actually know what it feels like," Ortega explained.
Edmond also explained how difficult it was to lose a family member, a teammate. "Staff Sergeant Nunez, he was a good friend, good member of the team. He got killed out here on the 30th of May. Baby scout we often called him because he was our lead vehicle." Edmond continued with what keeps them going through the difficult times; it is a patch in remembrance of Nunez that they wear on their left shoulders. "You got scout and then lead, he was kinda the baby scout, because he was always right up with lead or with scout. That's the reason we wear the patch."
Even with hard times the Mavericks understand the importance of their mission in Afghanistan, Edmond said. "Because a lot of soldiers don't understand what we're doing here, my biggest thing is to at least help them understand more," he explained "… so we'll go to a FOB and we'll pull some stuff out that needs to be pulled out, and at the same time we'll bring that FOB stuff they need."
It is difficult to keep positive when bad things happen, Edmond said, but it is very important to have pride in what we do and why we are doing it.
"I just want them to know what they're doing out here isn't for a lost cause. Staff Sgt. Nunez, and all the people we lost out here, their death is not in vain. We're doing good things and we're going to continue to fight for them in their honor," he said stoically. "We just ride out there and stay vigilant, make sure we tell all of our gunners to keep your eyes open watch for tell-tale signs, and we all know what the signs are."
Smiling, Ortega commented on being a family again, "you know when you're part of the scout truck, or any truck on this convoy, period. You know I love these guys, like I said they're my family."
As the Mavericks put on their heavy body armor and strapped on their helmets, they stood in a circle as though they were headed out for the winning play on a football field and then broke off to their positions on the trucks.
"The finish line is like right there. It's right in sight. We are almost outta here, so we're staying motivated and getting these missions done so we can all get home," Edmond encouraged.