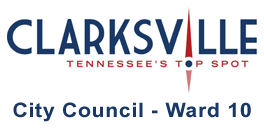 Clarksville, TN – The Clarksville City Council met in its usual first Thursday of the month voting session. As I had mentioned in comments of the agenda that I sent out, there were an assortment of issues to address. This is Part I of my report.
Ordinance 5-2013-14 (Funding new LED street lights with Conservation Bonds)
In this project the mayor wants to use/spend $1.2 million in Treasury backed bonds to buy 765 LED replacement streetlights. Energy savings are projected to bring a payback in just under 16 years.
The concept for this project was brought to the council this past May. The concept has merit, but there were many questions as to monitoring of energy savings, involvement of CDE and TVA, maintenance and replacement costs.
Questions from May still had no answers by the executive session, nor by the voting session. The mayor kept stating that we were not actually borrowing money at this time, but by putting in it as a budget amendment we open the possibility that we can borrow even more such money later this year when additional bonds for these programs will be available.
Questions got more specific as to how the concept was being worked and the use of only one consultant and contractor. Siemens, a worldwide company working such technology, is the consultant.
Readers will recall this is actually the second round with the mayor wanting to borrow over a million dollars on an energy saving project. Refer back to my emails of March 7th, 9th and 13th about the light replacement project in city buildings.
That effort failed due to questions and payback of the project (Clarksville Online (www.clarksvilleonline.com) publishes/retains many of my ward reports and you may read the March 9th and 13th report on their website. Refer to Tab Topic "Authors", look for my name and click and they are listed as March 10th and 13th reports.)
The mayor tried to use her Finance staff as cover to convince the council that money needed to be budgeted in order to fully evaluate the streetlight project. I don't buy that line of logic. The maneuvers and lack of coordination and information that Mayor Kim McMillan used with the council on the employee health clinic has fostered a growing lack of trust with the issue of allocating and spending money on city programs.
There is no reason that questions, answers and costs can not be fully evaluated and calculated before we start to do any budgeting. We have done it before with city projects, so why not now? If costs are associated with the research and development, then some budgeting would need to be done up front. However, NO one has stated that there are such costs for this initial research and development.
Councilwomen Kaye Jones asked the mayor why only Siemens answered the Request for Proposal (RFP) when Philips, another worldwide company working such technology, had not responded and were listed for such services at the U.S. Conference of Mayors, which Mayor McMillan is a city paid member. Philips offers a free energy assessment for many such projects. This is where things got interesting as the mayor's energy proposal process began to unravel.
The mayor stated no RFP was sent out, but that a member of her staff had contacted Siemens (who has done other city work) about such a project. The mayor could not explain what had exactly been sent out to Siemens. Then the mayor replied to Councilmember Jones that perhaps a RFP would be sent out and Siemens would be invited. Jones asked why were we only looking at one company to start with. The mayor stated we are not just looking at one company.
That was an interesting comment by the mayor as only one company has provided the city with numbers, it is those numbers the mayor has provided to us as the basis to buy 765 LED replacement streetlights and borrow $1.2 million dollars to do it.
It is under the mayor's direction that the street department is working out a plan as to which streets/areas would get these lights. All questions, costs and required actions to implement this program are strictly direct to this one proposal.
Then the mayor changed her story that the city actually initiated a request for companies to come and give an explanation of such a project and only Siemens replied. However, it was not a RFP according to the mayor. Then the mayor stated that if we continue to move forward with this project then we could issue a formal RFP so any company could get involved. The mayor was changing versions of her story so fast it is hard to keep up. However, wait, this story gets better,
I then jumped into the discussion about what we did with Siemens on the city building lighting project that was eventually turned down. A similar question was asked during that debate as to why we were looking at only one consultant and project costs and not sending that out for bid. The answer as to why we did not ask or go after any other company was that Siemens was consider a professional service and by state law we did not have to go after any one else.
However, state law does not stop a city from asking for RFPs from several professional service function to state what they can do and how they could do it. I asked the mayor did an RFP go out on that project. She replied that no RFP went out. So, it turns out we did not ask Philips for a proposal on that project and they do facility lighting plans too.
Based on how that first energy project was worked, it was logical to accept that what we were seeing as the costs of this second energy project were the only facts. Give credit to some of the council members – we have done a great deal more research on how this type of project can be done and perhaps how it should be done. We were led to believe by the mayor there was only one path to be taken and that was the one she laid before us. Reality shows there are others.
I asked the mayor to go on record for submitting an RFP for this project and contacting Philips and any other major players for this type of project. I believe we need to see all proposals, costs and options before we go budgeting and borrowing $1.2 million dollars.
She would not answer my request and began backpedaling on the concept of issuing an RFP by stating, "I will rely on the advice of those experts in the area that know more than I do". "We have people that work for the city, that I believe are much more knowledgeable about these particular types of projects and certainly about the ability to borrow money interest free, which is what this is and which is why this project is moving forward because this particular money will be able to be borrowed with no interest payments and I would rely on them and if they say we need an RFP and they want to draft and write the RFP, then I am going to rely on them". "If they tell me we do not need to then we won't, but at this point I have been told that they are looking into all the options…". Then she went on to say that these were 700 lights and $1.2 million is not the final point. She thinks it is a good project.
Since the mayor was clueless and throwing her staff out as cover, I then asked which department can make this call on an RFP, so could I ask them for answers and ask why we did not do an RFP on the city building project?
There apparently is no consistency in this process. There was no RFP for the city buildings and now we might or might not do one for this project. The mayor had spoon fed us specific costs associated with this project and there was NO evidence that any other company would be involved. I wanted answers on the record.
The mayor said she didn't know who I wanted to ask that question to. Well, I didn't either and since she said she relied on city experts I would have thought she would have known immediately who could come up to the podium and provide the information. The mayor then said if I was asking her, she was relying on experts… She repeated the same basic statements I provide you in quotes above. I had to ask again which department should I contact. The mayor finally thought of a name.
The vote was 7-yes, 5-no and 1-abstain with the mayor voting yes. So the ordance makes it through the first round.
A final thought on this project and what took place at the session.
It became very apparent by the mayor's own statements she does not know what is the best course of action in carrying out this business/energy project. The research and information presented by concerned council members in this meeting highlighted the potential missed opportunities of the first failed energy project and the holes in this project.
The continuing statements by the mayor concentrate on the interest free or low cost interest money that we can can borrow to buy some quantity of new LED lights.
By doing so the mayor can tout we are becoming energy efficient and "moving forward". Whether we have gotten all the major players in this business to provide the various possible outcomes so we get the best bang for the buck has not been the focal point of the mayor on this project nor the last energy upgrade effort on the city buildings. Her statements show she has abdicated the leadership role in having the staff tell her what to do versus directing the staff to produce an RFP and make sure all companies that have such capabilities are notified.
Councilman Wallace Redd stated he did not understand why some of us were so worried about spending a million dollars on this project when we spent 35 million on Liberty Park and Marina and did not seem that worried. He stated we were shown a briefing of the plan and later that same evening voted on it and did a second vote a few days later.
Well, there was a big difference in that project and this one that Councilman Redd has forgotten or did not avail himself to. There was a committee to work the marina/park project, many meetings of that group were held so everyone could see what was going on, the council was updated during the months that planning was happening, and it was a project the council had jumped on board with 18 months prior to voting on the final package.
Before voting, the council was shown a full plan of what was being built, how we planned to build it, where it was going to be placed, how we planned to finance it and that it would be bid out for the best price possible based on the cost estimates we had. Then we voted to budget the money. That is how a budget can be done.
More to come.