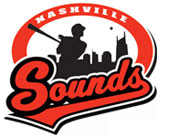 Oklahoma City, OK – Eugenio Velez extended his hitting streak to 17 games and drove in a pair of runs to help lead the Nashville Sounds to a 6-1 victory over the Oklahoma City RedHawks on Wednesday evening at Chickasaw Bricktown Ballpark.
Right-hander Alfredo Figaro (1-0) earned his first Triple-A win of the year for Nashville by allowing one run in his five innings of work, scattering four hits and inducing three double plays during his 73-pitch effort.
The Sounds (54-85) struck first, plating a pair of runs in the top of the third against RedHawks starter Asher Wojciechowski. Hainley Statia drew an inning-opening walk and moved to third on a Josh Prince double before both runners scored when Velez extended Nashville's longest hit streak of the year to 17 games with a two-run single to center.
Velez is batting .333 (25-for-75) during his hit streak and has also reached base safely in 31 straight contests, one shy of the longest such effort in the Pacific Coast League this season.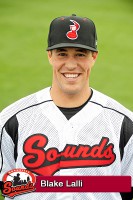 Nashville tacked on a run in the fourth when Robinzon Diaz (2-for-5) singled with one out and later scored on a Hainley Statia fielder's choice grounder.
Wojciechowski (9-7) absorbed the loss for the 'Hawks after allowing three runs on six hits in his 4 2/3 frames of action.
Oklahoma City netted its first run in the home half of the fourth when Figaro uncorked a two-out wild pitch to allow Brandon Laird to race plateward.
The Sounds increased their advantage to 4-1 in the sixth against RedHawks reliever Hector Ambriz. Blake Lalli (3-for-4) led off with an infield single and moved to third on a Diaz double before scoring on a Stephen Parker groundout.
Nashville kept the offense churning in the seventh with a pair of two-out scores off Wade LeBlanc. After the first two batters of the frame were retired, Sean Halton singled before scoring on an opposite-field RBI double into the left field corner by Hunter Morris (2-for-4), who extended his hitting streak to six games (11-for-24, .458). Lalli followed Morris with a run-scoring single that made it a 6-1 contest.
Dustin Molleken was solid in relief behind Figaro, allowing just one single and striking out a pair of batters during three scoreless frames of work.
Jesus Sanchez made things interesting in the ninth, opening the frame with a warning track flyout before permitting a pair of baserunners. The right-hander recovered to retired the final two batters to escape the jam and close out the win with a scoreless frame.
The Sounds will look to secure just their third winning road series of the year when the teams wrap up the four-game series with a 7:05pm finale on Thursday night. Left-hander Aaron Laffey (6-8, 6.82) will man the bump for the Sounds and face Oklahoma City right-hander Bobby Doran (3-0, 3.96).
Box Score
Nashville Sounds (54-85) 6, Oklahoma City RedHawks (79-60)
August 28th, 2013
1
2
3
4
5
6
7
8
9
R
H
E
Nashville Sounds
0
0
2
1
0
1
2
0
0
6
12
1
Oklahoma City RedHawks
0
0
0
1
0
0
0
0
0
1
6
1
BATTING2B: Prince (18, Wojciechowski), Diaz, R (9, Ambriz), Morris, H (23, LeBlanc).TB: Velez; Lalli 3; Prince 2; Diaz, R 3; Halton; Parker, S; Morris, H 3; Davis, Ke.RBI: Velez 2 (19), Statia (23), Parker, S (43), Morris, H (69), Lalli (34).2-out RBI: Morris, H; Lalli.Runners left in scoring position, 2 out: Morris, H; Prince 2; Davis, Ke; Velez.GIDP: Diaz, R.Team RISP: 2-for-14.Team LOB: 10.FIELDINGE: Morris, H (8, throw).DP: 3 (Prince-Velez-Morris, H 2, Prince-Morris, H).
BATTING2B: Martinez, Jo (18, Figaro).TB: Crowe; Torrez; Amador, Ja; Martinez, Jo 2; Krauss; Paredes.Runners left in scoring position, 2 out: Garcia, R 2; Lin.GIDP: Amador, Ja, Lin, Crowe.Team RISP: 0-for-8.Team LOB: 7.FIELDINGE: Paredes (12, throw).Outfield assists: Krauss (Morris, H at 2nd base).DP: 2 (Krauss-Torrez, Paredes-Torrez-Amador, Ja).
WP: Figaro.Pitches-strikes: Figaro 73-47, Molleken 32-23, Sanchez, Je 16-10, Wojciechowski 81-53, Ambriz 19-13, LeBlanc 35-19, Cruz, R 15-8.Groundouts-flyouts: Figaro 8-2, Molleken 1-5, Sanchez, Je 0-2, Wojciechowski 1-8, Ambriz 3-1, LeBlanc 2-1, Cruz, R 1-1.Batters faced: Figaro 20, Molleken 10, Sanchez, Je 5, Wojciechowski 22, Ambriz 6, LeBlanc 11, Cruz, R 4.Umpires: HP: Pat Hoberg. 1B: Brandon Misun. 3B: Spencer Flynn.Weather: 90 degrees, partly cloudy.Wind: 9 mph, Out to CF.T: 2:51.Att: 3,409.Venue: Chickasaw Bricktown Ballpark.August 28, 2013