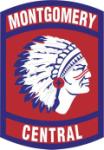 Clarksville, TN – Behind four goals from senior forward Cierra Adams, Montgomery Central High School's girls soccer team remained undefeated in District 11-A/AA play, September 17th, as it dominated Hickman County for the entire 80 minutes of play in a 5-0 victory.
Three of Adams goals for Montgomery Central (7-1, 6-0 District 11-A/AA) came in the first half, with the first one coming just eight minutes into the match.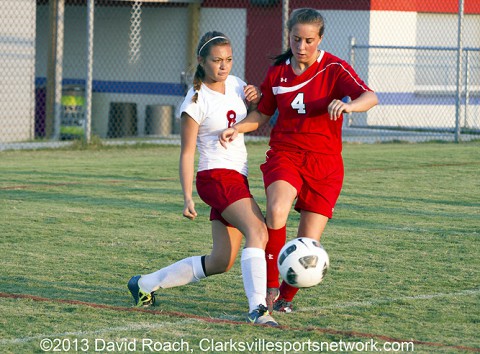 The first came off an assist from junior Samantha Espinoza, who passed a through ball to Adams in between two Lady Bulldog defenders – leaving her with a one-on-one with Hickman County keeper Mackenzie Baltz.
Adams would beat Baltz into the left side of the net to give the Lady Indians a 1-0 lead.
"She (Adams) is a real strong player," Montgomery Central coach Gary Gossett said. "But along with her scoring, she was really trying to feed the ball better to other players tonight.
"She has a habit of doing that once she gets a few goals. She'll drop back and find the other players. She's really grown as a player in the four years that we've had her here."
The second goal by Adams was almost a carbon copy of the first, with the only difference being the pass to get her in a one-on-one with the keeper came from freshman Zoie Cordell in the 11th minute.
The final goal of the opening half came in the 19th minute — off a cross from freshman Chloe Harp — coming from a corner kick that Adams got a foot on and knocked it in just under the cross bar to make it 3-0.
"We as a coaching staff have really worked hard in practice to not let them get a big head and keep them grounded," Gossett said. "You can never look past our next opponent and you can never over look anyone."
Adams would score her fourth and final goal of the night in the 52nd minute, off Harp's second assist of the match.
The final goal was scored in the 70th minute by sophomore Alexis Rayburn, off a corner kick by Adams for the 5-0 final margin.
Senior Sara Jackson and junior Allison Schmittou split the two halves in goal to record the shutout, with Schmittou making the only save needed against Hickman County on the night in the second half.
Baltz would have 12 saves for the Lady Bulldogs.
Montgomery Central outshot Hickman County overall 21-3, including a 16-1 advantage in shots on goal. The Lady Indians would also take seven corner kicks on the night, while Hickman County attempted none.
The Lady Indians will return to action September 19th, as they host Mt. Juliet Christian Academy for a 6:00pm non-district matchup.