Richmond, KY – Battling offensive issues all night, Austin Peay State University's football team opened Ohio Valley Conference play with a 38-3 loss to Eastern Kentucky, Saturday night, at Roy Kidd Stadium in front of 7,400 fans.
The Governors remained winless overall at 0-5 while Eastern Kentucky improves to 3-3 overall and 1-1 in the OVC. It was APSU's 21st straight road defeat.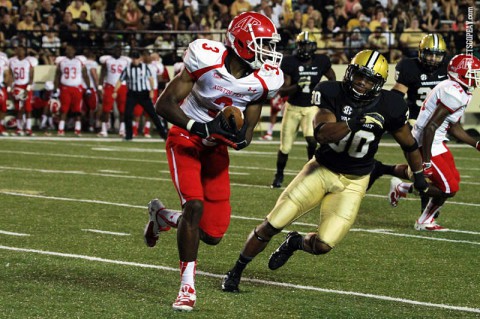 It was a night of continuous offensive struggles for the Governors, who failed to gain a first down in the first quarter for a second straight contest and just 51 total yards in the opening half, 50 coming on the Govs' last drive that ended with an interception.
The Governors finished with only 106 yards total offense, including just six rushing yards on 25 attempts. The Govs offensive line was unable to move the Eastern Kentucky defensive front all night long.
Offensively, EKU bounced back from its loss at Eastern Illinois by rolling up 427 yards total offense, 431 on the ground.
One of APSU's offensive highlights was Darryl Clack catching three passes for 48 yards It's other highlight was an Andrew Spivey 32-yard pass to Tim Phillips that set up the Govs' lone score, a 30-yard Chase Dunlap fourth-quarter field goal.
The Austin Peay Governors next game is against the Eastern Illinois Panthers in Clarksville, TN, Thursday, October 10th at Governors Stadium. The game kicks off at 7:00pm.
Box Score
Austin Peay (0-5,0-1) vs. Eastern Kentucky (3-3,1-1)
October 5th, 2013 |  Richmond, KY | Roy Kidd Stadium | Attendance: 7400
| | | | | | |
| --- | --- | --- | --- | --- | --- |
| | 1 | 2 | 3 | 4 | Score |
| Austin Peay | 0 | 0 | 0 | 3 | 3 |
| Eastern Kentucky | 7 | 10 | 14 | 7 | 38 |
SCORING SUMMARY
APSU -EKU

1st

04:17

EKU

McCLAIN, Jared 10 yd run (MINOR, Josh kick)

7 plays, 65 yards, TOP 2:28

0 – 7

2nd

12:45

EKU

WATKINS, Caleb 3 yd run (MINOR, Josh kick)

10 plays, 65 yards, TOP 4:35

0 – 14

04:26

EKU

MINOR, Josh 23 yd field goal

12 plays, 41 yards, TOP 6:29

0 – 17

3rd

12:07

EKU

LAWSON, Roman 4 yd pass from McCLAIN, Jared (MINOR, Josh kick)

5 plays, 29 yards, TOP 1:34

0 – 24

03:57

EKU

WATKINS, Caleb 2 yd run (MINOR, Josh kick)

6 plays, 70 yards, TOP 3:04

0 – 31

4th

13:36

APSU

DUNLAP, Chase 30 yd field goal

10 plays, 56 yards, TOP 5:21

3 – 31

13:15

EKU

DE LA CRUZ, Ben 79 yd run (MINOR, Josh kick)

1 play, 79 yards, TOP 0:21

3 – 38
Kickoff time: 6:00 pm • End of Game: 8:35 pm • Total elapsed time: 2:35
Referee: Jeremy Parker • Umpire: Brian Davis • Linesman: Neil Hughes • Line judge: Phillip DeWitt • Back judge: Tom Hahs • Field judge: Brandon Harris • Side judge: Chip Shields • Alternate: www.WLStats.net •
Temperature: 82-83 • Wind: 7 S • Weather: cloudy 52% humidity
Hall of Fame Weekend
Team Statistics
| | | |
| --- | --- | --- |
| Team Totals | APSU | EKU |
| FIRST DOWNS | 7 | 20 |
| Rushing | 1 | 12 |
| Passing | 3 | 6 |
| Penalty | 3 | 2 |
| NET YARDS RUSHING | 6 | 321 |
| Rushing Attempts | 25 | 46 |
| Average Per Rush | 0.2 | 7.0 |
| Rushing Touchdowns | 0 | 4 |
| Yards Gained Rushing | 28 | 336 |
| Yards Lost Rushing | 22 | 15 |
| NET YARDS PASSING | 102 | 106 |
| Completions-Attempts-Int | 12-22-2 | 12-19-0 |
| Average Per Attempt | 4.6 | 5.6 |
| Average Per Completion | 8.5 | 8.8 |
| Passing Touchdowns | 0 | 1 |
| TOTAL OFFENSE YARDS | 108 | 427 |
| Total offense plays | 47 | 65 |
| Average Gain Per Play | 2.3 | 6.6 |
| Fumbles: Number-Lost | 2-1 | 3-1 |
| Penalties: Number-Yards | 5-46 | 10-82 |
| PUNTS-YARDS | 8-352 | 3-146 |
| Average Yards Per Punt | 44.0 | 48.7 |
| Net Yards Per Punt | 38.0 | 48.7 |
| Inside 20 | 2 | 3 |
| 50+ Yards | 1 | 1 |
| Touchbacks | 0 | 0 |
| Fair catch | 2 | 0 |
| KICKOFFS-YARDS | 2-130 | 7-428 |
| Average Yards Per Kickoff | 65.0 | 61.1 |
| Net Yards Per Kickoff | 42.0 | 38.6 |
| Touchbacks | 1 | 2 |
| Punt returns: Number-Yards-TD | 0-0-0 | 4-48-0 |
| Average Per Return | 0.0 | 12.0 |
| Kickoff returns: Number-Yds-TD | 5-108-0 | 1-21-0 |
| Average Per Return | 21.6 | 21.0 |
| Interceptions: Number-Yds-TD | 0-0-0 | 2-26-0 |
| Fumble Returns: Number-Yds-TD | 0-0-0 | 1-6-0 |
| Miscellaneous Yards | 0 | 0 |
| Possession Time | 28:05 | 31:55 |
| 1st Quarter | 5:53 | 9:07 |
| 2nd Quarter | 5:59 | 9:01 |
| 3rd Quarter | 9:14 | 5:46 |
| 4th Quarter | 6:59 | 8:01 |
| Third-Down Conversions | 2 of 13 | 6 of 13 |
| Fourth-Down Conversions | 0 of 0 | 0 of 2 |
| Red-Zone Scores-Chances | 1-2 | 5-6 |
| Touchdowns | 0-2 | 4-6 |
| Field goals | 1-2 | 1-6 |
| Sacks By: Number-Yards | 0-0 | 1-5 |
| PAT Kicks | 0-0 | 5-5 |
| Field Goals | 1-1 | 1-1 |