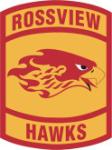 Portland, TN – Rossview High School's volleyball team will make another return to the TSSAA sectional tournament — but it will have to do so on the road – as the Lady Hawks lost in the Region 5-AAA tournament finals Oct. 15th to Portland High School 3-0, by scores of 25-22, 27-25, 25-23.
The Lady Hawks (27-3) struggled early in their match with the Lady Panthers, having to go five games versus Mt. Juliet High School in the semifinals – the first time this season that Rossview had gone the full five games in a match.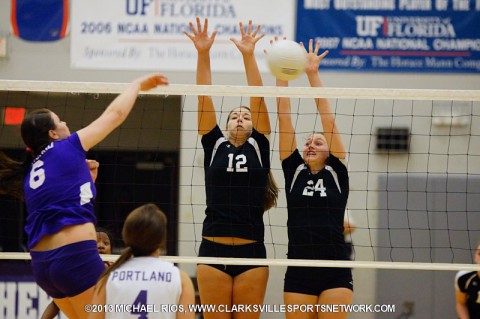 "We hadn't gone five games in a match this year," Rossview coach Jen Garinger said. "I thought we came out flat in both the Mt. Juliet and Portland matches, but with the Mt. Juliet match being as close as it was for five games, I think at the end you could see that we were getting a little tired."
In the championship finals, Portland jumped out to a 5-0 lead behind two kills from Aleshia Russell and two aces from Sydney Minnis.
The Lady Hawks would end the opening run by the Lady Panthers with a kill from Janie White, but Portland continued to extent its' lead out to as many as 10 points, 20-10, before Rossview really got its feet under them.
A kill by Kamryn Carter would start a 7-0 run for the Lady Hawks, who cut the deficit back to just three points.
Portland would regroup and score four of the next six points to get to game point, before Rossview ran off three straight to make it a two-point match, but a kill by tournament MVP Abby Akins gave Portland the opening game win.
"We saw them play against West Creek in the semifinals and I kind of think they under estimated them," Garinger said. "They needed to come out and work a little bit harder to win it."
Game 2, saw the Lady Hawks start strong by getting out to a 6-3 lead, but Akins got on a roll for the Lady Panthers – finishing with 15 of the last 16 kills recorded by Portland to outlast Rossview 27-25 to take a commanding 2-0 match lead.
Akins finished the match with 25 kills.
"(Akins) was very consistent about hitting in the same area and we were just tired and couldn't get our hands on that block," Garinger said. "Not getting hands on the ball at the net with the blocks kind of missed up our back row."
Game 3, proved to be a game of runs, as Rossview got out to a 5-2 lead, followed by Portland scoring 10 of the next 12 points to go up 12-7.
The Lady Hawks would respond with a 10-2 run of their own to retake the lead 17-14, and lead 19-16 before the Lady Panthers put together five straight points to retake the lead 21-19.
A block and a kill by White bookended a 3-0 run by Rossview, giving them their last lead of the game, 22-21, before Portland got a kill by Akins and an ace from Russell to lead 23-22.
White finished with 18 kills.
A kill by White tied the game for the final time 23-23, but the Lady Panthers scored the final two points – including a solo block by Akins to end the match.
Rossview will now travel to Ravenwood High School, who beat Brentwood High School in the Region 6-AAA tournament finals, for the sectional tournament on October 17th, at 7:00p.m., with the winner advancing to the state tournament.
Rossview reached the 5-AAA finals by besting Mt. Juliet in the semifinals 3-2, by scores of 19-25, 25-20, 25-27, 29-27, 15-7.
White would lead the way again for Rossview with 20 kills and seven blocks, while Mica Koontz added 12 kills.
Named to the All-Region Tournament Team were Koontz, Macy Maynard and Regan Comperry from Rossview; Akins, Taylor Thornton and Taylor Whitson from Portland; West Creek's Aliah McPhaul and Mt. Juliet's Allyson Huffman.
Photo Gallery