Nashville, TN – Austin Peay State University seniors Travis Betran and Will Triggs have been named preseason All-Ohio Valley Conference in a vote of league men's basketball coaches and sports information directors.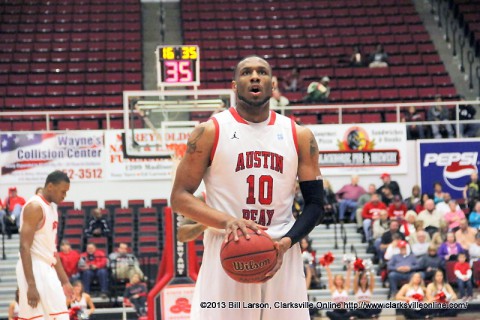 In addition, the Governors have been picked to finish third in the OVC West behind co-favorites Southeast Missouri and Murray State.
That was announced Tuesday during the OVC's annual basketball media day, held at the Sheraton Music City Hotel.
Betran is the OVC's leading returning scorer (17.2 ppg) while connecting on 84 3-pointers in his first Governors seasons. The former junior college transfer averaged 18.3 ppg during OVC action.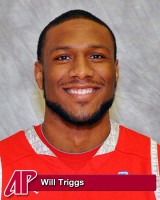 Triggs, meanwhile, is the Governors' only four-year senior and is coming off a season that saw him average 12.2 ppg while also averaging 5.3 rpg. He shot 54 percent from the floor overall but a league-leading 59.7 percent during OVC play.
"I think they both are deserving," APSU coach Dave Loos said. "Will has had a steady career here—very steady. Travis proved in his one year here that he was an impact guy.
"I hope they can be in the same position on the back end (of this season)."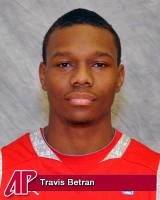 Despite enduring an 8-23 season a year ago and finishing below .500 during OVC play for the first time in 20 seasons, the Governors (90 points) were chosen only behind the Redhawks (117) and Racers (117) in the West.
SEMO received 13 first-place votes while the Racers picked up the remaining 11. UT Martin (66), Eastern Illinois (58) and SIUE (44) rounded out the West voting.
In addition to Betran and Triggs, the Governors also return young frontcourt standout Chris Horton, who shattered the APSU single-season blocks record, breaking the old record by 17 in netting 100 total blocks; the 100 blocks were the fourth-most in OVC history.
"I am encouraged—I think we are much improved," said APSU coach Dave Loos, who is in his 24th season. "Our intention is to contend."
Eastern Kentucky is the overwhelming choice to win the OVC East, picking up 18 of a possible 24 first-place votes in garnering 128 points. The Colonels were followed by defending OVC tourney champion Belmont, which picked up the remaining six first-place votes and 116 total points.
The East Division voting was rounded out by Morehead State (74 points), Jacksonville State (72), Tennessee State (60) and Tennessee Tech (42).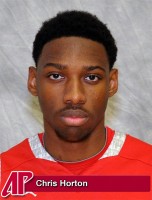 SEMO senior forward Tyler Stone was named the OVC Preseason Player of the Year. Last season Stone, a 2013 second-team All-OVC choice, ranked eighth in the OVC in scoring (15.5 ppg) and fifth in rebounding (7.8 rpg) and blocked shots (1.3 bpg) and 12th in field-goal percentage (49.2) while leading Southeast Missouri to a winning overall record and berth in the OVC Tournament quarterfinals.
In addition to Stone, Tennessee State senior guard Patrick Miller (14.8 ppg, 5.8 apg, 4.3 rpg, 1.7 spg) is the only other All-OVC first- or second-team pick to be named to the preseason team this season; Miller earned first-team honors last season.
The three players named to the OVC All-Newcomer team last year and appearing on the preseason team this season are Betran, Eastern Kentucky senior guard Glenn Cosey (15.2 ppg, 3.3 rpg, 3.2 apg, 1.6 spg) and Eastern Kentucky junior guard Corey Walden (13.0 ppg, 3.5 rpg, 1.9 apg).
The Preseason All-OVC team is rounded out by Triggs, Southeast Missouri junior forward Nino Johnson (11.1 ppg, 8.8 rpg, 2.5 bpg), Belmont senior guard/forward J.J. Mann (10.5 ppg, 4.7 rpg, 2.5 apg), UT Martin junior forward Myles Taylor (16.2 ppg, 7.2 rpg) and Jacksonville State senior guard Brian Williams (13.1 ppg, 4.3 apg).