Clarksville, TN – Damarcus James broke the  school record with five touchdown runs as Jacksonville State defeated Austin Peay State University, 42-10, Saturday afternoon in Ohio Valley Conference football played at Governor Stadium.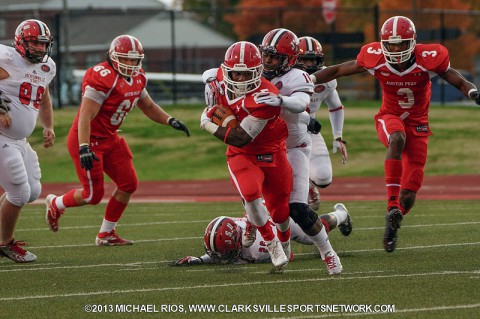 The victory improved JSU to 7-2 overall and 3-2 in OVC play. APSU falls to 0-9 and 0-5 in league play. The Govs are now 0-7 against the Gamecocks since rejoining the OVC in 2007.
James scored on four TD runs of 3 yards or less and another of 40, breaking the mark of quarterback Cedric Johnson, who had four against the Govs, October 11th, 2007. James finished with 102 yards on 19 carries, his final 40-yard carry pushing him past the century mark.
His performance nearly overshadowed Govs' sophomore running back Omar Williams' superb effort. Making his first start in place of the injured Tim Phillips, Williams carried the ball 35 times for 179 yards. It was the most rushing yards by a Gov since Terrence Holt had 176 yards against Eastern Kentucky, October 24th, 2009. Williams helped APSU outrush (187 to 175) the OVC's second-leading rushing offense.
Williams' effort could not overcome a dreadful night by APSU quarterbacks, who combined for 4-of-26 passing for 58 yards and two interceptions. Meanwhile, JSU quarterback Kyle West completed 18 of 31 for 188 yards.
In fact, the Govs' passing struggles led directly to JSU's first TD. With APSU driving to the JSU 12 yard line while also controlling the clock, Jacob Sexton saw his pass to the flat picked off by Rashod Byers, who returned it 95 yards for a score.
Later in the half, a second Sexton interception was returned to the JSU 2-yard line, setting up the Gamecocks' final score of the half—James' third TD—to lead 28-3 at halftime.
Any second-half Govs' comeback was quickly dissipated early in the third quarter when James scored his fourth rushing TD.
Defensively, freshman linebacker Antonio Turner led the way with 13 stops, including one for loss and a quarterback hurry.
Senior safety EnRiques Perry had 12 stops.
Photo Gallery
Box Score
Jacksonville State vs. Austin Peay
November 2nd, 2013 | Clarksville, TN | Governors Stadium | Attendance: 4010
| | | | | | |
| --- | --- | --- | --- | --- | --- |
| | 1 | 2 | 3 | 4 | Score |
| Jacksonville State | 7 | 21 | 14 | 0 | 42 |
| Austin Peay | 0 | 3 | 7 | 0 | 10 |
SCORING SUMMARY
JSU -APSU

1st

02:06

JSU

BYERS,Rashod 95 yd interception return (THOMAS,Griffin kick)

7 – 0

2nd

14:50

APSU

DUNLAP, Chase 34 yd field goal

6 plays, 46 yards, TOP 2:10

7 – 3

13:13

JSU

JAMES,DaMARCUS 1 yd run (THOMAS,Griffin kick)

7 plays, 66 yards, TOP 1:37

14 – 3

06:20

JSU

JAMES,DaMARCUS 3 yd run (THOMAS,Griffin kick)

4 plays, 43 yards, TOP 0:59

21 – 3

04:50

JSU

JAMES,DaMARCUS 1 yd run (THOMAS,Griffin kick)

2 plays, 2 yards, TOP 0:35

28 – 3

3rd

09:44

JSU

JAMES,DaMARCUS 2 yd run (THOMAS,Griffin kick)

10 plays, 61 yards, TOP 3:05

35 – 3

02:05

APSU

BOOKER, Javier 33 yd pass from MITCHELL, Timarious (DUNLAP, Chase kick)

8 plays, 87 yards, TOP 4:26

35 – 10

00:23

JSU

JAMES,DaMARCUS 40 yd run (THOMAS,Griffin kick)

5 plays, 71 yards, TOP 1:42

42 – 10
Kickoff time: 4:01 pm • End of Game: 7:08 • Total elapsed time: 3:07
Referee: Ken Stovall • Umpire: John Graham • Linesman: David Seewer • Line judge: Jeff Irwin • Back judge: Al Studstill • Field judge: Randy Jackson • Side judge: W. Kirk Walker •
Temperature: 52 • Wind: N 7 • Weather: Cloudy
Team Statistics
| | | |
| --- | --- | --- |
| Team Totals | JSU | APSU |
| FIRST DOWNS | 20 | 14 |
| Rushing | 8 | 11 |
| Passing | 11 | 3 |
| Penalty | 1 | 0 |
| NET YARDS RUSHING | 175 | 187 |
| Rushing Attempts | 42 | 44 |
| Average Per Rush | 4.2 | 4.2 |
| Rushing Touchdowns | 5 | 0 |
| Yards Gained Rushing | 186 | 212 |
| Yards Lost Rushing | 11 | 25 |
| NET YARDS PASSING | 188 | 58 |
| Completions-Attempts-Int | 18-31-0 | 4-26-2 |
| Average Per Attempt | 6.1 | 2.2 |
| Average Per Completion | 10.4 | 14.5 |
| Passing Touchdowns | 0 | 1 |
| TOTAL OFFENSE YARDS | 363 | 245 |
| Total offense plays | 73 | 70 |
| Average Gain Per Play | 5.0 | 3.5 |
| Fumbles: Number-Lost | 0-0 | 1-0 |
| Penalties: Number-Yards | 4-26 | 3-12 |
| PUNTS-YARDS | 6-264 | 10-366 |
| Average Yards Per Punt | 44.0 | 36.6 |
| Net Yards Per Punt | 40.7 | 33.3 |
| Inside 20 | 1 | 0 |
| 50+ Yards | 2 | 0 |
| Touchbacks | 1 | 0 |
| Fair catch | 1 | 4 |
| KICKOFFS-YARDS | 7-438 | 3-142 |
| Average Yards Per Kickoff | 62.6 | 47.3 |
| Net Yards Per Kickoff | 39.1 | 39.0 |
| Touchbacks | 4 | 1 |
| Punt returns: Number-Yards-TD | 2-33-0 | 0-0-0 |
| Average Per Return | 16.5 | 0.0 |
| Kickoff returns: Number-Yds-TD | 0-0-0 | 3-64-0 |
| Average Per Return | 0.0 | 21.3 |
| Interceptions: Number-Yds-TD | 2-121-1 | 0-0-0 |
| Fumble Returns: Number-Yds-TD | 0-0-0 | 0-0-0 |
| Miscellaneous Yards | 0 | 0 |
| Possession Time | 26:59 | 33:01 |
| 1st Quarter | 3:37 | 11:23 |
| 2nd Quarter | 6:25 | 8:35 |
| 3rd Quarter | 5:55 | 9:05 |
| 4th Quarter | 11:02 | 3:58 |
| Third-Down Conversions | 4 of 14 | 6 of 17 |
| Fourth-Down Conversions | 1 of 3 | 0 of 0 |
| Red-Zone Scores-Chances | 4-4 | 1-2 |
| Touchdowns | 4-4 | 0-2 |
| Field goals | 0-4 | 1-2 |
| Sacks By: Number-Yards | 2-17 | 0-0 |
| PAT Kicks | 6-6 | 1-1 |
| Field Goals | 0-0 | 1-1 |