Nashville, TN – The sparkling magic of the season comes to life in Dance Theatre of Tennessee's enchanting version of The Nutcracker. Highlighted by Tchaikovsky's brilliant score, the irresistible story of young Clara, a special gift and her fanciful dream to a world of sugary confections has charmed generations.
Dance Theatre of Tennessee brings this endearing holiday classic Clarksville! In line with its mission of bringing ballet to the people, Dance Theatre of Tennessee brings "The Nutcracker" to five cities in four Middle Tennessee counties – Davidson, Montgomery, Rutherford and DeKalb.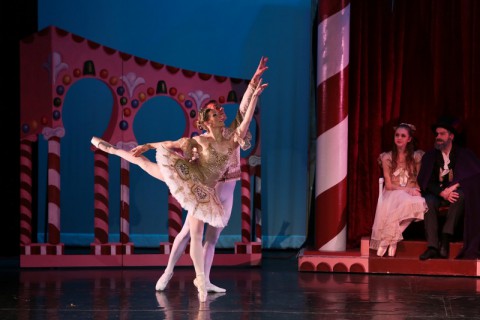 Dance Theatre of Tennessee, is Middle Tennessee's latest and most exciting professional dance organization. Led by Artistic Director/Founder and longtime Nashville Premier Principal Dancer Christopher Mohnani, the Nutcracker is a narrated version of the full-length ballet The Nutcracker.
It provides an opportunity for the community to usher the holiday season in a more relatable, accessible and affordable way. It also provides the local youth in each county an opportunity to perform and participate and start a holiday tradition they can call their own.
After a successful performance and premiere in several counties the last three years, where the buzz and response from the community were very overwhelming, DTT is bringing this production back to several cities as its way of offering the community their own holiday tradition.
New in Clarksville this year is the addition of four-footed performers in the production. Dance Theatre of Tennessee is partnering with several Middle Tennessee area dog agencies to present an adorable adoptable dog on stage in the opening scene of the Nutcracker.
DTT's touring Nutcracker will also have a surprise celebrity appearance in the role of the Mother Ginger in select performances. In Clarksville, Mayor Kim McMillan is the special celebrity Mother Ginger. In addition, young audience members are invited to come and partake on a Nutcracker story time at the lobby during the afternoon performances and have their pictures taken with the Sugar Plum Fairy.
"Part of our mission in bringing the beauty of ballet and the magic of dance to the people is providing access to professional and high quality productions to cities and communities where they would otherwise not have the opportunity," shares Artistic Director Christopher Mohnani. DTT's touring Nutcracker is presented in partnership with Bridgestone Americas Trust Fund and is presented in part by Metro Arts Commission and the Tennessee Arts Commission.
Tickets are available by visiting www.ticketsnashville.com. Tickets are $25.00 for adults and $20.00 for children. Tickets purchased in advance online will be able to sit in the reserved section in the first five rows of the theatre.Any tickets purchased at the door will be seated first come-first served seating in the general admission area.
For more information, please visit our website at www.dancetheatretn.org, www.facebook.com/dancetheatreoftennessee, or call us at 615.391.5500.
Video
Schedule
The 2013 Nutcracker tour schedules is as follows:
Smyrna
November 22nd, Friday, 7:00pm?, November 23rd, Saturday, 7:00pm
Springhouse Theater 14119 Old Nashville Hwy. Smyrna, TN 37167
Nashville
November 29th, Friday, 7:00pm?, November 30th, Saturday, 2:00pm and 7:00pm
Ensworth HS Auditorium?7401 Hway 100, Nashville, TN 37221
Clarksville
December 7th, Saturday, 2:00pm? & 7:00pm
Clement Auditorium – Austin Peay University?601 College Street, Clarksville, TN 37044
Murfreesboro
December 14th, Saturday, 7:00pm? December 15th, Sunday, 2:00pm
Tucker Theater – MTSU?MTSU Campus, Murfreesboro TN 37130
Smithville
December 21st, Saturday, 7:00pm
Smithville Performing Arts Center?712 S. Congress Blvd., Smithville, TN 37166
About the Dance Theatre of Tennessee
The Dance Theatre of Tennessee (DTT), the non-profit performing arm of (AAPAS), is a 501(c)(3) charitable organization founded;
to expose new audiences to the diversity and beauty of dance
to provide affordable, accessible professional performances
to offer superior academy training
to foster enlightened outreach programs
to bring eminent national/international artists, choreographers, & premiere works to the Mid-state area
Dance Theatre of Tennessee has been recently ranked first by a competitive, citizen-reviewed process through the Metro Nashville Arts Commission and has consistently been named as one of Nashville's Top 15 Performing Arts organizations based on performance quality, overall business acumen and audience reach touching over 30,000 people through it's performances and over 20,000 students through its outreach programs the past three years.