Clarksville, TN – On Tuesday, March 11th, 2014 at 1:41pm, an Officer from the Clarksville Police Department observed a foal hanging from a tree on the 2000 block of Whitfield Road. Officer Lisa Reed wrote a continuation about this call.
She spoke with the UT Montgomery County Agricultural Agent, and on Thursday, March 13th, 2014, he met her at the property where the horses are located. The agent said that the white mare with brown spots is in poor condition and emaciated.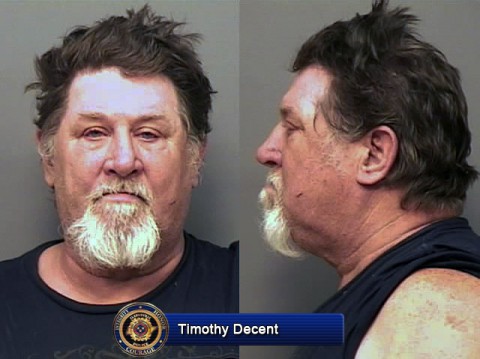 The other two horses on the property appear to be in better condition, however, at the time of the visit, there was no hay for the horses and the only food found was corn in the storage trailer, which is not accessible to the horses.
The foal that officers had previously seen was no longer hanging from the tree and Timothy Decent (homeowner) said that he took the foal down and removed it from the property. Mr. Decent said the foal had died for unknown reasons, and he had hung it so he could keep the hide and then he forgot about it.
Animal control was able to send photos that were taken on Wednesday night,  March 12th, 2014 and the photos were burned to a disc and placed into evidence. A warrant has been secured for Mr. Decent's arrest.
He has been charged with Animal Cruelty with a $10,000 bond. He was also charged with Animal Cruelty in November 2012.
Timothy Decent is a 62 year old Clarksville resident.
Timothy Decent
Name: Timothy Decent
Date of Birth: 6/ 19/ 51
Gender: M
Race: W
Given Address: 2379 Whitfield Road, Clarksville, TN
Arresting Officer: David Colvin
Charge With: Animals – Cruelty
Booked Into: Montgomery County Jail
Bond: $10,000.00