Montgomery County, TN – Montgomery County Sheriff John Fuson and employees of the Montgomery County Sheriff's Office (MCSO), as well as volunteers with the The Silent Witness Project were on hand at the Tennessee State Capitol today to show passers-by silhouette plaques memorializing fallen victims of domestic violence.
Family members of victims, as well as organizers of the project, were recognized by Representative John Tidwell during the Civil Justice Committee meeting.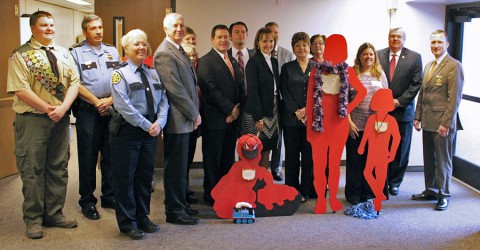 Also on hand were Senator Mark Green, Representative Joe Pitts, Representative Curtis Johnson and  Tennessee Speaker of the House Beth Harwell.
"The purpose of this initiative and our presence here today is to not only raise public awareness, we also want our law makers to remember the victims who were forever silenced due to domestic violence," said Sheriff John Fuson. "Although Tennessee has some of the toughest domestic violence laws in the country, I feel it is important to keep this initiative moving to strengthen those laws even further in the future".