Austin Peay Sports Information

Nashville, TN – In a rematch of last season's Ohio Valley Conference Championship match, Belmont got the better of Austin Peay State University men's tennis team, handing the Govs a hard-fought 4-3 loss, Saturday, at Centennial Sportsplex.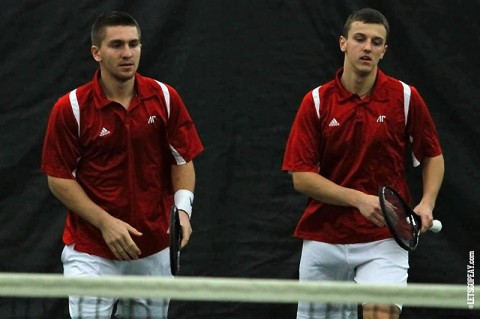 The loss drops Austin Peay to 6-4 on the season, 1-1 in the OVC – it's the Govs' first loss to an OVC opponent since April 13th, 2013 against Tennessee Tech. Belmont improves to 4-8, 2-0 in conference play.
With play reversed due to the threat of potential rain, the Govs and Belmont split the six singles matches. An injury gave freshman Manuel Montenegro a default win at No. 6 singles, while juniors Dimitar Ristovski and Iago Seffrin each added singles wins. Ristovski defeated Marko Lovrinovic (6-3, 7-5) at No. 2, while got his first singles win of the spring with a 6-2, 7-6 win against Henrik Claesson at No. 4.
Absent from that list of victors was junior Aleksas Tverijonas, who suffered his first loss of the spring to Cedric Dujacquier (6-4, 6-3) at No. 3 singles.
With the match deadlocked after singles play, doubles commenced. Seffrin and Ristovski made light work of Hans Nardelli and Martijn Verberne, winning 8-1 at No. 2. However, the Govs were unable to secure the point, with Tverijonas and senior Jasmin Ademovic dropping a tough 8-7 decision at No. 1 to Lovrinovic and Mauricio Antun.
Austin Peay looks to bounce back Sunday with an 11:00am match against Tennessee State.
Box Score
Singles
1.       Mauricio Antun (BEL) def. Jasmin Ademovic (APSU) 6-4, 6-3
2.       Dimitar Ristovski (APSU) def. Marko Lovrinovic (BEL) 6-3, 7-5
3.       Cedric Dujacquier (BEL) def. Aleksas Tverijonas (APSU) 6-4, 6-3
4.       Iago Seffrin (APSU) def. Henrik Claesson (BEL) 6-2, 7-6
5.       Hans Nardelli (BEL) def. James Mitchell (APSU) 6-3, 6-7, 6-4
6.       Manuel Montenegro (APSU) def. Martijn Verberne (BEL) 1-0 (def.)
Doubles
1.       Antun/Lovrinovic (BEL) def. Ademovic/Tverijonas (APSU) 8-7
2.       Seffrin/Ristovski (APSU) def. Nardelli/Verberne (BEL) 8-1
3.       Dujacquier/Claesson (BEL) def. Mitchell/Montenegro (APSU) 8-3