Pseudoephedrine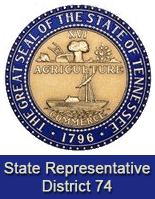 Nashville, TN – Bill HB1574, by the Bill Haslam administration cracks down on the sale of pseudoephedrine, the main ingredient in the production of methamphetamines. Under this proposal, individuals will be limited to purchasing 5.76 grams a month, or 28.8 grams a year, without a doctor's prescription.
There were many compromises on this bill. It basically allows 24 pills a month without a prescription. It does not include  a price increase. This will cover 98% of Tennesseans and still have a major impact on the production of Meth in the state.
Gel and liquid form of pseudoephedrine is still available in unlimited quantities.
Limitation on Annexation by Municipalities
Updates Tennessee's annexation law to prohibit municipalities from annexing land by ordinance, giving voters in the areas being annexed the opportunity to vote for or against the annexation through a referendum.
The bill, which passed the House and Senate and has been sent to the Governor for his signature, will prevent a municipality from annexing farm land without the written consent of the property owners.
In addition, it is being reviewed  and an evaluation  of state policies on annexation and comprehensive growth plans in order to determine if any new laws or rules should be put in place. In passing this new law, we will prevent cases of forced annexation and will give property owners much more control over their own land.