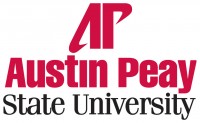 Clarksville, TN – In 2011, Dr. Minoa Uffelman, Austin Peay State University associate professor of history, set out to honor the legacy of her late father, O.S. Uffelman.
For several decades, he'd inspired countless individuals as a teacher, coach, principal and superintendent of Houston County Schools. Since education was so important to her father, Minoa and her husband, Joel Evans, decided to create the O.S. Uffelman Exemplary History Student Award at APSU.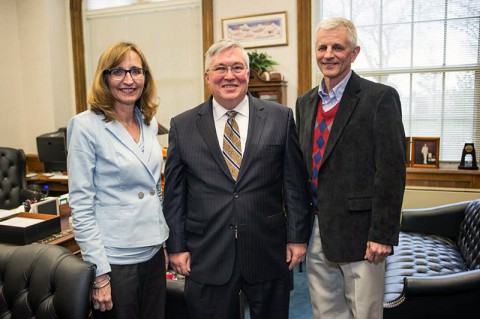 Three years later, on April 7th, the scholarship became fully endowed. That afternoon, APSU President Tim Hall posted his appreciation on his Facebook page.
"It was a great pleasure to finalize the details of a scholarship endowment today established by Dr. Minoa Uffelman of the APSU faculty an her husband Joel Evans, an APSU alum," he wrote. "I couldn't be more grateful for their generosity."
The $1,000 scholarship is awarded annually to a rising junior or senior history major, or a full-time student entering the APSU M.A. in military history program. The money can be credited to the student's account, and can be used for tuition, housing, books, fees or study abroad opportunities.
"My dad spent his entire life in education, and he encouraged hundreds, if not thousands of students to get educations," Minoa said. "We just want to continue his goal of education and helping students achieve their degrees."
O.S. Uffelman's dedication to education started early, when he was only a young farmer's son growing up in depression-era Houston County. As a boy, he walked a couple of miles every morning to attend the small Campground School, and later, the Yellow Creek School. After he graduated in 1936 from high school, he took a job in Michigan and worked until the U.S. Army drafted him into service during World War II.
"He was an engineer. He detonated land mines," Minoa said. "He was smart. He wrote letters home to the Houston County paper. He was like Houston County's own Ernie Pyle."
When the war ended, Uffelman used the G.I. Bill to attend Austin Peay State College. He graduated in 1951 and went on to earn a master's degree from Peabody College, one of the premiere graduate schools in education in the country.
"After that, he taught in Humphreys County for about five yeas, and then in Houston County until he retired," Minoa said. "He was a teacher, a coach, a principal and superintendent of schools."
Uffelman's name still resonates in Houston County. In 1999, he was named "Lord High Mayor" for the community's annual St. Patrick's Day Celebration. And his portrait hangs in the local high school, a gift from the 1972 class of Houston County High School.
"If you grew up in Houston County, you knew O.S. Uffelman," Angie Judish, benefits manager with APSU Human Resources, said in 2011. Judish played basketball in middle school for Uffelman. "In addition to knowledge, he brought a quiet sense of humor to the classroom and to the basketball teams that he coached. As a history teacher and basketball coach, he gained respect from both students and parents. He made sure that his players knew what his expectations were, and I never heard him raise his voice. After giving instructions, he remained calm throughout the game. Whatever the results of the game, he always gave pats on the back and assured each player that she had played a good game."
Uffelman's legacy of inspiring and encouraging students will continue at APSU through this new scholarship.
"I think he'd love this," Minoa said.
The scholarship is open to students who meet the following criteria:
A full time APSU rising junior or senior who has declared a major in history or a full-time APSU student entering the APSU MA program in History.
A member of the Phi Alpha Theta history honor society
Active in history department activities, maintain an outstanding GPA, display exemplary character and have a record of service to the local community.
For more information, contact the APSU Advancement Office, 931.221.7217.