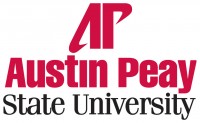 Clarksville, TN – On April 15th, Austin Peay State University recognized several outstanding faculty members during the annual Academic Honors and Awards Ceremony in the Mabry Concert Hall.
During an emotional presentation, the University's top faculty honor, the APSU National Alumni Association Distinguished Professor Award, was presented posthumously to John Moseley, associate professor of communication. Moseley passed away on February 9th, after an 18-year career as an active faculty member at APSU.
He played an integral role in establishing many of the broadcast efforts at APSU, including the establishment of GovTV Channel 99, and live broadcasts for APSU commencements and sporting events. He also was instrumental in establishing APSU's sports broadcasting program.
"He taught me more than I can ever hope to impact on any of my students," Mike Dunn, APSU communication instructor, said. "His kindness, strength, humor, vast knowledge and immense talent were free gifts to all who knew him."
The University presented three tenure-track faculty members with the Socrates Award, which recognizes those instructors and professors who are known around campus for their ability to inspire and motivate students.
This year's recipients were Dr. John Nicholson, associate professor of computer science and information technology; Dr. Tim Leszczak, assistant professor of Health and Human Performance; and Dr. Osvaldo Di Paolo, associate professor of Spanish.
The University's Richard M. Hawkins Award, presented each spring to a faculty member who has demonstrated exceptional scholarly and creative behavior, also went to Di Paolo. Named by the Argentinean press as one of the top 10 literary critics of contemporary hardboiled fiction, he has provided academics a "new set of critical tools" with an impact beyond the Latin American crime novel.
His colleague, Dr. Shelley Godsland, senior lecturer in Portuguese Studies at the University of Birmingham, claims Di Paolo is "at the very forefront of scholarly endeavor with regards to Latin American Literature."
Each year, the Distinguished Community Service Award recognizes a full-time teaching member or departmental chair whose service has enhanced or will enhance the quality of life in the Clarksville-Montgomery County area. Dr. Carrie Brennan, associate professor of chemistry, received the award this year because of her work as a volunteer Hazardous Materials Technician with the Montgomery County Emergency Management Agency and her participation in science outreach activities throughout this area and in Nashville.
For more information on these awards, contact the APSU Office of Academic Affairs at acadaffairs@apsu.edu.