Clarksville, TN –
Austin Peay State University on Friday celebrated the graduation of 1,132 students from its six component schools. Since 2008 the University has held two separate graduation ceremonies in order to accommodate its growing student body.
Family and friends of the graduates gathered on hand to witness the ceremonies and to celebrate what is likely to be one of the proudest moments in the life of their APSU student.
The first ceremony was held at 9:00am and honors the graduates from the College of Arts and Letters, the College of Science and Mathematics and the School of Technology and Public Management. The second ceremony was held at 2:00pm and recognizes the students graduating from the College of Behavioral and Health Sciences, the College of Business and the Martha Dickerson Eriksson College of Education.
This year's keynote speaker was State Rep. Joe Pitts an Austin Peay State University Alumni from the class of 1980. A Clarksville native, Pitts is in his fourth term serving the people of District 67 in the Tennessee House of Representatives. He is a graduate of the Institute for Organizational Management at the University of Georgia and the Emerging Political Leaders program at the University of Virginia. Pitts serves on the House Education Committee and sub-committee, the Insurance and Banking Committee, the Ethics Committee and the Fiscal Review Committee. Outside his service in the Tennessee General Assembly, he is vice president of Planters Bank in Clarksville.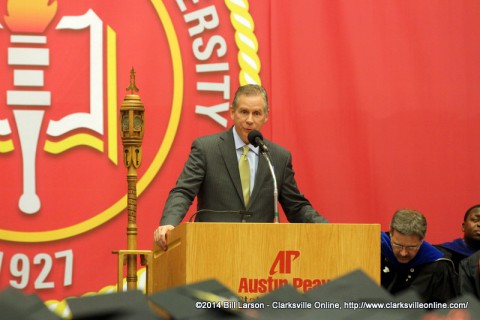 This marks the last commencement ceremony for outgoing University President Tim Hall. President Hall and his wife Lee were recognized during a short ceremony on stage. President Hall will be taking the helm of Mercy College in Dobbs Ferry New York on May 13th, 2014.
Prior to joining Austin Peay State University, he served as Associate Provost at the University of Mississippi. Other professional roles include Professor of Law at the University of Mississippi School of Law, Visiting Professor at the University of Texas School of Law, litigation associate in private practice and as Judicial Clerk to the Honorable Will Garwood, United States Court of Appeals for the Fifth Circuit.
Photo Gallery
Morning
Afternoon
Graduates
College of Graduate Studies
Education Specialist
Toni Lynne Gasper Hamlin Marietta, Georgia
Tenesha Lynette Hardin Clarksville, Tennessee
Mark Thomas McNiel Clarksville, Tennessee
Master of Arts
Michelle Lea Adkisson, With Honor Wartburg, Tennessee
Idris Haji Ahmed Clarksville, Tennessee
Joshua Dale Boyd Elkton, Kentucky
Quenton Frank Brooks Clarksville, Tennessee
Linda Milam Brown, With Honor Nashville, Tennessee
Daniel Stott Calhoun Sevierville, Tennessee
Jennifer Lynn Frazee Bruceton, Tennessee
Jenelle Elaine Grewell Key West, Florida
Christian Xavier Hodges Columbus, Mississippi
Teresa J. Holtsberry Paulding, Ohio
Robert Thomas Jones, With Honor Jonesborough, Tennessee
Ian Francis Mazerski, With Honor Henniker, New Hampshire
Patricia Lashaun Miller Tampa, Florida
Jaylene Cristi Owen Clarksville, Tennessee
Nicolas S. Palmer Nashville, Tennessee
Tierra Alexis Perry Nashville, Tennessee
Charity Ann Roberts, With Honor Clarksville, Tennessee
Janel Rose Shoun-Smith, With Honor Nashville, Tennessee
Christopher M. Tablack Clarksville, Tennessee
Natasha Yvette Teal Clarksville, Tennessee
Mary Robin White Fairview, Tennessee
Jonathan Wingate Lexington, Tennessee
Master of Arts in Education
Carrie Grace Allison, With Honor Clarksville, Tennessee
Sara Bradbury Dickson, Tennessee
Heather E. Burkeen Cunningham, Tennessee
Hykeem M. Craft, With Honor Fort Campbell, Kentucky
Danielle Marie Foote, With Honor Adams, Tennessee
Brian C. Hampton, With Honor Clarksville, Tennessee
Banning Charles Hatchett Shelbyville, Kentucky
Sherri Lynn Hudson, With Honor Camden, Tennessee
Jessica E. Johnston Hopkinsville, Kentucky
Teresa Roe Koons Clarksville, Tennessee
Cynthia T. Logan, With Honor Lynchburg, Tennessee
Sara Elspeth Rohde Dumfries, Virginia
Valerie Marie Shaw, With Honor Fort Wayne, Indiana
Rebecca Lynn Shelton, With Honor Dickson, Tennessee
Master of Arts in Teaching
Ethan James Bourke, With Honor Clarksville, Tennessee
Stacey Marionne Brooks-Horton Chicago, Illinois
Bailey Elizabeth Cheben, With Honor Cincinnati, Ohio
Michelle Victoria Clark Hermitage, Tennessee
Nicole Smith Clay, With Honor Clarksville, Tennessee
Alicia June Coakley, With Honor Clarksville, Tennessee
Adolph Agbeko Yao Dagan Clarksville, Tennessee
Erika Leigh Gray, With Honor Nashville, Tennessee
Rachel Leslie Hannabass, With Honor Springfield, Tennessee
Emily Elise Horton Columbia, Tennessee
Kasey Lynn Howe, With Honor Clarksville, Tennessee
Ernest Tyler Imhoff Dickson, Tennessee
Preston M. Jackson Clarksville, Tennessee
Tamika Nicole Jones Baltimore, Maryland
Andrew Mark Kosinski, With Honor Clarksville, Tennessee
Penny R. Kramer Louisville, Kentucky
Kelley Anne McClure Clarksville, Tennessee
Leslie Biddle Midlick, With Honor Boyle, Mississippi
Frank Moure III, With Honor Adams, Tennessee
Michelle Parsons Adams, Tennessee
Carolynn M. Rolan, With Honor Clarksville, Tennessee
Elizabeth Paige Samples Clarksville, Tennessee
Hannah Elizabeth Saragusa, With Honor Hammond, Louisiana
Casey Corbitt Smith, With Honor New Johnsonville, Tennessee
Vanessa Grace Steele Clarksville, Tennessee
Tracy Jean Story Dover, Tennessee
Erica Lane Vicars, With Honor Indian Mound, Tennessee
Sabrina Marie Watson Clarksville, Tennessee
Master of Music
Anna Rose Atwater, With Honor Barker, New York
Paul Eric Byrom, With Honor Jasper, Tennessee
Yamil Edgardo Camacho Clarksville, Tennessee
Stephanie Lea Elder, With Honor Nashville, Tennessee
Amanda Elizabeth Peck, With Honor Strongsville, Ohio
Zachary Maxwell Thompson, With Honor Boswell, Pennsylvania
Thomas Anthony Torrisi III, With Honor Clifton Park, New York
Master of Professional Studies
James L. Briggs Hendersonville, Tennessee
Vermell Brown Clarksville, Tennessee
Jennifer Nicole Burden Mount Juliet, Tennessee
Johna Stephanie Fort Chapmansboro, Tennessee
Jamie Bruhn May-Kelley Huntsville, Alabama
Donnella Raye Miller Clarksville, Tennessee
Gregory Richard Turmel, With Honor Mount Juliet, Tennessee
Master of Science
Jasmine Janae' Armstrong Chattanooga, Tennessee
Jeffrey Peter Card Franklin, Tennessee
Eloise Victoria Chambers, With Honor Cordova, Tennessee
Michael Christopher Fulbright Clarksville, Tennessee
Kelsey Royals Grimes Clarksville, Tennessee
Rhonda L. Hunter Pleasant View, Tennessee
Tammy L. King Clarksville, Tennessee
Raghavulu Deepthi Koppula Andhra Pradesh, India
Andrea Kay Lane Ashland City, Tennessee
Lauren Elizabeth Leggett Crossville, Tennessee
Nikki Lemonis Fosnes, With Honor Nashville, Tennessee
Stephanie Martin Maiocco, With Honor Clarksville, Tennessee
Jonathan Taylor Martin Fairview, Tennessee
Laura Denise Mills Moscow, Idaho
Kristen Marie Pilcher Boise, Idaho
John D. Ralston, With Honor Clarksville, Tennessee
Amelia Katherine Rinehart, With Honor Clarksville, Tennessee
Elizabeth Dawn Slade Bristol, Virginia
AnnaLora Taylor, With Honor Sweetwater, Tennessee
Kyle Patrick Wilkins Clarksville, Tennessee
Hazel Ballesteros Wyche Clarksville, Tennessee
Master of Science in Nursing
Olufunke Damilola Abidakun Cypress, Texas
Heather Bohannon-Iyama La Vergne, Tennessee
Rhia Corsentino Clara City, Minnesota
Kristy Marie Cothren Jonesborough, Tennessee
Gina-Maria Dillingham, With Honor Springfield, Tennessee
Ashley Templeman Dossett Elkton, Kentucky
Channing Vail Dudley Mount Juliet, Tennessee
Melanie Utley Gilliland Mount Pleasant, Mississippi
Sarrah Dawn Goudreau Clarksville, Tennessee
EmmaLee Britt Greene, With Honor Nashville, Tennessee
Jenna Ruth Griffin Humboldt, Tennessee
Zilla Fe Henricksen Ethridge, Tennessee
Terry Sue Holt Clarksville, Tennessee
Charnese Le'Chelle Hunter Antioch, Tennessee
Emily Nichols Lehman Clarksville, Tennessee
Jessica Leigh Malone Dickson, Tennessee
Barbara Ruth Montgomery Martin, Tennessee
Nancy Ann Morton Nolensville, Tennessee
Christina Marie Polete Hopkinsville, Kentucky
Mary McCloud Poston Nashville, Tennessee
Ashley LeighAnn Rhyne Knoxville, Tennessee
Bettina Kay Cobb Shank, With Honor Guthrie, Kentucky
Barbara Ann Sims-Shockley Memphis, Tennessee
Amanda Lee Womac-Boling Knoxville, Tennessee
Master of Social Work
Effie Renee Alford Montgomery, Alabama
Michelle K. Borjas Clarksville, Tennessee
Louanna Rae Castellano, With Honor Dayton, Texas
Courtney S. Chockley, With Honor Clarksville, Tennessee
Kristie Ann Crow, With Honor Clarksville, Tennessee
Tania M. Deal, With Honor Oak Grove, Kentucky
Maran Amanda Fairleigh, With Honor Clarksville, Tennessee
Denise E. Hillis, With Honor Hopkinsville, Kentucky
Ronni Krystal Madden, With Honor Newport News, Virginia
Megan Varela Clarksville, Tennessee
Jerome Timothy Viltz, With Honor Ashland City, Tennessee
Candyce S. Wilson-Waszmer, With Honor Clarksville, Tennessee
College of Arts and Letters
Bachelor of Arts
Joshua T. Alexander Clarksville, Tennessee
Princess Shae Andress Clarksville, Tennessee
Florence Elizabeth Boom Panama City, Panama
Lauren Jade Bowling, Magna Cum Laude Springfield, Tennessee
Emill Burnett Irvington, New Jersey
Charlene Calhoun Clarksville, Tennessee
Carena E. Cathey Nashville, Tennessee
Casie Katrina Cathey Hendersonville, Tennessee
Nicholas Isaiah Collett Fort Campbell, Kentucky
Eric Benjamin Ezzell Clarksville, Tennessee
Olivia Brooke Michelle Fee Morristown, Tennessee
Stephen H. Forrester, Cum Laude Waverly, Tennessee
Amber N. Grissom Clarksville, Tennessee
Caitlin Louise Hall, Cum Laude Brentwood, Tennessee
Melisha Dawn Hillenberg Clarksville, Tennessee
Maria D. Hurley Santa Cruz, Bolivia
Joseph Anthony Johnson Oak Grove, Kentucky
Phyliscia Paige Johnson Oakland, Tennessee
Kinsey Kurfiss Groveland, Florida
Jon Amadeus Langley Clarksville, Tennessee
Rachel Ann Lichtenberger New Smyrna Beach, Florida
Jason Anthony McFate Clarksville, Tennessee
Frances Darlene Meriweather Indianapolis, Indiana
Lovin Marie Middleton-Dunn, Magna Cum Laude San Diego, California
Michael Lewis Minton Killeen, Texas
Ashley Dawn Nalley, Magna Cum Laude Clarksville, Tennessee
Elysa Marie Parks Clarksville, Tennessee
Melissa M. Pennington Clarksville, Tennessee
Jon Phillips Dover, Tennessee
Emily Jordan Pitts, Summa Cum Laude Selmer, Tennessee
David Andrew Sanders Hohenwald, Tennessee
Sydney Ellen Saunders, Cum Laude Clarksville, Tennessee
Amber Schmidt, Cum Laude Madison, Alabama
Matthew M. Sharp Clarksville, Tennessee
Lillie Katelan Shartzer Portland, Tennessee
Sarah Young Stonesifer, Cum Laude Lexington, Kentucky
Tabitha Denise Sweitzer, Cum Laude Lexington, Kentucky
Adriana Victoria Tate, Magna Cum Laude Milwaukee, Wisconsin
Kala Danielle Thomas, Magna Cum Laude Dover, Tennessee
Jaimee Lynn Troutt, Magna Cum Laude Gallatin, Tennessee
Julie Gabriella Upshur, Summa Cum Laude Antioch, Tennessee
Misty Ariel Varner Clarksville, Tennessee
Robert J. Wilson, Cum Laude Clarksville, Tennessee
Anne Winters Clarksville, Tennessee
Melanie Megan Michelle Witter Clarksville, Tennessee
Ines Yount, Summa Cum Laude Hendersonville, Tennessee
Bachelor of Fine Arts
Victoria Sarah Brady Dickson, Tennessee
Marieli Burnett, Magna Cum Laude Clarksville, Tennessee
Rebecca Diane Claxton Clarksville, Tennessee
James M. Clouse Clarksville, Tennessee
Mackenzie Camille Coffman Clarksville, Tennessee
Ivan Colon, Magna Cum Laude Clarksville, Tennessee
Arial Michelle Davis Madisonville, Tennessee
Aimee S. DeMoss Clarksville, Tennessee
James M. Elkins Clarksville, Tennessee
Rina Migdalia Gonzalez Clarksville, Tennessee
Kelsie Clark Harris, Cum Laude Manchester, Tennessee
Sherry Iaquinta Jennette Clarksville, Tennessee
Sarah Irene Kent, Cum Laude North Highlands, California
James Andrew Kirk Clarksville, Tennessee
Eun Woo Lee Clarksville, Tennessee
Ashley Marie McDonough, Magna Cum Laude Clarksville, Tennessee
Stephanie R. Parkans, Summa Cum Laude Waverly, Tennessee
Oscar Armando Quintanilla Madison, Tennessee
Alexandria N. Reed Clarksville, Tennessee
Rebecca Ann Rose Clarksville, Tennessee
Taylor M. Rushing, Summa Cum Laude Jackson, Tennessee
Kory Anne Woodard, Magna Cum Laude Lewisburg, Tennessee
Bachelor of Science
Jack A. Adamson Clarksville, Tennessee
Nicole Elizabeth Aikens Clarksville, Tennessee
Kellie R. Allen Germantown, Tennessee
Sean James Atkins, Magna Cum Laude Pleasant View, Tennessee
Payton Jane Baggett, Cum Laude Clarksville, Tennessee
Alexis Lee Beatty Clarksville, Tennessee
Rebecca Joy Becker Clarksville, Tennessee
Benjamin John Biesendorfer, Magna Cum Laude Denver, Colorado
Ethan James Bourke, Magna Cum Laude Clarksville, Tennessee
Christen Noel Brady Clarksville, Tennessee
Danille Nicole Brewster Indian Mound, Tennessee
Ronald William Brown Waverly, Tennessee
Robert Dean Bryant Marietta, Georgia
Marjorie Denolia Burnette Memphis, Tennessee
Jarvis Jarrel Bynum Brownsville, Tennessee
Samantha Alyssia Clayton Clarksville, Tennessee
Kelsie Ellen Pauitafa Coffin Clarksville, Tennessee
Jacey Breanna Cook Dickson, Tennessee
Lance Michael Cutshall Lexington, Kentucky
Kyle Anthony Davis, Magna Cum Laude Clarksville, Tennessee
Joseph Solomon Degon Clarksville, Tennessee
Larissa Tara Dougherty, Cum Laude Eaton Rapids, Michigan
Tyler Blake Edmondson, Cum Laude Charlotte, Tennessee
Waleid Elchaer Pegram, Tennessee
Derrick Leron Eubanks Chattanooga, Tennessee
Alex Clifford Ewin Nashville, Tennessee
Jordan Paige Farmer Greenbrier, Tennessee
Troy B. Ferguson Clarksville, Tennessee
KaTreva LaShawn Foster Clarksville, Tennessee
Carey Lane Frogue Elkton, Kentucky
Kyle Draa Fullerton Clarksville, Tennessee
Brittany Danielle Giles, Summa Cum Laude Greenbrier, Tennessee
Cassie Lynn Hall Dickson, Tennessee
Jessica Joan Hall McEwen, Tennessee
Carmel Matelitei Hanser, Cum Laude Koror, Palau
Kyle Gregory Harrison Cordova, Tennessee
Alexandria S. Haynes, Cum Laude Kingston Springs, Tennessee
Kristien Marie Hinkle Clarksville, Tennessee
Randall H. Hinsley Dickson, Tennessee
Lisa M. Hogan Sacramento, California
Sarah Frances Holder Clarksville, Tennessee
Christian Dwight Huckaby Goodlettsville, Tennessee
Ashley Christine Huff Fairview, Tennessee
Jeffrey Brian Hunter II Pleasant View, Tennessee
Matthew Thomas Lee Inman Nashville, Tennessee
Jonathan William Jeans Memphis, Tennessee
Jennifer Elaine Kaiser, Magna Cum Laude Clarksville, Tennessee
Erin Elizabeth Keas, Cum Laude Franklin, Tennessee
Crystal Ann Keepes, Summa Cum Laude Clarksville, Tennessee
Ryan Alan Krause Libertyville, Illinois
Peyton Beth Lashlee Dickson, Tennessee
Amanda Brooke Lawson Dayton, Ohio
Paige Briana Lewandowski, Cum Laude Chapel Hill, Tennessee
Caitlyn Angelica Linden Clarksville, Tennessee
Daniel Lugo, Cum Laude Gallatin, Tennessee
Alasdair Neil MacLennan Crossford, Scotland
Jade Marie Maghoney, Cum Laude Hayward, California
Susan Reid Marlowe-Lawrence Clarksville, Tennessee
Leslie C. Martinez Copperas Cove, Texas
Sarah Morgan Massey Clarksville, Tennessee
Theresa Marie Mills Jackson, Tennessee
Amy Elizabeth Mitchum, Summa Cum Laude Erin, Tennessee
Gregory Allen Moberg Newbern, Tennessee
Rebecca Heather Rosalia Nanney, Magna Cum Laude Newbern, Tennessee
Grant Inman Newsom Jackson, Tennessee
Rachel Oakley, Magna Cum Laude Clarksville, Tennessee
Angela M. Peek Springfield, Tennessee
Kathrine Mary Pendleton Clarksville, Tennessee
Alexandria Mae Poppendorf, Summa Cum Laude Dickson, Tennessee
Esherica Price Clarksville, Tennessee
Joanna Grace Ragland, Summa Cum Laude Clarksville, Tennessee
Jason Joseph Reed Clarksville, Tennessee
Brent A. Richardson, Summa Cum Laude Clarksville, Tennessee
Van Lewis Riggins III, Magna Cum Laude Clarksville, Tennessee
Tori Alexandra Roberts, Summa Cum Laude Clarksville, Tennessee
Jessica Belle Scuderi Clarksville, Tennessee
Patrick J. Scurlock Clarksville, Tennessee
Lillie Katelan Shartzer Portland, Tennessee
Cassandra Jean Silvers Clarksville, Tennessee
Carla Winn Smith Palmyra, Tennessee
Coty A. Springer Clarksville, Tennessee
Bryce J. Stevens Lawrenceville, Georgia
Harry A. Tarpley Hendersonville, Tennessee
Victoria Frances Tarter Baker City, Oregon
Donald Houston Thiel Charlotte, Tennessee
Megan Leigh Timmons, Magna Cum Laude Nashville, Tennessee
Mariel Beth Tomes Clarksville, Tennessee
Erica Danielle Tucker, Cum Laude Cumberland Furnace, Tennessee
Van Justin Waldrop Springfield, Tennessee
Jessica Noelle Warrick Madison, Tennessee
Kaylee M. Weinberg Clarksville, Tennessee
Ryan Patrick Williams Midlothian, Texas
Kara Lynn Wyatt, Cum Laude Savannah, Tennessee
Jordan Lee Zoretic Clarksville, Tennessee
College of Science and Mathematics
Bachelor of Science

Regina M. Acklin Jacksonville, Arkansas
Ethan Cole Adams Shelbyville, Kentucky
Geoffrey Ryan Adams, Cum Laude Chattanooga, Tennessee
Kainoa L. Akana Honolulu, Hawaii
Harley J. Akin Clarksville, Tennessee
Whitney Leigh Albright Columbia, Tennessee
Matthew D. Allen Woodlawn, Tennessee
Robert A. Apilado Yigo, Guam
Steven M Bagdon Dewey, Arizona
Herbert Pat Barron Jr., Summa Cum Laude Clarksville, Tennessee
Lance Foster Batson, Magna Cum Laude Clarksville, Tennessee
Justin Kyle Beaty, Cum Laude Evensville, Tennessee
Melanie Nicole Borst Clarksville, Tennessee
Brian Hunter Bourland Memphis, Tennessee
Courtney Paige Bradford, Magna Cum Laude Hope Mills, North Carolina
Carson G. Bumpus, Cum Laude Dover, Tennessee
Ashley Marie Burke Corona, California
Ariel Evette Campbell Clarksville, Tennessee
Reece Kelly Carpenter Clarksville, Tennessee
Kevin Fitzgerald Carrigan, Cum Laude Clarksville, Tennessee
Justin Michael Carter, Magna Cum Laude Lynnville, Tennessee
Vanaecia Michelle Chaney Cleveland, Tennessee
Sarah Ellen Clark Clarksville, Tennessee
Yolanda Clayton Clarksville, Tennessee
Anthony Allen Coffey Clarksville, Tennessee
Brandon Michael Crabtree Lyles, Tennessee
Jessie James Craft McEwen, Tennessee
Emily Marie Crowl, Cum Laude Franklin, Tennessee
Timothy Reed Curtis Jr. Nashville, Tennessee
Kelsey D. Cvikich Clarksville, Tennessee
Todd Emmiet Dalton Jr. Watertown, New York
Nichole J. Dawson, Cum Laude Norman, Oklahoma
Rachel Ann Deaton, Magna Cum Laude Jackson, Tennessee
Billy C. Denley Clarksville, Tennessee
Thomas Benjamin Diggs Clarksville, Tennessee
David Allen DiNanno Cedar Hill, Tennessee
Elizabeth Joan Braaten Dodds, Cum Laude Clarksville, Tennessee
Jacob Payden Donahoe, Cum Laude Stantonville, Tennessee
Blake Smith Dorris, Cum Laude Greenbrier, Tennessee
Jessica Lynn Dotson, Magna Cum Laude Dickson, Tennessee
Steven Scott Dunning Clarksville, Tennessee
Paisley Lasha' DuRant Alcolu, South Carolina
Shamise Fawnchelle Easley Clarksville, Tennessee
Jonah G. Farmer Goodlettsville, Tennessee
Hannah Jade Farrar, Cum Laude Milan, Tennessee
Maria C. Florez Clarksville, Tennessee
Kenneth Joe Freeman Greenbrier, Tennessee
Brent Lee Gass Gallatin, Tennessee
Brittney Michelle Georgic Clarksville, Tennessee
James Wesley Givens Clarksville, Tennessee
Elizabeth R. Gonzalez Clarksville, Tennessee
Suzanne E. Grady Nashville, Tennessee
Traci Nicole Grant Cedar Hill, Tennessee
Jeffrey Scott Gray Burns, Tennessee
Cody G. Greene, Magna Cum Laude Clarksville, Tennessee
Robert Norris Hadaway IV Clarksville, Tennessee
Richard Ryan Hankenson Clarksville, Tennessee
Joseph Mark Harms, Cum Laude Belleville, Illinois
Angelica Lynn Harris, Magna Cum Laude Clarksville, Tennessee
Christopher Robyn Hayes, Summa Cum Laude Cunningham, Tennessee
Hillary Hope Head, Magna Cum Laude Clarksville, Tennessee
Abner B. Herndon Adams, Tennessee
Travis Alan Holleman Clarksville, Tennessee
Zachary Ryan Holtel Clarksville, Tennessee
William Jay Hooper Maryville, Tennessee
Zachary Wayne Inman, Magna Cum Laude Waynesboro, Tennessee
Brittany Lynn Jeffers Antioch, Tennessee
Celeste Aeriell Johnson, Cum Laude Clarksville, Tennessee
Jenna Renee Johnson, Magna Cum Laude Clarksville, Tennessee
Lucas Aaron Johnson Dickson, Tennessee
Andrew Michael Jones White Bluff, Tennessee
Danielle Marguerite Joslin Allen County, Kentucky
Justin C. Kenner, Magna Cum Laude Clarksville, Tennessee
George W. Ketch, Cum Laude Clarksville, Tennessee
Kendra LeAnne Joyce Kirksey Huber Heights, Ohio
Ashley Klein Wading River, New York
Kristen Nalani Knight, Summa Cum Laude Clarksville, Tennessee
Jacob Bradbury Komulainen Clarksville, Tennessee
Sean Cory Lacey, Cum Laude Kaneohe, Hawaii
Garrett Neal Lindsey, Magna Cum Laude Clarksville, Tennessee
Phillip Anthony Lowe Clarksville, Tennessee
Gregory McVey Martin Springfield, Tennessee
James Dylan Martin Lyles, Tennessee
Nathan Douglas Martin Clarksville, Tennessee
Karime Aranda Matus Nashville, Tennessee
Michael Paul McAllister, Magna Cum Laude Sutter, California
Jason Anthony McFate Clarksville, Tennessee
Dannatta Catherine Moats Ashland City, Tennessee
Kevin W. Mobley Hendersonville, Tennessee
James Immanuel Murtha, Cum Laude Charlotte, Tennessee
Crystal Mary-Marie Nicholson Trenton, Tennessee
Sarah Lucia Nimrichter, Summa Cum Laude Johnson City, Tennessee
TraLisa Dawn Noblin, Magna Cum Laude Woodlawn, Tennessee
Jarvis Devon Northern Jackson, Tennessee
Neville O. Onyango, Magna Cum Laude Clarksville, Tennessee
Corey Parker Osborn, Magna Cum Laude Albuquerque, New Mexico
Kadeem Juan Pardue Clarksville, Tennessee
Mahmoud Parvizi, Magna Cum Laude Nashville, Tennessee
Ashley D. Paul, Summa Cum Laude Hendersonville, Tennessee
Matthew R. Peed Big Rock, Tennessee
Clinton Donascio Person Clarksville, Tennessee
Alexis Ann Potter Clarksville, Tennessee
Tracee Laine Pugh, Magna Cum Laude Williams, Ohio
Katrina Lee Richardson Clarksville, Tennessee
Erica Raye Rickman Smyrna, Tennessee
Brian Rivers, Summa Cum Laude Cunningham, Tennessee
Ashly Ann Roby, Summa Cum Laude Tennessee Ridge, Tennessee
Ashley Blake Schmidt Bon Aqua, Tennessee
Meagan Renee Sellick, Magna Cum Laude Clarksville, Tennessee
Ashley Loren Senters Cleveland, Tennessee
Jared Marshall Sexton, Cum Laude Oneida, Tennessee
Iosua Alofagia Siliva, Magna Cum Laude Pago Pago, Samoa
Molly Katharyn Silkowski, Cum Laude Clarksville, Tennessee
Kelsey Renee Smith, Magna Cum Laude Ashland City, Tennessee
Marquardt C. Snell Clarksville, Tennessee
Allan Sorensen Rockwell, Texas
Brittany Lee Stacy, Summa Cum Laude Buffalo, Missouri
Kahla Mekel Stewart Chattanooga, Tennessee
Lisa Stout Ashland City, Tennessee
Skylar Joseph Sullivan Fort Knox, Kentucky
Jackie Keith Suttle White House, Tennessee
Steven Wayne Taylor, Magna Cum Laude Waynesville, Missouri
John Peter Thompson Houston, Texas
Terry Evan Thompson Clarksville, Tennessee
Nicola Elizabeth Tippy Clarksville, Tennessee
Elizabeth Nichole Tuttle, Magna Cum Laude Ashland City, Tennessee
Stephanie Lynn Uzzle Marion, Illinois
LeAnn Stephanie Ventura McKenzie, Tennessee
James David Walker Cedar Hill, Tennessee
Lucas Elliot Walker Clarksville, Tennessee
Dennis M. Wathen Bartlett, Tennessee
Renae D. Whitehurst Rising Sun, Maryland
Destiny Noelle Williams Memphis, Tennessee
Dylan Maverick Wood, Magna Cum Laude Arlington, Tennessee
Bachelor of Science Medical Laboratory Science
Steven Kyle Adams, Summa Cum Laude Crossville, Tennessee
Melissa Marie Corona, Magna Cum Laude Cumberland Furnace, Tennessee
Carolyn Judith Cude Ashburn, Georgia
Alisha Nicole Ezell, Magna Cum Laude Christiana, Tennessee
Melissa Renee Guest Clarksville, Tennessee
E. Dan Hale Columbus, Indiana
Sarah E. Howell, Magna Cum Laude Hopkinsville, Kentucky
Carol A. Kittrell Rockwood, Tennessee
Jenna Marie Miller Murfreesboro, Tennessee
Tuyen Van Nguyen Nashville, Tennessee
Patricia Donovits Parrott, Magna Cum Laude Martin, Tennessee
Deanna Renee Phipps, Cum Laude Lewisburg, Tennessee
Getnet Abebe Shiferaw, Magna Cum Laude Antioch, Tennessee
Jon Thomas Smith II Clarksville, Tennessee
Mikel Ange Vital Oak Grove, Kentucky
Jessica Lyn Warfield, Summa Cum Laude Clarksville, Tennessee
Maya J. Wilson Clarksville, Tennessee
Bachelor of Science Radiologic Technology

Marja Elise Fisher Springfield, Tennessee
Kevin Stuart Grubbs, Cum Laude Clarksville, Tennessee
Magan Hunter Greenbrier, Tennessee
William Mark Maddox Hermitage, Tennessee
Jacquelynn Marie Magurn Maynard, Massachusetts
Andrea Marie Manis Clarksville, Tennessee
Candace Manning Clarksville, Tennessee
Christian Hallie McFall Lawrenceburg, Tennessee
Jackson C. Messer, Cum Laude Lawrenceburg, Tennessee
Brittany Gail Nichols, Summa Cum Laude Dickson, Tennessee
Jessie Marie Roberts Indian Mound, Tennessee
Sherry Brooke Sewell Dyersburg, Tennessee
Sarah J. Voight Clarksville, Tennessee
Terry Lynn Weyand Clarksville, Tennessee
Sonya L. Williams Clarksville, Tennessee
Megan Blair Witty, Magna Cum Laude Morrison, Tennessee
Associate of Science
Kamal H. Alqaryouti Clarksville, Tennessee
Paul C. Storms Clarksville, Tennessee
The School of Technology and Public Management
Bachelor of Professional Studies
Tabitha Denise Addison Elkton, Kentucky
Travone Michael Ladreak Birch Deland, Florida
Amber Lynn Button Clarksville, Tennessee
Amy Webb Catanzaro, Magna Cum Laude Clarksville, Tennessee
Kelly Lane Dennis, Magna Cum Laude Woodlawn, Tennessee
Intencia C. Garard Cordova, Tennessee
David Allen Hardin Springfield, Tennessee
Randall Charles Hassell Vanleer, Tennessee
Erica Kristy LaFata, Cum Laude Erie, Pennsylvania
Lisa Marie Lehman Manchester, Tennessee
Debra Lynn Lewis Clarksville, Tennessee
Richard Makori Mangongo Clarksville, Tennessee
Jeffrey Tyrone Ousley Memphis, Tennessee
Matthew W.D. Potter, Magna Cum Laude Louisville, Kentucky
Kelly Marie Sanders, Cum Laude Louisville, Kentucky
Joshua R. Siler Graham, Texas
Bachelor of Science
Zachary David Akers, Cum Laude Charlotte, Tennessee
Jody Lee Alberd, Summa Cum Laude Clarksville, Tennessee
Treniece LaShawn Aldridge Memphis, Tennessee
Edwin Duane Alvin Riviera Beach, Florida
Rita Daniel Andrew Nashville, Tennessee
Ashley N. Barker Palmyra, Tennessee
Amy Nicole Blakeney Nashville, Tennessee
Benjamin Charles Boden Fort Campbell, Kentucky
Kathryn Elizabeth Bonner Clarksville, Tennessee
Owusu Brempong Staten Island, New York
Kelleyshawn Carney Brown Clarksville, Tennessee
Brandon O. Bryant Cumberland Furnace, Tennessee
Paul Martin Bullington Old Hickory, Tennessee
Chris Cadle Bristol, Virginia
Matthew D. Calhoun Brandenburg, Kentucky
Daniel J. Castro El Paso, Texas
Tashina Jo Chitwood Waverly, Tennessee
Abby Shaun Claud Gallatin, Tennessee
Angel L. Clymore Springhill, Tennessee
Kyle Alexander Comley Clarksville, Tennessee
Catherine J. Coombs, Cum Laude Hendersonville, Tennessee
Gayla Michelle Coulter Clarksville, Tennessee
Matthew Q. Cox Knoxville, Tennessee
Novelet Cox Garner, North Carolina
Shellie Marie Crawford Allensville, Kentuckey
Tiffany Michelle Crawford, Summa Cum Laude Cedar Hill, Tennessee
Larry L. Crowell Jr. McEwen, Tennessee
Maria Fatima Cunha Clarksville, Tennessee
Kaitlyn Renee Dance, Cum Laude Kingston Springs, Tennessee
Daniel L. Davis Jr., Magna Cum Laude Conyers, Georgia
Kenneth J. Dickinson Glens Falls, New York
Billy Dickson III Clarksville, Tennessee
Maranda Dockins New York, New York
Taylor Mackenzie Dodd, Summa Cum Laude New Johnsonville, Tennessee
Harley J. Eckert Clarksville, Tennessee
Nnadike E. Ejefobiri Murfreesboro, Tennessee
Amber Dawn Elliott Waverly, Tennessee
Brittany Ruth Fairchild Soddy Daisy, Tennessee
James W. Gachunga Clarksville, Tennessee
Christian Lynwood Gatison Clarksville, Tennessee
Maurice J. Gilliard Vinegrove, Kentucky
Joshua Eric Golson Clarksville, Tennessee
Sarah Kim Gross, Summa Cum Laude Clarksville, Tennessee
Noah Aaron Hegele Abington, Pennsylvania
Kathleen R. Hill Lyles, Tennessee
Anthony Wayne Hobbs Jr., Cum Laude Clarksville, Tennessee
Christopher Michael Hoffman Fort Lauderdale, Florida
David S. Hopkins Clarksville, Tennessee
Holden Michael Hudgin Clarksville, Tennessee
Lindsey M. Johnson Old Hickory, Tennessee
Yolanda Lanette Jordan Fort Campbell, Kentucky
Sara Soo Kang Clarksville, Tennessee
Robert Owen Kay Clarksville, Tennessee
Kristi L. Keith Goodlettsville, Tennessee
Tracy Elizabeth Keith Dedham, Massachusetts
Daniel N. Kemp Fort Campbell, Kentucky
Erica Rae Ketner Clarksville, Tennessee
Emily Anne Kink, Cum Laude Franklin, Tennessee
William Stewart Ladd Clarksville, Tennessee
Mason David LaFleur Cedar Hill, Tennessee
Aaron Scott Lemon Big Rock, Tennessee
Randy Duane Libby Poland, Maine
Katelin Ruth Lincoln Clarksville, Tennessee
Justin Joel Littlejohn Columbia, Tennessee
Michael Wayne Lowe Clarksville, Tennessee
Timothy Ray Lowman, Cum Laude Severna Park, Maryland
Claire Kindley Martin Alexandria, Virginia
Nadine Martin, Summa Cum Laude Clarksville, Tennessee
Elizabeth W. McCraw Hopkinsville, Kentucky
Jennifer E. McMilion Exeter, California
Thresa Jeanette Meadows Clarksville, Tennessee
Danielle Monqiue Miller Clarksville, Tennessee
Taylor Nicole Mills Fort Gibson, Oklahoma
Donna Lytle Moffitt Nashville, Tennessee
Christopher Shawn Morrison Clarksville, Tennessee
Raymond W. Moyer Clarksville, Tennessee
Jodee L. Newton Clarksville, Tennessee
Goshia Parker Chicago, Illinois
Kevin D. Phyall Baltimore, Maryland
Christopher S. Powell Charlotte, Tennessee
Belinda Ann Ramos San Antonio, Texas
Bo Hunter Riner Dover, Tennessee
Marysa Lee Rivera Fort Lauderdale, Florida
Tracy Marie Roberts Sindelfingen, Germany
Charlesia C. Robinson Cordova, Tennessee
Angela Denise Russell Nashville, Tennessee
Amanda Christine Sacoto Wayne, New Jersey
Maiquen Saez Santiago Clarksville, Tennessee
Stacia Nicole Sauls Dickson, Tennessee
Davina Bonita Seaborn Philadelphia, Pennsylvania
Richard Alan Shannon, Cum Laude Woodlawn, Tennessee
Phillip J. Shingler Clarksville, Tennessee
Bhrett A. Sikkema, Magna Cum Laude Fulton, Illinois
Rachel Leeann Simpkins, Magna Cum Laude Kingston Springs, Tennessee
Brodie L. Slade Reidsville, North Carolina
Dasha Jenay Smith Murfreesboro, Tennessee
De'Shawn Douglas Smith Clarksville, Tennessee
Courtney B. Strunk Knoxville, Tennessee
Christopher Edward Chanz Swartz Dover, Tennessee
Melissa Kelly Thalman Alexandria, Virginia
Kelly R. Thomas Lithia Springs, Georgia
Jennifer Lynn Thompson Hohenwald, Tennessee
Pedro Federico Torres-Castillo El Paso, Texas
William Duane Triggs Glen Carbon, Illinois
Daniel W. Trimble Clarksville, Tennessee
Olivia Hannah Hadden Trost Clarksville, Tennessee
Keiara J. Ward, Magna Cum Laude Nashville, Tennessee
Freddie Lee Ware III Memphis, Tennessee
Lauren S. Weaver, Magna Cum Laude Sanford, North Carolina
Ciara A. Whitmore Clarksville, Tennessee
Tara Ann York-Anderson Waynesboro, Tennessee
Morgan Leigh Zigelsky Franklin, Tennessee
Associate of Applied Science
Julius Omambia Amenya Mesa, Arizona
Thomas Nathan Bryant Redding, California
Ludlow Ewen Francis Cleveland, Ohio
Joshua Wayne Garman, Cum Laude Eustis, Florida
Kristopher R. Hart Cumberland Furnace, Tennessee
Jonathan D. Kelly Clarksville, Tennessee
Ketura Denaye Mosley Paris, Texas
Rita Juliette Phillip, Cum Laude Clarksville, Tennessee
Kelley Renee Price, Magna Cum Laude Clarksville, Tennessee
Jonathan K. Slabaugh Springfield, Tennessee
Mark William Weinberger Clarksville, Tennessee
Curtis D. Williams Clarksville, Tennessee
Associate of Science
Jana M. Akins, Summa Cum Laude Ripley, Tennessee
Joshua Allen Atkins Indian Mound, Tennessee
Shawn Michael Bandy Goldsboro, North Carolina
Leanna J. Bass Niceville, Florida
Stephany L. Bassett Clarksville, Tennessee
Kathryn Grace Bettis Clarksville, Tennessee
Travone Michael Ladreak Birch Deland, Florida
Laken Ciara Bowlin Oneida, Tennessee
Samantha Rose Brewer, Cum Laude Las Vegas, Nevada
Keileigh Suzanne Bridge, Cum Laude Riceville, Tennessee
Eileen M. Brophy Clarksville, Tennessee
Jonathan Shane Brown, Magna Cum Laude Clarksville, Tennessee
Yanick Mingthoy Penaloza Burton Clarksville, Tennessee
Rachelle Byroad Great Bend, Kansas
Erik Cabrera-Altuzar Foley, Alabama
Brooke Carver Hendersonville, Tennessee
Amanda E. Casey Clarksville, Tennessee
Danielle Rae Crawford Clarksville, Tennessee
Kobeus Xzavion Crawford Hendersonville, Tennessee
Jeffery Davis Memphis, Tennessee
Rajesh Jovan Dixon Champaign, Illinois
Maria Dugan Dallas, Texas
Harley J. Eckert Clarksville, Tennessee
Alison Fernandez Edgewater, Maryland
Dana Marie Floyd, Cum Laude Willingboro, New Jersey
Brenna P. Foley Clarksville, Tennessee
Larry Lamont Galler Sr. Chicago, Illinois
Donte Lyndell Gayle New Orleans, Louisiana
Ashley Nicole Goliday Memphis, Tennessee
Nicole M. Goosey Clarksville, Tennessee
Eric S. Hanna, Cum Laude Clarksville, Tennessee
Leah Starr Hernandez Fort Belvoir, Virginia
Jacqueline Annette Hillman Clarksville, Tennessee
Wendell E. Hughes Chattanooga, Tennessee
Bruce Hunter, Summa Cum Laude Princeton, Texas
Jessica Marie Imler Clarksville, Tennessee
Tyler Jenkins Clarksville, Tennessee
Robert Michael Johnson Clarksville, Tennessee
Tiara Johnson Clarksville, Tennessee
Kyrsten Helen Kirk Clarksville, Tennessee
Scott Lee Joelton, Tennessee
Amber Louise Lamadrid-McDonald Antioch, California
Eilene Gail Leonard Thomasboro, Illinois
Dasha Dorial Long Fort Bragg, North Carolina
Ian Hunter Lucas Clarksville, Tennessee
Richard Makori Mangongo Clarksville, Tennessee
Candace Manning Clarksville, Tennessee
Jasmine Chantel Miller Clarksville, Tennessee
Trevern Nyama Morris, Cum Laude Clarksville, Tennessee
Jonathan Moss Chapmansboro, Tennessee
Julia Elfida Neblett San Antonio, Texas
Rebekah G. Nicely Clarksville, Tennessee
Jamono R. Nimmons Charleston, South Carolina
Neville O. Onyango, Magna Cum Laude Houston, Texas
Aaron Jacob Potter Clarksville, Tennessee
Della Lorene Proctor Clarksville, Tennessee
Tammy Louise Rasor, Magna Cum Laude Fort Worth, Texas
Jasmine Dominique Richardson Clarksville, Tennessee
Michelle Lee Roach Clarksville, Tennessee
Quinton Craig Roby Tennessee Ridge, Tennessee
Tatianna N. Reeves-Scales Clarksville, Tennessee
Marissa Shaw Clarksville, Tennessee
Devin Siskin Horseheads, New York
Katelyn Smith Clarksville, Tennessee
Wanda G. Snorden Clarksville, Tennessee
Kelsey Diane Stevens Clarksville, Tennessee
Justin Tyler Tahmassebi Gallatin, Tennessee
Francisco Vasquez Jr., Cum Laude Gardena, California
Joseph Warren III Clarksville, Tennessee
Anna Batson Webb Clarksville, Tennessee
Terri-Ann T. Wellington, Magna Cum Laude Clarksville, Tennessee
John Douglas Wheeler Mayfield, Kentucky
Anthony Dontate Williams Clarksville, Tennessee
Sierra Chisos Winey, Cum Laude Bandera, Texas
Laura M. Woods, Cum Laude Clarksville, Tennessee
Michael Edward Yount Franklin, Tennessee
College of Behavioral and Health Sciences
Bachelor of Arts
Melanie Elizabeth Adams Gallatin, Tennessee
Candace Holland Clarksville, Tennessee
Maria D. Hurley Santa Cruz, Bolivia
Jared Tyler Leftrick Springfield, Tennessee
Brandon John-Todd Marshall, Summa Cum Laude Estill Springs, Tennessee
Lovin Marie Middleton-Dunn, Magna Cum Laude San Diego, California
Lindsey Lee Welker, Magna Cum Laude Durango, Colorado
Bachelor of Science
Carrie Lynn Andersen, Magna Cum Laude Gladstone, Michigan
LaPorsche Capri Anderson Ripley, Tennessee
Tiffany Diane Ayers Greenbrier, Tennessee
Matthew Baker Clarksville, Tennessee
Kelly W. Barnhart Memphis, Tennessee
Anna Elizabeth Barry, Cum Laude Lebanon, Tennessee
Molly Christine Basch, Summa Cum Laude Cincinnati, Ohio
Angelia Juliet Basso Clarksville, Tennessee
Jessica L. Batson Clarksville, Tennessee
Summer Kaitlin Berry Clarksville, Tennessee
Travis Leon Betran New York, New York
K. Elise Bianconi Knoxville, Tennessee
Justin Allen Blake Dyersburg, Tennessee
Anthony David Bradley Plymouth, England
Sara Lynn Brashears, Magna Cum Laude Clarksville, Tennessee
Jason M. Broughton Woodlands, Texas
Courtney A. Brown Clarksville, Tennessee
Lakesha Renee Brown Ripley, Tennessee
Matai Ja'near Brown Cookeville, Tennessee
Joshua Michael Buchholz Clarksville, Tennessee
Justin Troy Buckner, Magna Cum Laude Brighton, Michigan
Katisha Cheryl Busby, Cum Laude Loretto, Tennessee
Kristen Marie Butcher Redding, California
Sandra Ibellis Carrion Clarksville, Tennessee
Derek Joshua Carroll, Magna Cum Laude Selmer, Tennessee
Alicia M. Chapman Clarksville, Tennessee
Felicia Onee Chavez Clarksville, Tennessee
Samantha Jane Chew Hopkinsville, Kentucky
Tammy L. Coleman, Cum Laude Columbia, Tennessee
Brien Jesse Colon Kansas City, Kansas
Kevin Ray Corey Los Gatos, California
Shelby Danielle Corley, Magna Cum Laude Antioch, Tennessee
Andra Catalina Cornea, Cum Laude Sibiu, Romania
Denise Michelle Courte Clarksville, Tennessee
Cedric Lemont Dailey Nashville, Tennessee
Lauren Ashley de Castro Torrance, California
Amanda Kimberly De Vries Mossley, Ontario
Tiffany Marie Dial Fort Hood, Texas
Jessica Lyn Dillingham, Summa Cum Laude Mount Juliet, Tennessee
Amber Dawn Dirk, Cum Laude Mandan, North Dakota
Kimberly V. Dominguez, Cum Laude Whittier, California
Patricia Ann Dooge Conover, North Carolina
Larissa Tara Dougherty, Cum Laude Eaton Rapids, Michigan
Ebony J. Douglas, Cum Laude Memphis, Tennessee
Ariel J. Duke Bowling Green, Kentucky
Ryan Michael Duke Clarksville, Tennessee
Keiland Antjuan Dunigan Collierville, Tennessee
Chelsey M. Earnest Clarksville, Tennessee
Lindsey Beth Eaton Dickson, Tennessee
Ashley Chenae Edwards Covington, Tennessee
Rita Yvonne Edwards Clarksville, Tennessee
Nicholas J. Elmore Clarksville, Tennessee
Shaundra Danielle Finley Cadiz, Kentucky
Shelby Dianne Floyd Antioch, Tennessee
Jennifer McKinney Frye, Cum Laude White Bluff, Tennessee
Tyler Blake Fuller Waverly, Tennessee
Amanda Elizabeth Garbacz Prairie du Chien, Wisconsin
Rolando Abdel Gautier Pennsauken, New Jersey
Randy Lee Gentry Dickson, Tennessee
Sharon Michelle Gilgenast Clarksville, Tennessee
Rena Gillison Chicago, Illinois
Tiffany M. Gold Clarksville, Tennessee
Nakita Annelle Gonzales Nolanville, Texas
Kristina Elizabeth Gonzalez New Orleans, Louisiana
Jessie Elizabeth Gotcher, Magna Cum Laude Clarksville, Tennessee
Nateisha Asha Grant, Cum Laude Clarksville, Tennessee
Thomas Herrin Greer, Cum Laude Milan, Tennessee
Daniel I. Gregg Clarksville, Tennessee
Christy Ann Guest, Magna Cum Laude White House, Tennessee
Christian Mason Hall Dickson, Tennessee
Brittany Ellise Hammonds Nashville, Tennessee
Kayla M. Harmon, Cum Laude Clarksville, Tennessee
Jenna Leigh Harris Clarksville, Tennessee
Justin Thomas Harris Radcliff, Kentucky
Kiersten Marey Harris Henrico, Virginia
Rachel Renee Hartley Hopkinsville, Kentucky
Christopher Augustine Hartman Charlotte, Tennessee
Lauren Henderson Fredericktown, Missouri
Kaylee Marie Heron Clarksville, Tennessee
Brianna Lynn Hite Cunningham, Tennessee
Lauren Nicole Hodge Memphis, Tennessee
Krista Michelle Hooper Charlotte, Tennessee
Danielle Nicole Horn, Magna Cum Laude Clarksville, Tennessee
Richard Cody O'Neal Horton Collinwood, Tennessee
Nova Dawn Huff Clarksville, Tennessee
Calyn Kelsay Hull, Summa Cum Laude Golden, Colorado
Heather Victoria Hulsey White Bluff, Tennessee
Daily Wendelin Hummelt Sparta, Tennessee
Christina Danielle Hunter Clarksville, Tennessee
Jonathan William Jeans Memphis, Tennessee
Erica F. Jenkins Clarksville, Tennessee
Ashley Anne Johnson, Cum Laude Clarksville, Tennessee
Kamron Rashad Johnson Nashville, Tennessee
Lauren Nicole Joiner New Johnsonville, Tennessee
Brooke N. Jones Johnson City, Tennessee
Courtney M. Kalogiros Clarksville, Tennessee
Mason David LaFleur Cedar Hill, Tennessee
Malinda Lynn Lane Clarksville, Tennessee
Christopher Ross Langley Ashland City, Tennessee
Donna Marie Lewis Clarksville, Tennessee
John B. Logan Nashville, Tennessee
Linda Liashia Long Clarksville, Tennessee
Courtney Jennifer Lucas Indian Mound, Tennessee
Alyson Carrie Luster, Cum Laude Sackets Harbor, New York
William Samuel Lute, Cum Laude Lucasville, Ohio
Candace Sherrell Maclin Covington, Tennessee
Justine Lynn McGrath Boston, Massachusetts
Andrew Stephen McKenna Groton, Connecticut
Courtney M. McLain Cape Girardeau, Missouri
Shawn Michael McVey Nashville, Tennessee
John Miller Erin, Tennessee
Miranda Jean Mills Erin, Tennessee
Kisha Lyn Miranda Gallatin, Tennessee
Elizabeth Rose Mitchell Nashville, Tennessee
Andrew P. Moore, Cum Laude Springfield, Tennessee
Wilfred Earl Morrison Jr., Cum Laude Clarksville, Tennessee
Veronica Montanez Muñoz Clarksville, Tennessee
Jennifer Elise Musick Decatur, Illinois
Brandon Joshua Owens Gainesville, Georgia
Victoria Cloud Perigo Clarksville, Tennessee
EnRiques K. Perry Gallatin, Tennessee
Malaine Pierre Clarksville, Tennessee
Ricky L. P'Pool Hopkinsville, Kentucky
Christine Marie Pusateri Clarksville, Tennessee
Amanda Walker Pyle Clinton, Tennessee
Andreina Quiceno, Magna Cum Laude Cypress, Texas
Kristina Joy Reinagel Chapel Hill, Tennessee
Darlene Denise Renna, Summa Cum Laude Winter Haven, Florida
Hannah Rockwell Kingsport, Tennessee
James Kevin Rogers Jr. Ashland City, Tennessee
Tara L. Russell Clarksville, Tennessee
Kalyn Michelle Schroeder Welch, Minnesota
Anna Cathryn Scott Brownsville, Tennessee
James Wesley Scott White House, Tennessee
Amber Leiann Seymour, Summa Cum Laude Portland, Tennessee
Joyce Michele Stamper Clarksville, Tennessee
Stephen B. Stansell Athens, Tennessee
Shelby Elizabeth Stewart Greenbrier, Tennessee
Kenneth Earl Streeter Jr. Clarksville, Tennessee
Huyen Mai Tang, Cum Laude Memphis, Tennessee
Amanda L. Thomas Springfield, Tennessee
Samantha K. Thompsen Clarksville, Tennessee
Jessica L. Todd Clarksville, Tennessee
Cristina Anne Torres, Summa Cum Laude Oak Grove, Kentucky
Leah Consuelo Torres Nashville, Tennessee
Jovaun D'Andre Tyson Clarksville, Tennessee
Ebony Ayana Underwood Jackson, Mississippi
Natasha Y. Van Horn Clarksville, Tennessee
Sabrina Rena Vance Clarksville, Tennessee
Robert Russell Wagonschutz Hampshire, Tennessee
Olivia Annise Ware Chattanooga, Tennessee
Elizabeth Kerrianne White, Cum Laude Williamsburg, Virginia
Charlene Tanaka Williams North Caicos, Turks and Caicos Islands
Carlos Williamson Atoka, Tennessee
Jacob Ryan Winters, Cum Laude White Bluff, Tennessee
Nicholas Leonrdas Yeatrakas Goose Creek, South Carolina
Adam D. York Clarksville, Tennessee
Bachelor of Science in Nursing
Veronica Marie Abbitt, Cum Laude Austin, Texas
Ana Jose Arroyo Franklin, Tennessee
Lauren E. Austin Clarksville, Tennessee
Kenneth Mitchel Bowman Clarksville, Tennessee
Natalie Anne Brittain Clarksville, Tennessee
Mary Elizabeth Burchett, Cum Laude Clarksville, Tennessee
Rebeka Lynn Buttrey Joelton, Tennessee
Candace Marie Calloway Bowling Green, Kentucky
Samantha N. Cartwright Pink Hill, North Carolina
Rochelle V. Castro Lodi, California
Kayci Costa Clarksville, Tennessee
Melissa D. Cramer Hopkinsville, Kentucky
Rachel Leigh Crum, Magna Cum Laude New Johnsonville, Tennessee
John Richard Cummings Dickson, Tennessee
Alycia Nichole Disch Angola, Indiana
Daisy M. Douty, Cum Laude Clarksville, Tennessee
Staci Leighann Dow Coldwater, Michigan
Tyler Dawn Eden New Johnsonville, Tennessee
Eric Elliot Esmond Springfield, Tennessee
Katie Elizabeth Fletcher Cedar Hill, Tennessee
Crystal Lynn Foltz Fort Campbell, Kentucky
Jathan Spencer Garrett White House, Tennessee
Soraya Michelle Ghelichkhani Collierville, Tennessee
Erica Lee Grimm West Bend, Wisconsin
Katherine Mary Gusse New Orleans, Louisiana
Pennie Christine Haste, Magna Cum Laude Bethelridge, Kentucky
Kayla Renae Helf, Cum Laude Clarksville, Tennessee
Bridgette Sarahann Henke Greenbrier, Tennessee
Harmony Michelle Highley, Cum Laude Joplin, Missouri
Nicole Hinkley Clarksville, Tennessee
Claude Charles Hufford Hopkinsville, Kentucky
Erresha Shonay Jackson, Cum Laude Chattanooga, Tennessee
Stephanie Leigh Johnson Chapmansboro, Tennessee
Charolyn Patrice Jones Charlotte, North Carolina
Sonia N. Kessler Clarksville, Tennessee
Anh Thi Le Nashville, Tennessee
Cassie E. Lilly, Cum Laude Cross Plains, Tennessee
Meghan Ashton Lockwood Clarksville, Tennessee
Bonnie Jean Longnecker Cedartown, Georgia
Jessica Ann Machado, Cum Laude Clarksville, Tennessee
Nancy Louise Miller Waverly, Tennessee
Valerie Jean Miller Plymouth, Massachusetts
Kimberly Alana Newton Clarksville, Tennessee
Melay E. Nichols Clarksville, Tennessee
John F. Perez, Cum Laude Newark, New Jersey
Nichole L. Phelan, Cum Laude Charlotte, Tennessee
Serena Rohrbeck, Cum Laude Dupont, Washington
Karissa Dawn Sabatino Boston, Massachusetts
Bethany Grace Scalise Clarksville, Tennessee
Stephanie Ann Sessoms Clarksville, Tennessee
Jessica A. Spiess, Cum Laude Clarksville, Tennessee
Erika Haley Swenson, Cum Laude White House, Tennessee
Mary Vu Memphis, Tennessee
Heather Paige Wallace, Magna Cum Laude Laurens, South Carolina
Jordan Elizabeth Warner, Magna Cum Laude Mount Juliet, Tennessee
Jaime Autumn Webster, Magna Cum Laude Brighton, Michigan
Miranda Marie Weed Avon Lake, Ohio
Brittney Leigh Wilkinson Clarksville, Tennessee
Tracy Lauren Zagar, Summa Cum Laude Indianapolis, Indiana
Bachelor of Science in Social Work
Deanna LaShuna Anderson Birmingham, Alabama
Josett Latrice Artis Lillington, North Carolina
Tania Xiomara Austin Clarksville, Tennessee
Jaimie Y. Barnes Clarksville, Tennessee
Michelle C. Baumgardner Nashville, Tennessee
Cassandra Bevil Mobile, Alabama
Wanda J. Brewer Clarksville, Tennessee
Sara Elizabeth Brogdon, Magna Cum Laude Clarksville, Tennessee
Nancy Chavarria Clarksville, Tennessee
Carrie Irene Coleman Canton, Ohio
Sylvia D. Conner Clarksville, Tennessee
Rachel K. Daniel, Magna Cum Laude White House, Tennessee
J. Alberto Fait, Cum Laude Lanham, Maryland
Shannon Gibson Hill Air Force Base, Utah
Teeona Onjalique Hall Cleveland, Tennessee
Nikki G. Hentz Batesville, Mississippi
Amanda M. Illert Clarksville, Tennessee
Megan Alexandra Janik, Cum Laude Kingston, New York
Tandra Taneal Jennings, Cum Laude Dyer, Tennessee
Charlotte Elizabeth Key, Summa Cum Laude Portland, Tennessee
Jennifer Quinn Lanuzga Clarksville, Tennessee
Katlyn Alicia Marlow Clarksville, Tennessee
Amanda Maas Clarksville, Tennessee
Aziza B. Mbuyamba Clarksville, Tennessee
Keith Eugene Messer Joelton, Tennessee
Gladyn Esther Minzey Chicago, Illinois
Katie Elisha Mitchell Clarksville, Tennessee
Margarita Petcock, Magna Cum Laude Clarksville, Tennessee
Taavon Antionette Silver Gaston, North Carolina
Richard Jason Strom Long Beach, California
Leslie Andrea Swanson Arkansas City, Kansas
Angela Terry, Cum Laude Clarksville, Tennessee
Demetrica Lachelle Williams Clarksville, Tennessee
Ashley Ann Yeager Clarksville, Tennessee
College of Business
Bachelor of Business Administration
Christopher Lee Adcock Clarksville, Tennessee
Jasmin Ademovic Sarajevo, Bosnia
Jennifer Lynn Adkins Clarksville, Tennessee
Judi Edlin Adkins Clarksville, Tennessee
Adam Howell Albright Clarksville, Tennessee
Aimee Milner Allison Atlanta, Georgia
Matelean A. Anderson, Cum Laude Clarksville, Tennessee
Carlos M. Andino McDonough, Georgia
Natalia Ariza Diaz, Cum Laude Bogota, Colombia
Tatiana Ariza Diaz, Cum Laude Bogota, Colombia
Vonda Kay Arnett Clarksville, Tennessee
Larry Gene Arnold, Cum Laude McEwen, Tennessee
Sarah Yong Ayer Clarksville, Tennessee
Megan Leigh Barbarotto Nashville, Tennessee
Mondessa DeAnne Barnett Clarksville, Tennessee
Alex Belew O'Fallon, Missouri
Victoria Corinne Belisle Johnson City, Tennessee
Kwakuyi Yao Bennet Clarksville, Tennessee
Johnathan Wyatt Blick Clarksville, Tennessee
David Eugene Bosanko II, Summa Cum Laude Clarksville, Tennessee
Cody Stephen Brooks Murfreesboro, Tennessee
Daniel Ray Brooks Clarksville, Tennessee
Elizabeth LuAnna Browder Chattanooga, Tennessee
Jessica Renee Brown Waverly, Tennessee
Zachariah DeWayne Brown Lewisburg, Tennessee
Andrew Marshall Burkhart Woodlawn, Tennessee
Angela Sue Burkhart Clarksville, Tennessee
Benjamin Michael Burkhart Woodlawn, Tennessee
Brent C. Buthje Clarksville, Tennessee
Chelsey Caplinger Springfield, Tennessee
William L. Claytor, Magna Cum Laude Fresno, California
Brittany Dawn Craft McEwen, Tennessee
Krista Rebecca Davis, Cum Laude Clarksville, Tennessee
Leni Elisabeth Dean Clarksville, Tennessee
Rachel Ann Deaton, Magna Cum Laude Jackson, Tennessee
James P. Dotson, Cum Laude Dickson, Tennessee
Elizabeth Yates Dowlen Clarksville, Tennessee
Harrit Ellechel Medaliali, Palau
Heath Tyler Ensele Oroville, California
LaShield Holman Evans Clarksville, Tennessee
Meaghan McGinnis Feeney Pleasant View, Tennessee
Kylie Lynn Fitzpatrick Clarksville, Tennessee
Ronald George Fletcher Jr. Clarksville, Tennessee
Brittany Rae Foley Commerce, Texas
Vincent D. Gagliardi, Magna Cum Laude Adams, Tennessee
Matthew Calvin Gallowitz Clarksville, Tennessee
Christin N. Gardner Clarksville, Tennessee
Travis M. Gibson Palmyra, Tennessee
Sydney Meredith Green, Cum Laude Clarksville, Tennessee
Maria Ann Hanson Clarksville, Tennessee
Ciara LaDonya Hayes Clarksville, Tennessee
Austin Kyri Hayle Nashville, Tennessee
Matthew Hamilton Hogan, Cum Laude Clarksville, Tennessee
Brandon Duane Hopkins Nashville, Tennessee
Jameka Lache Horton Lenior, North Carolina
Marco Iten Schwanden, Switzerland
Andrea Lee Janes Zephyrhills, Florida
Jordan M. Johnson Clarksville, Tennessee
Sarah Kathleen Justice, Cum Laude Cedar Hill, Tennessee
Christopher A. Kelly, Summa Cum Laude Troy, Tennessee
Kacy Allen Kemmer Clarksville, Tennessee
Elizabeth Leigh Kimbrough, Magna Cum Laude Hendersonville, Tennessee
Bennet Yao Kwakuy Gallatin, Tennessee
Heidi Renee Lewis Gallatin, Tennessee
Leilany Tamika Loving, Magna Cum Laude Colon, Panama
Patricia Lynn Luba Bowman, North Dakota
Donterius Rashad Majors Antioch, Tennessee
Diyonka Y. Massey Fayetteville, Tennessee
I'kea Massey Fayetteville, Tennessee
MaQueba LenCoya Massey, Cum Laude Fayetteville, Tennessee
Dontavious Xavion McCory Jackson, Tennessee
Kevin Eugene McCray, Cum Laude Wartburg, Tennessee
Garrette C. Milliken, Cum Laude Indian Mound, Tennessee
Kensley Kay Minor Westmoreland, Tennessee
Kathrine Danielle Moffitt, Cum Laude Pleasant View, Tennessee
Lysette Franchesca Navarro-Cabrera Clarksville, Tennessee
Laura Beth Nunley, Cum Laude Tullahoma, Tennessee
Jae H. Parker, Cum Laude Clarksville, Tennessee
Jennifer D. Perryman, Magna Cum Laude Chapel Hill, Tennessee
Joceline Quiceno Cypress, Texas
Ryan James Quick Mount Vernon, Illinois
Michael S. Rainier, Cum Laude Clarksville, Tennessee
Tara D. Rider Clarksville, Tennessee
Michelle Amber Roberts Cincinnati, Ohio
LeQuinta Renae Robinson Nashville, Tennessee
William Ross Rollings III Cross Plains, Tennessee
Bryn K. Rye Clarksville, Tennessee
Levi Glenn Shearon, Magna Cum Laude Clarksville, Tennessee
Jane Elisabeth Stevens, Magna Cum Laude Clarksville, Tennessee
Cynthia Louise Stinnett, Magna Cum Laude Clarksville, Tennessee
Daniel Thomas Stovall Franklin, Tennessee
Amber Elizabeth Stuart Clarksville, Tennessee
Jimmy A. Sumner Willisville, Illinois
Keeley Anne Tawater Cross Plains, Tennessee
Charissa Juanita Taylor Brentwood, Tennessee
Zachary J. Taylor Woodlawn, Tennessee
Tahesha N. Tealer Clarksville, Tennessee
Ambrea Danielle Tuberville Clarksville, Tennessee
Lukas Gideon Tyler Erin, Tennessee
Melburn Donnell Van Horn Clarksville, Tennessee
Ashley M. Wall Clarksville, Tennessee
Spencer Walter Welsh Clarksville, Tennessee
Edward Justin Wheatley Charlotte, Tennessee
Kristin Leigh Whitmire Apison, Tennessee
Justin Scott Wiater Adams, Tennessee
Zachary David Wilbanks Henry, Tennessee
Angel Rashad Willis Clarksville, Tennessee
Gary Shawn Willis Clarksville, Tennessee
Brad Harold Wilson Fort Campbell, Kentucky
John Raymond Witt Pleasant View, Tennessee
Matthew Joseph Zenker Clarksville, Tennessee
Tatsiana Michailovna Zhyhaliova, Summa Cum Laude Clarksville, Tennessee
Martha Dickerson Eriksson College of Education
Bachelor of Science
Shala Rena Abbott Indian Mound, Tennessee
Mandi Jill Bargar, Cum Laude Hermitage, Tennessee
Marilea Nichole Blair Nashville, Tennessee
Emily Diane Brennan, Summa Cum Laude Cedarburg, Wisconsin
Kelsie Mae Brewer, Summa Cum Laude Cottontown, Tennessee
Cecily Ann Brooks Burns, Tennessee
Courtney Tarrell Broome Nashville, Tennessee
Holly J. Brown, Magna Cum Laude Decherd, Tennessee
Jessica Lynn Brown Viola, Illinois
Kala Paige Burch Greenbrier, Tennessee
Shelby Lynn Burkhart Woodlawn, Tennessee
Candice Lauren Casaday, Summa Cum Laude Clarksville, Tennessee
Christy L. Colby Clarksville, Tennessee
Kayla Renee Crouch Big Rock, Tennessee
Eleni Davis Clarksville, Tennessee
Kendra I. Donaldson Dover, Tennessee
Evelyn Glen Estes Clarksville, Tennessee
Janelle Stacey Ferrier Fort Huachuca, Arizona
Rachel Funderburk, Magna Cum Laude Clarksville, Tennessee
Natashia Garner, Cum Laude Clarksville, Tennessee
Morgan Rachael Gibson, Summa Cum Laude Clarksville, Tennessee
Ariel Michelle Griffith Greenbrier, Tennessee
Matthew August Hasse Naperville, Illinois
Emily Nell Henson, Magna Cum Laude Clarksville, Tennessee
Joana Helen Howard, Cum Laude Clarksville, Tennessee
Brittany Rae Hunter Charlotte, Tennessee
Melissa Dawn Kelley Clarksville, Tennessee
Ashley Michele Kirk White House, Tennessee
Sara M. Lubieski, Magna Cum Laude Lewisburg, Tennessee
Cherie Janell K. Manske, Summa Cum Laude Clarksville, Tennessee
Monica R. Marshall, Cum Laude Oakdale, Tennessee
Milly Jane Maxwell, Cum Laude Jackson, Tennessee
Hannah Amelia McMillion, Cum Laude Memphis, Tennessee
Stephanie Brooke Mixon, Cum Laude Clarksville, Tennessee
Jared R. Morris White House, Tennessee
Brooke Elizabeth Mullins, Cum Laude Clarksville, Tennessee
Jessica D. Nitschke Dickson, Tennessee
Nicole Marie Olszewski Pickerington, Ohio
Joel H. Parker Clarksville, Tennessee
Shannon Elizabeth Pasley Clarksville, Tennessee
Natasha Nicole Pentecost, Magna Cum Laude Centerville, Tennessee
Jessica Michelle Pickering Dickson, Tennessee
Vanessa Michelle Pineda Edinburgh, Texas
Kelley Rose Poole, Magna Cum Laude Clarksville, Tennessee
Kaili Regan Jones Purrington Clarksville, Tennessee
Shelby Rose Rogers, Summa Cum Laude Hendersonville, Tennessee
Amy Lanette Rutledge, Magna Cum Laude Iuka, Mississippi
Ashley Elizabeth Saunders, Cum Laude Dover, Tennessee
Tammy M. Seeber Clarksville, Tennessee
Jessica Rachel Shaw, Cum Laude White House, Tennessee
Hannah Gabrielle Shingler Clarksville, Tennessee
Beverly Nichole Sliman McEwen, Tennessee
Shauna M. Smalling Clarksville, Tennessee
Tammie Kiren Smith Clarksville, Tennessee
Marianne M. Spencer Clarksville, Tennessee
Jennifer Lynn Story Clarksville, Tennessee
Alexandria Dean Tate, Magna Cum Laude Greenbrier, Tennessee
Abbey Lynn Thompson Clarksville, Tennessee
Martha Page Thompson Clarksville, Tennessee
Carrie Anne Uffelman Erin, Tennessee
Olivia Ann Voie Wisconsin Rapids, Wisconsin
Steven D. Watford Clarksville, Tennessee
Raquel Nicole Watters Clarksville, Tennessee
Wendy Young Fort Campbell, Kentucky