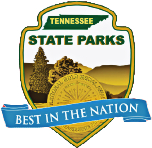 Nashville, TN – Show dad your appreciation by taking him out for a delicious meal at one of Tennessee State Parks' restaurants this Father's Day, Sunday, June 15th.
Tennessee State Parks invite you to spend time with family and friends, celebrate dad's big day and enjoy Tennessee's natural wonders at one of eight state park restaurants serving a Father's Day Buffet. Buffet selections and prices will vary, ranging from $14.95 to $17.95. Prices do not include drink, tax or gratuity.
Special prices for kids and seniors over 62 are available.
Group reservations are recommended.
The Father's Day Buffet will be available beginning at 11:00am until closing.
Great Gift Ideas for Father's Day
Hit a Hole-in-One this Father's Day with a Tennessee Golf Trail Annual Pass
Pass holders enjoy unlimited golf at any of our six traditional courses or the three Jack Nicklaus- designed Bear Trace courses. Passes can be purchased at any Tennessee Golf Trail course and are good for 12 months from date of issue. For more information, visit www.tngolftrail.com.
Travel through Tennessee with The Tennessee Conservationist
For Dads on the go, a subscription to The Tennessee Conservationist magazine is the perfect gift. This award-winning magazine highlights the people and places of Tennessee, while focusing on the natural, cultural and historic treasures unique to the Volunteer State. Dad will enjoy exploring Tennessee's back roads and State Parks from the comfort of home, six times a year with The Tennessee Conservationist.
Gift Certificates – Always a Good Choice
A gift certificate is always a great gift and may be used across the state at most of our Tennessee State Parks. Books, walking sticks and stylish shirts are just a few of the many items available for purchase with a certificate at our gift shops. Also popular is a round of golf, a cap from the Pro Shop, a night's stay in one of our inns or a tasty meal at one of our restaurants.
Certificates are available from $10.00 to $250.00 and can be purchased by visiting one of our resort parks or by calling 800.250.8613.
Leave the Necktie at Home – Kick Back with a Good Meal
After enjoying a brisk hike on one of our many trails, head to a state park restaurant for a cold beverage and delicious meal. Featuring a southern-style Father's Day feast, our eight State Park restaurants are here to serve you and your family. Reservations are recommended for groups. Make your Father's Day plans today.
Paris Landing State Park Father's Day Buffet
Buffet Service from 10:30am until 7:00pm
Pickwick Landing State Park Father's Day Buffet
Buffet Service from 11:00am – 3:00pm & 4:30pm – 8:00pm
David Crockett State Park Father's Day Buffet
Buffet Service from 11:00am until 6:00pm
Henry Horton State Park Father's Day Buffet
Buffet Service from 11:00am to 4:00pm
Natchez Trace State Park Father's Day Buffet
Buffet Service from 11:00am until 3:00pm
Cumberland Mountain State Park Father's Day Buffet
Buffet Service from 11:00am until 8:00pm
Fall Creek Falls State Park Father's Day Buffet
Buffet Service from 11:00am until 8:00pm
Montgomery Bell State Park Father's Day Buffet
Buffet Service from 11:00am – 3:00pm & 5:00pm – 8:00pm