Fort Campbell, KY – Campbell Crossing's 2014 Summer Carnival event was a huge success. With more than 2,500 Fort Campbell Soldiers and family members in attendance, residents enjoyed carnival games, fortunetellers, face painters, a stilt walker, and caricature artists.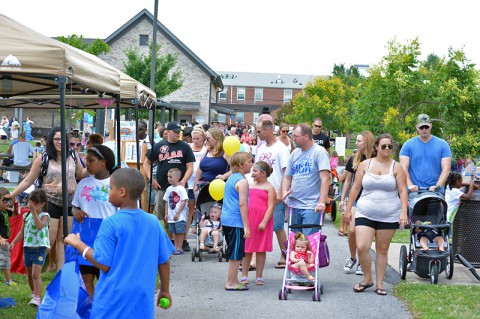 Residents stayed cool by running through the splash park at The Village Commons at Hammond Heights where they also had the opportunity to participate in various water activities, including a waterslide!
Raffle prizes were awarded to Keyandra Robinson who took home a grill, Rachael Owen who won a girl bike, Sue Luther who walked away with DeWalt Tools, Salvatore Evangelista who won a boy bike, and Rosa Ochoa who also took home a grill.
"The Summer Carnival was an amazing event filled with many of our families enjoying fun activities with their friends and neighbors," said Bethany Harrell, community services manager at Campbell Crossing. "It was definitely a great way to kick off the first day of summer."
In addition to the Summer Carnival activities, Campbell Crossing was proud to represent its newest program, SYNERGY. More than 160 kids took the pledge to become more sustainable and join the SYNERGY Troops. If you did not get a chance to sign up at the Summer Carnival, be sure to check out the SYNERGY booth at the next resident event in August.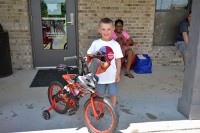 Campbell Crossing would like to thank all those who participated in this year's event. Participating vendors included: Sam's Club, Schwan's, DJ Johnny, Austin Peay State University Athletics, AUSA, Hopkinsville Community College, Fisher House, USO, ASYMCA, Dave and Busters, 101st Division SHARP Program, Miller-Motte Technical College, Baptist Health Fitness Formula, and Fort Campbell VETCEN.
Miss out on this year's event? To find out more about the Summer Carnival or upcoming events, visit www.campbellcrossingllc.com or email
About Campbell Crossing
Campbell Crossing LLC, the partnership between developer Lend Lease and the Department of the Army, is the premier housing community for the Soldiers and families of the 101st Airborne Division (Air Assault) and home to the first zero-energy homes project ever constructed on a military installation.
Lend Lease took over operations of Fort Campbell's on-post housing in 2003 as part of the Military Housing Privatization Initiative (MHPI), a program aimed at improving the quality of life for Soldiers and their families. Since then, the Community has received numerous recognitions, including the Army's 2012 RCI Project of the Year, National Association of Home Builders (NAHB) National Green Building Award and the National Council for Public-Private Partnerships Innovation Award.
Lend Lease will own, manage, renovate, develop, and sustain the more than 4,500 homes of Campbell Crossing until 2053. www.campbellcrossingllc.com