Clarksville, TN – With the return and report date for Austin Peay State University football players nearing, questions abound for coach Kirby Cannon's squad, as he enters his second season leading the program.
The one thing that probably wasn't in question was any surprise in the Governors being picked ninth in the Ohio Valley Conference preseason poll of conference coaches and sports information directors.
But that is where most of the non-questions end.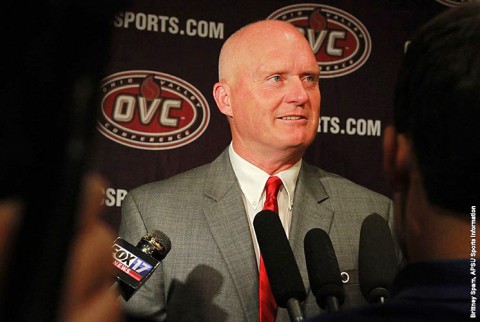 Yes, there are 40 letter winners returning – including 17 seniors — but only eight of those letter winners are returning starters, with 43 true or redshirt freshmen making up a large part of the Govs 93-man roster.
That leads to who will step up and fill all of those starting spots left open from last year and haw quickly will the freshmen acclimate themselves to playing football at the college level with the season opener at Memphis just over a month away?
Those first questions are especially true on the offensive side of the ball where the Govs are coming off a season where they only averaged 7.5 points per game, but saw its leading passer Andrew Spivey transfer from the school over the summer along with its leading rusher being dismissed from the team and leading receiver being suspended for the upcoming year.
Who will step up and earn those key spots?
At quarterback, the hopes are junior Trey Campbell – who sat out last year after transferring from Central Arkansas – will be the answer as a signal caller and improve on the 46.5 percentage in pass completions in 2013, which ranked 118th out of 122 FCS teams.
And if Campbell is the answer, who will be throw to?
The running back slot will see a returnee from last year in Rashaan Coleman who started at receiver to begin last season move to runner back at the end of the year and had a 100-plus yard rushing game versus Southeast Missouri.
Will he be the answer to anchor the stable of running backs?
Defensively, will the Governors be able to get more pressure on opponent's quarterbacks after recording only eight sacks in 2013? Can they lower the 237.6 yards per game given up on the ground? The 423-plus yards in total offense? The 39.7 points per game?
On special teams, can they find a kicker that will be better than just a bit above 50 percent made on field goals? Will they be able to keep punter Ben Campbell off the field after he sat the school record of 87 punt attempts?
These are only the first of many questions coach Cannon and his staff will have to find answers too before facing Memphis on August 30th.
But the biggest question is after finishing 2013 season 0-12, where and when will the Govs end the current losing streak?