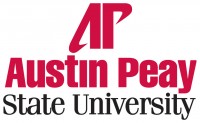 Clarksville, TN – Drs. Rebecca Johansen, Dwayne Estes and Chris Gienger, principle investigators of the Center of Excellence for Field Biology and Biology Department faculty at Austin Peay Sate University, have been awarded more than $300,000 from the National Science Foundation (NSF) to improve the infrastructure, utility and visibility of the APSU Natural History Collection.
In addition to teaching and research activities, Johansen, Estes and Gienger, serve as curators of these collections.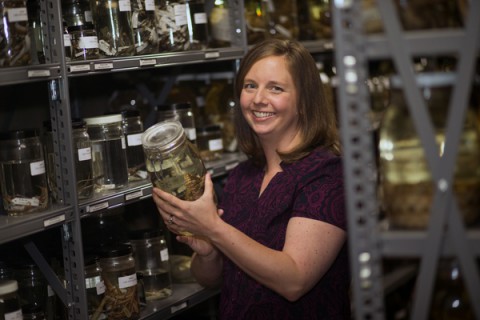 The APSU Natural History Collection, located in the Sunquist Science Complex, includes more than 100,000 research specimens representing the state's largest collection of amphibians and reptiles, the second largest collection of plants and a rapidly growing collection of fishes.
It also features small collections of birds and mammals from throughout the Mid-south Region. These collections are vital to faculty and student research, serving as the foundation for more than 200 publications, theses, dissertations and online atlases.
Additionally, collections are used in public outreach and as instructional materials supporting APSU biology courses.
Although the APSU Natural History Collection has contributed significantly to education and research locally, use by the broader scientific community has been limited, largely due to its limited online visibility and accessibility. One of the key elements of the new grant is to unify the electronic records associated with all specimen libraries and build new publicly searchable databases and websites that are broadly accessible.
The APSU Natural History Collection will also partner with other NSF-funded initiatives, such as iDigBio (https://www.idigbio.org), to link APSU's specimen libraries to larger digital networks of natural history collections from around the world. Through these information-sharing objectives of the grant, the APSU Natural History Collection will become internationally visible and its use in education and research will increase considerably.
A second objective of the funded research is focused on improving the physical infrastructure of the collections. The APSU Natural History Collection has experienced considerable growth in recent years, stemming from the increased research activities of students and faculty and the acquisition of orphaned collections from other institutions.
This growth has led to overcrowding of specimens on shelves and very limited storage for the addition of new specimens generated from future or ongoing research.
These issues, along with the discontinued use of toxic fumigants to prevent insect infestations in the herbarium, have resulted in the collections being threatened by physical damage from overcrowding, active insect infestations and potential future fire, water and earthquake damage.
To alleviate these issues, new equipment for non-toxic pest management will be acquired, the David Snyder Museum of Zoology in the Sundquist Science Building will be expanded and new compactor-style shelving systems will be installed in the expanded space and in the APSU Herbarium.
These shelves will provide sufficient storage and growth capacity for many future generations of researchers and will allow the APSU Natural History Collection to maintain its mission to serve as the primary specimen repository for the Mid-south, to lead efforts to describe regional biodiversity and to train new generations of students through excellence in mentorship, research and public outreach.