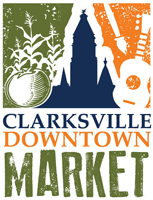 Clarksville, TN – Tucked in the hills and hollers of Cumberland City, Tennessee is the Cumberland Quilting Company studio out of Denise Coulter's basement.
After over 30 years as an Army wife, the Coulters retired outside of Clarksville. Denise has been working in the quilting industry for over 10 years and now works from her basement-turned-quilting-studio.
"I have been working with needles and thread for as long as I can remember, starting at four years old on my Nonnie's lap, sewing on a machine."
Saturday mornings in the summer and early fall now means rising with the sun to join other artists and vendors at the Clarksville Downtown Market.
"Saturday mornings at the Market are a great way to meet people. The sense of community is especially strong here," says Denise. Her family helps with many aspects of the business and often her husband or daughters will be at the booth, too.
Selling quilts at the Clarksville Downtown Market is only one of Denise's many projects. She also makes custom-order memory and t-shirt quilts, teaches quilting, and uses her long arm quilting machine to quilt for others.
Her passion for quilting is evident in her work and creativity. Wanting to help others reach their own quilting needs, she helps any way she can. Like she says, "whether an heirloom, a "make-do," or anything in between, I will meet your quilting needs!"
The Clarksville Downtown Market is held each Saturday through October 18th, 2014 on the Public Square next to City Hall. The market is open from 8:00am until 1:00pm.