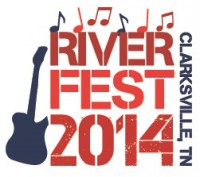 Clarksville, TN –  Is your non-profit organization looking to win some cash?  The Clarksville Parks and Recreation Department is offering a $500.00 cash prize to the non-profit organization that provides the most hours volunteered at Riverfest 2014.
Volunteers will be helping with soft drink sales on September 5thand 6th, as well as the Adventure Zone Kids' Area on September 6th, at McGregor Park.
In order to be eligible for the $500.00 prize, volunteers must abide the following criteria:
Volunteers must sign in with the volunteer coordinator the day-of the event, work their scheduled hours and sign out after their shift in order for their hours to count towards the contest.
If a volunteer representative of an organization does not show for their designated timeslot, that organization will automatically be disqualified from the contest.
Representatives will receive credit for the hours they are present and working, so organizations should encourage timeliness.
All drink booth volunteers must be at least 18 years of age
All Adventure Zone volunteers must be at least 16 years of age.
The winner of the contest will be announced September 10th.
Any interested organizations should contact Bethany Benjamin at 931.645.7476 or to participate.
The registration process is simple, visit www.cityofclarksville.com/riverfest and select "Volunteer" from the list on the left of the page.  A schedule of available timeslots will be posted on the webpage.
A liaison from each organization must contact Bethany Benjamin with their list of volunteers for the available timeslots.  Remember, the cash prize will be won by the organization with the most hours worked, so don't worry if your organization isn't high in number!
For more details on volunteering at Riverfest 2014, please contact the Clarksville Parks and Recreation at 931.645.7476 or visit www.cityofclarksville.com/riverfest.
Sections
News
Topics
Adventure Zone, Clarksville, Clarksville Parks & Recreation Department, Clarksville Parks and Recreation, Clarksville TN, McGregor Park, Riverfest, Riverfest 2014, Volunteering