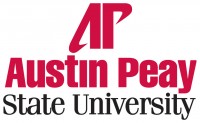 Clarksville, TN – In the last few months, the fraternity and sorority community at Austin Peay State University has continued to enhance the University's reputation through service work and the earning of several prestigious awards and recognitions.
The recent accomplishments are listed below.
In March, Stephen Dominy, coordinator of Fraternity & Sorority Affairs, was named the NASPA – Student Affairs Administrators in Higher Education Fraternity & Sorority Knowledge Community co-chair. Dominy works with more than 1,300 professionals aiding in the advancement of fraternities and sororities on collegiate campuses across the world.
In 2013-2014, the APSU fraternity and sorority community raised more than $77,825 dollars and committed 8,569 service hours to various local and national philanthropies.
The Eta Tau Chapter of Alpha Tau Omega Fraternity received the True Merit Bowl earlier this month at their 81st Biennial Congress in Orlando, Florida.
Denver Pennington, president of the Alpha Tau Omega at Austin Peay, received the Brigadier General John F. Kinney Scholarship during the Biennial Congress. To qualify for a scholarship, an individual must be a member of Alpha Tau Omega and a current member of a National Guard or Military Reserve unit, or enrolled in the Reserve Officer Training Corps (ROTC) or similar military training program at their college or university. Further, a scholarship recipient must have the intention of serving for a period of time on active duty with their Guard or Reserve unit, or in the United States Marine Corps, Air Force, Navy, Army, Coast Guard or successor organization.
The Eta Xi Chapter of Sigma Chi Fraternity received the James F. Bash Significant Improvement Award at Sigma Chi's Balfour Leadership Training Workshop. This honor is given to chapters that demonstrate major improvement in total chapter operations from year to year.
Alpha Gamma Delta received "Best New Chapter Support Over the Biennium" at their International Convention this summer. The award recognizes the largest cumulative total of funds donated to the foundation, by a new collegiate chapter, for the Convention biennium. The APSU chapter has achieved Jewel status the past two years. This is achieved when $2,000 or more is raised for the Alpha Gamma Delta Foundation annually. The Alpha Gamma Delta Foundation supports diabetes research and education, provides educational and leadership programs for women and provides scholarships and grants for members.
Pi Kappa Alpha raised approximately $12,000 for the Humane Society of Clarksville during the Waggle Four Man Tourney, which had more than 200 participants and attendees.
Members of Alpha Delta Pi and Zeta Phi Beta lent their support during the Annual Back to School Bash with Lincoln Homes. They helped create a spirited environment by painting the faces of hundreds of children.
In late May, Jeremy Dubose and Zavion Williams, 2014 initiates with the Theta Beta Chapter of Kappa Alpha Psi, were selected from a pool of 3,000 applicants to attend the Undergraduate Leadership Institute in Cincinnati, Ohio. General Electric has sponsored the program for more than six years.
For more information, contact Stephen Dominy, coordinator of Fraternity and Sorority Affairs at .