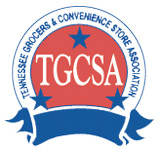 Nashville, TN – The Tennessee Grocers & Convenience Store Association has named its 2014 – 2015 Board of Directors.
Chairman John Edd Wampler of Family Brands International, LLC of Lenoir City and the Board's other officers and directors were elected at the Board's recent annual meeting.
The members of the TGCSA 2014-15 Board of Directors are
Chairman:  John Edd Wampler, Family Brands International, LLC – Lenoir City
Chairman Elect:  Randy Stepherson, Stepherson's Food Stores – Memphis
Vice Chair:  Terry Roberts, Associated Wholesale Grocers – Goodlettsville
Treasurer:  John Jones, K-VA-T Food Stores – Knoxville
President:  Rob Ikard, TGCSA, Nashville
Past Chairman:   Tony Barham, Best Wade/Litco Petroleum – Ripley
Toney Collier, Mitchell Grocery Co. – Pleasantview
Scott Dennis, United Grocery Outlet/Bargain Barn – Shelbyville
Bryant Davis, Pepsi Beverages Company – Nashville
David Fulmer, Publix Super Markets – Brentwood
Joey Hays, Dyer Food Group – Dyer
Toney Miller, MAPCO Express – Brentwood
Jimmy Nichols, Houchens Industries – Bowling Green, KY
Dave Shelek, Coca Cola Refreshments – Knoxville
Gary Pickett, Charles C. Parks Co. – Gallatin
Chris Smith, Kroger – Nashville
Jeff Tietgens, Tietgens Super Rama Foods – Mt. Pleasant
Joe Wolf, Alliance Retail Group – Goodlettsville
About the Tennessee Grocers' & Convenience Store Association
The Tennessee Grocers & Convenience Store Association is the only food trade association that represents all segments of Tennessee's food market.  Membership is comprised of retail grocery store and convenience store operations as well as food industry wholesalers, manufacturers, distributors and suppliers.  TGCSA has been serving the needs of its members since 1978.