Clarksville, TN – The Go Commando Half Marathon, 10K, 5K & Fun Run, powered by CDE Lightband, is back and better than ever.
For those who are no stranger to going commando in Clarksville, Tennessee, you know that this beautiful, around-downtown course brings rewards to all those who dare to take on the challenge.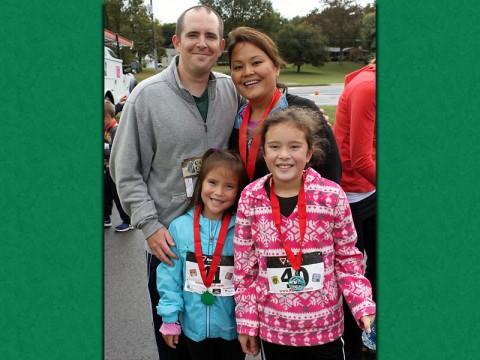 Whether your intention on October 18th is to run the Bootcamp Challenge 10K, Grace Dental 5k or the 13.1 miles, there is room for you to get in on the action.
Go Commando registration is now open and because of its popularity, space is filling up fast. From Maryland to Texas, and everywhere in between, the race has seen faces from all over the country that have wanted to be a part of the Go Commando legacy.
For those who are planning to run the Grace Dental 5K, time is truly of the essence, as there are only 250 spaces remaining.
Go Commando is all about providing opportunities for runners of all ages, that is why we are proud to offer the Premier Medical Liberty Fun Run. For kids 10-and-under, this untimed, mile-long run encourages the younger athletes to join in the action.
Since we know this is the future of those who love going Commando, there is no limit to the number of participants and each finisher receives a limited edition medal. Best of all, the Fun Run does not begin until 10:00am allowing parents ample time to run in the other races and still watch their little ones cross the finish line.
From world record setters and wounded warriors to amateur runners and seniors, the race has hosted individuals from all walks of life. This year will be no different.
On October 18th, runners will take off from Liberty Park bright and early to compete to win bragging rights and even some cold, hard cash. Each participant can choose between a coveted pair of running shorts, or Ranger Panties as we like to call them, or premium tech shirt. All those who cross the finish line will receive a finishers medal.
The overall top male and female winners in the Half Marathon will receive cash prizes. Overall finishers in the Bootcamp Challenge 10k and Grace Dental 5k, and all age group top finishers, will be presented with place awards.
Once you cross the finish line, it is time to celebrate! Runners can relax and enjoy music, refreshments from Publix and a cold Michelob Ultra. There will even be Nesquik Chocolate Milk for the under 21 crowd.
You can go online and register now at www.gocommandoclarksville.com . Prices will increase again on September 30th and no more participants will be accepted once the race is sold out.
Health and Fitness Expo
Go Commando isn't just about the race, it's also about health and wellness in our community. The two-day, free Health and Fitness Expo, presented by The Runners Hub, will begin on October 17th and run until the race is over on the 18th
Over 50 vendors will be on hand to show you tips, trick and ideas to improve your health or your run, and several will be showing off some of the best fitness products available. Good news is, there is still some booth space available for anyone who wants to have access to thousands of expo attendees.
If your business is interested in getting involved with the Expo email or call 931.245.4346. The expo is free to attend, open to the public and everyone is encouraged to come down and learn more.
Course Information
The entire event will begin and end at Liberty Park, in front of the Wilma Rudolph Event Center. The start and finish line will be located in front of the statue of famous Clarksvillian and three-time Olympic Gold Medalist, Wilma Rudolph. The half marathon amd 10k will begin at 7:30am and the 5k will begin at 8:00am.
For the safety of the runners, parking will be available outside the park, with free shuttles taking participants to the site.
Who We Support
As always, 100 percent of the proceeds from the Go Commando Half Marathon, 10K, 5K & Fun Run, powered by CDE Lightband, support local non-profit organizations. Since 2011, this event has raised over $125,000 for local community programs.
The 2014 charities of choice include: Clarksville Area YMCA, Fort Campbell Historical Foundation, Green Beret Foundation, Austin Peay State University, Clarksville Association for Down Syndrome, Cystic Fibrosis Foundation, Courage Beyond, and more.
To learn more about each of our partner agencies visit us at www.gocommandoclarksville.com