Clarksville, TN – The Leonard Bernstein musical On the Town is currently playing at the Roxy regional Theatre in historic downtown Clarksville Tennessee. The show runs through October 4th and is definitely worth going to see if you have not yet done so.
This musical extravaganza follows the antics of three sailors at the height of World War II who are heading into the New York City for 24 hours of liberty. Sailors on liberty generally look for the action, maybe a little food, drink, and most definitely a date! You have all heard of the old Navy axiom a girl in every port; well these three sailors try their best to live up to it.
The video below is from the Broadway version of this show, but it gives you a great idea of what you can expect at the Roxy.
"On the Town" stars local attorney Stacy Turner as Hildy, Michael Spaziani as Gabey, Ryan Bowie as Chip, Cameron Perry as Ozzie, Allie McCaw as Claire, Emily Rourke as Ivy, Keith Patrick McCoy as Judge Pitkin and Kim Kinsley as Madame Dilly. They are backed up by Tyler Baxter, Corinne Bupp, Laura Donnelly, Julio Iguina-Pascual, Chase Miller, Mallory Mundy and Elena Pascullo.
Leonard Bernstein is well known for his musical scores and this one is no exception. The production is filled with rousing scores, fast tempos, and memorable lyrics. "New York, New York," "come up to my place," "Lonely Town," and the hilarious "I Can Cook Too" come to life through the orchestral talents of Anne Glass on piano, Tom Bridwell on trombone, Kathryn Holley on flute, Tom Tapscott on clarinet, John Waddle on bass and Thad Wallus on drums.
The production features choreography by Jessica Davidson, and is directed by Tom Thayer.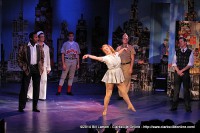 I was impressed with the Roxy regional theater's production of On the Town. It is one of the best of the many shows I've seen at the theater. The vocals were spot on, the costuming was outstanding, and the sets were amazing. I've said many times and I'll say it again I do not know how the Roxy manages to fit such large productions on their relatively small stage.
After you look through the pictures I have included below, I think that you will agree they did an amazing job! Then hopefully you head on down to see this wonderful show for yourself! The Roxy Regional Theatre's production of On the Town is suitable for people of all ages, and everyone will have a great time.
This production of "On the Town" has been made possible in part through the generous support of Bridgestone Metalpha USA, Inc. Additional funding support has been provided by Dr. Ernest & Joan DeWald, Scott & Lynn Jensen, Angela Knowles, Garnett & Nancy Ladd, and Jim B. Marshall.
The show plays Wednesdays and Thursdays at 7:00pm and Fridays and Saturdays at 8:00pm, with a 2:00pm matinee this afternoon.
Tickets are $25.00 (adults) and $15.00 (ages 13 and under) and may be reserved online at www.roxyregionaltheatre.org , by phone at 931.645.7699, or at the theatre during regular box office hours (9:00am to 2:00pm, Monday through Friday, and one hour prior to curtain).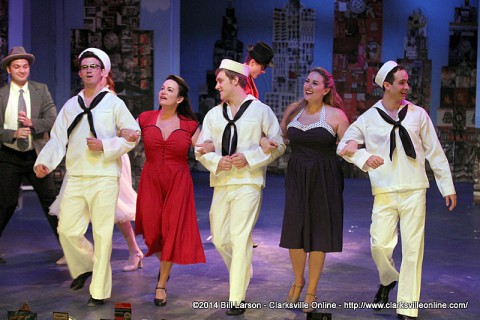 Active-duty military, APSU students and CitySaver coupon holders can receive two tickets for the price of one to Wednesday and Thursday performances during the run
The Roxy Regional Theatre is located at 100 Franklin Street in Downtown Clarksville Tennessee.
Photo Gallery
Synopsis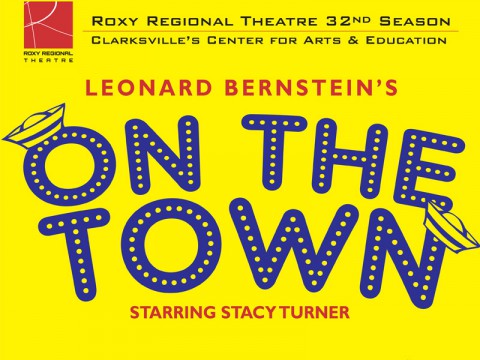 Act I
A quartet of workmen mourn the start of a new work day ("I Feel Like I'm Not Out of Bed Yet"). The whistle blows at 6am, and three sailors, Ozzie, Chip and Gabey, excited for 24 hours of shore leave, emerge ("New York, New York").
Chip is excited to see all the sights that his father told him about after his trip to New York in 1934, with his decade-old guidebook by his side.
Ozzie is interested in finding a date (or several) because Manhattan women are the prettiest in the world.
Gabey is looking for one special girl, hopefully one who reminds him of his 7th grade girlfriend, Minnie Frenchley.
On the subway, the three spot a poster of Ivy Smith, "Miss Turnstiles" for the month of June. Gabey, overcome with love for the picture, takes it with him. An old lady angrily tells him that she will have him arrested for vandalism, and the three run off.
Gabey wants to meet Ivy Smith, despite Chip's protests that the city is too big for things like that to happen. Ozzie, recounting an incident where Gabey saved their lives, convinces Chip to help Gabey find her.
Chip grudgingly agrees, and the three break up, Gabey to Carnegie Hall, Ozzie to the Modern Museum of Art, and Chip to the "subway people." The three imagine what Miss Turnstiles must be like, and a ballet is performed in which Ivy demonstrates the many contradictory, skills she possesses.
The little old lady finds a policeman, and the two chase after the sailors.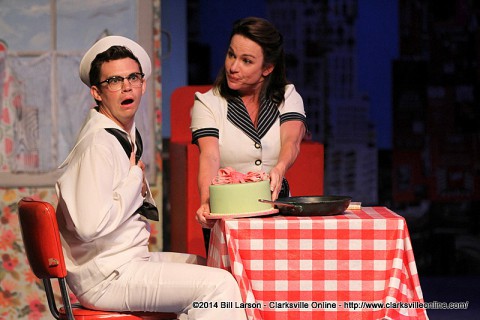 A young female cabbie named Hildy is found asleep in her cab by her irate boss S. Uperman. He fires her and tells her to return the cab in an hour or he will call the police.
Looking for one last fare, she comes across Chip. It's love at first sight, at least for Hildy. She forcefully kisses Chip, but Chip wants nothing more than to find Ivy.
Hildy tempts Chip into taking a tour of the city, but all the places he wants to go (the Hippodrome, the Forrest Theatre to see Tobacco Road, the New York City Aquarium, and the Woolworth Tower) are either no longer in existence or no longer notable.
The only place Hildy wants to take Chip is her apartment ("Come Up to My Place") Mr. Uperman joins the lady and the cop in the chase, implying Hildy stole the cab.
Ozzie goes to the museum, but mistakenly arrives at the Modern Museum of Science instead of the Modern Museum of Art.
There he meets a budding anthropologist, Claire de Loone. She is amazed at his resemblance to a prehistoric man, and asks him for his measurements.
He mistakes her scientific interest for romantic interest, but as she explains, she is engaged to be married to the famous Judge Pitkin W. Bridgework.
Pitkin has taught her to learn to know men scientifically, but she, like Ozzie, often gets "Carried Away." The two of them accidentally knock over a dinosaur. Waldo Figment, the professor who built the dinosaur, joins Uperman, the cop, and the lady in the chase.
Gabey mopes around the city. Without love, New York is nothing but a "Lonely Town."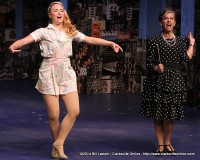 At Carnegie Hall, Ivy Smith is taking lessons from Madame Dilly, a drunk who clearly has no knowledge of vocal training. Ivy is not quite as glamorous as the Miss Turnstiles contest has made her out to be.
In reality, while she is studying to do all the things they said she was, she is nothing more than a "cooch dancer" at Coney Island. When Madame Dilly leaves to refill her flask, Gabey enters. He asks Ivy to go out with him, and to his surprise, she accepts. Gabey leaves ecstatically. Madame Dilly advises Ivy to break the date as "sex and art don't mix" ("Carnegie Hall Pavane")
Ozzie accompanies Claire back to her apartment, where he meets Claire's fiancé, the very understanding Pitkin W. Bridgework ("I Understand"). He leaves them alone to go to a meeting, reminding Claire that they are to meet at Diamond Eddie's to celebrate their engagement. The two take advantage of their alone time ("Carried Away (reprise)")
Hildy brings Chip and an armful of groceries back to her apartment, promising to cook for him. Chip insists that he must leave to find Ivy. She tells him the best way is to look her up on the IRT, but they refuse to give Chip her address or phone number.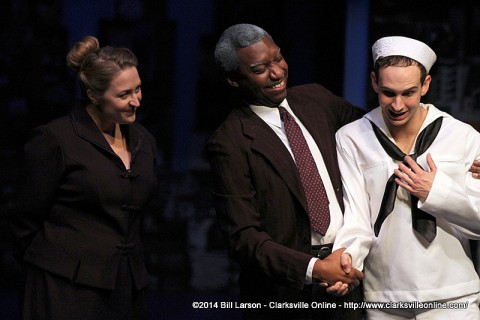 He decides that he has tried hard enough, and he and Hildy attempt to get physical when her roommate, Lucy Schmeeler, home from work with a cold, intrudes. Hildy finally gets rid of her by convincing her to go to an air-cooled movie. Hildy proclaims that on top of her many talents, "I Can Cook Too."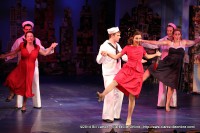 Gabey's attitude has done a full 180, and he feels "Lucky to Be Me." Ivy, about to meet Gabey at Nedick's, runs into Madame Dilly, who tells her that unless she goes to work as a cooch dancer tonight, she will be fired, and not be able to pay her bill to Madame Dilly. Madame Dilly threatens to smear her reputation, and she is forced to stand Gabey up.
Chip and Ozzie both arrive at Nedick's with Hildy and Claire both dressed as Ivy Smith. Gabey isn't fooled, and tells them the story of how he met her.
Just then, Madame Dilly arrives with a message from Ivy: she will not be coming because she instead elected to go to a fancy party. Gabey is alone and dejected, but Hildy tells him that she can get him a date: Lucy. The five go into a dance demonstrating the nightlife of the city.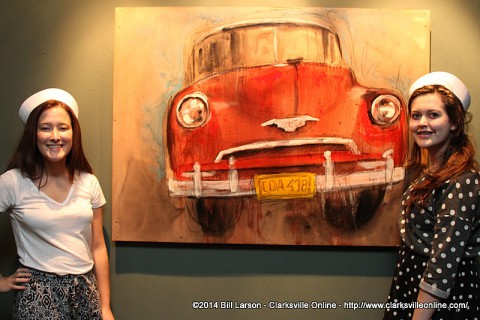 Act II
At Diamond Eddie's, the dancers perform a number ("So Long Baby"). Gabey is still hung up on Miss Turnstiles, and Lucy hasn't shown up yet. A singer, Diana Dream, performs a very sad song, "I Wish I Was Dead," which causes Gabey to feel even sadder.
Lucy calls, having accidentally gone to the Diamond Eddie's in Yonkers.
The group decides to go to the Congacabana at the suggestion of Claire, but on their way out, they run into Pitkin. Ozzie and Claire try to explain the situation, but as before, all Pitkin says is "I Understand (reprise)." The gang leaves for the Congacabana while Pitkin stays behind to pay the check.
At the Congacabana, Dolores Dolores sings the same sad song as before, in Spanish. Hildy interrupts her, saying she had gotten a request to sing. Hildy, as well as Ozzie, Claire and Chip, try to lift Gabey's spirits by reminding him that he can count on them. ("Ya Got Me") As they are about to depart for another nightclub, the Slam Bang Club, Pitkin arrives ("I Understand (reprise)"). Claire tells him once again to pay the check, also to wait for Lucy and come to the Slam Bang later.
At the Slam Bang Club, Madame Dilly is in a drunken stupor. Gabey asks her where Ivy is, and she lets it slip that she is at Coney Island. Gabey runs off to find her. Chip and Ozzie, afraid that he won't be able to get back to the ship on time, rush after him. On their way out, they come across Lucy and Pitkin. Claire once again leaves him to go with Ozzie.
Pitkin recalls all the times in his life that he "understood" and realizes he's been played the fool by everyone, including Claire ("Pitkin's Song (I Understand)"). He also bonds with Lucy and the two of them join the chase along with the little old lady, the police officers, Figment, and Uperman.
Riding the Subway, Gabey dreams about Coney Island and Ivy. An extended dance sequence occurs with Ivy and a dream Gabey in a boxing match. ("Subway Ride/The Great Lover Displays Himself/The Imaginary Coney Island")
The other four have just missed Gabey and are riding another subway car. They wonder about their future after the men have to go back to the ship ("Some Other Time")
At Coney Island, Ivy, along with several other girls, dances in a show called Rajah Bimmy's Harem Scarem ("The Real Coney Island"). Gabey sees Ivy and accidentally tears her already skimpy outfit off. She is arrested for indecent exposure as the chasers arrive and demand the others be arrested.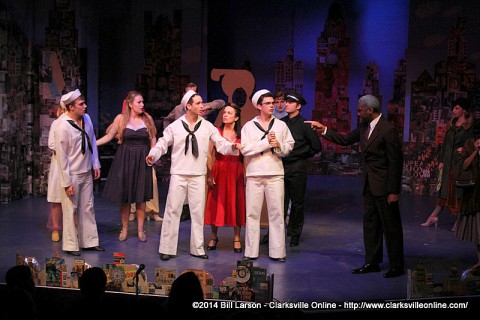 Claire hopes Pitkin will get her out of the situation, but he no longer trusts her and has the three men brought to the naval authorities. The girls ask Pitkin if he's ever "committed an indiscretion," which he staunchly refuses. Just then, he sneezes in the same way as Lucy Schmeeler, casting doubt on his claim.
As the clock chimes 6, the sailors prepare to get back on the ship. Just then, the girls come running to them, telling them that Pitkin understood. They say a fond farewell as three new sailors leave the ship, eager to have their own adventures in New York City ("New York, New York (reprise)/Finale Act II").