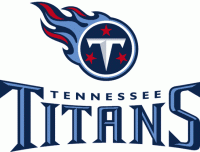 Nashville, TN – The Tennessee Titans (1-3) miscues continued Sunday as the Indianapolis Colts (2-2) rolled for a 41-17 win at Lucas Oil Stadium. Dropped passes, penalties and mental lapses continued to plague Tennessee.
On the Titans first drive, quarterback Charlie Whitehurst hits wide receiver Kendall Wright for a 9 yard catch, however, Wright fumbles the ball and it's recovered by Jean Francois for the Colts on the Tennessee 38. Two plays later, Indianapolis running back Trent Richardson runs it in from 1 yard out for a touchdown.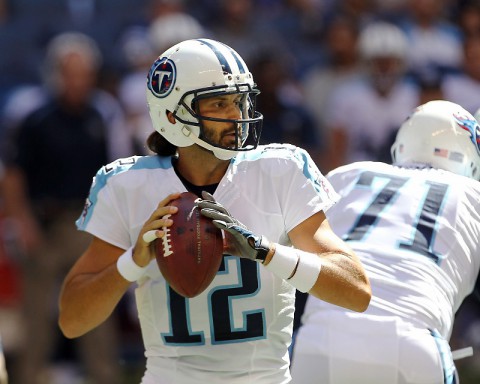 The Colts then executed an onside kick perfectly. Kicker Pat McAfee kicked the ball 21 yards where it was recovered by Griff Whalen.
Eleven plays later, quarterback Andrew Luck connected with tight end Dwayne Allen over the middle for a 7 yard touchdown. Indianapolis was up 14 to nothing at the end of the first quarter.
Woes continued for the Titans on their next drive. Whitehurst throws a deep pass to Justin Hunter but it bounces off Hunter's hands up into the air where Colts safety Mike Adams catches it. Indianapolis converted the turnover into a field goal 10 plays later.
Tennessee finally caught a break near the end of the 2nd quarter. Wesley Woodyard intercepts Luck's pass intended for Hakeem Nicks at the Indianapolis 32. He runs it back to the 25. Three plays later, Whitehurst connects with tight end Delanie walker in the back of the endzone for a 7 yard touchdown. The extra point was good and the Titans went in at the half with the score 20-10 Colts.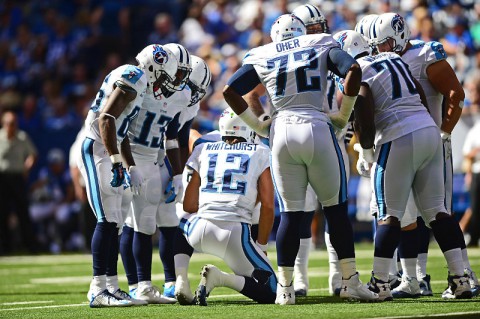 However, that was as close as Tennessee would get. The second half was all Indianapolis. The Colts would score touchdowns on their first two possessions cruising to a 41-17 win.
The Titans continued to shoot themselves in the foot throughout the second half. The defense was unable to get off the field. All the defensive penalties didn't help, especially the two pass interference calls on cornerback Blidi Wreh-Wilson.
Whitehurst ended the day 12 of 23 for 177 yards, a touchdown and an interception that wasn't his fault. Whitehurst also led all Titans rushers with 40 yards on 5 attempts. Bishop Sankey had 34 yards and a late game touchdown on 6 attempts.
Delanie Walker continues to be a beast at tight end for Tennessee. Walker caught 5 balls for 84 yards and a touchdown. Kendall Wright pulled in 5 balls for 55 yards.
For the Colts, Luck completed 29 throws on 41 attempts for 393 yards, 4 touchdowns and an interception. Running back Trent Richardson rushed 20 times for 47 yards and a touchdown. Richardson also caught 4 passes for 52 yards.
In his 200th career game, wide receiver Reggie Wayne was a monster catching 7 passes for 119 yards and a touchdown. It was his 43rd 100-yard receiving game. T.Y. Hilton pulled in 6 balls for 105 yards.
After starting off the season hot with a 26-10 win over the Kansas City Chiefs, the Titans find themselves in a three game skid. If the last two games are an indicator, then it could be a long year for Tennessee if they can not get their head around their problems.
"I'm angry," stated Titans head coach Ken Whisenhunt. "I'm embarrassed. I'm embarrassed because we didn't represent ourselves better than this."
The Tennessee Titans return home Sunday, October 5th to take on the Cleveland Browns (1-2) at LP Field. The Browns are coming off their bye week so they've had two weeks to rest and prepare for this game. Kick off is at 12:00pm CDT.
Titans Tickets
For ticket information, go to www.titansonline.com/tickets , email or call 615.565.4200
Box Score
Tennessee Titans 17, Indianapolis Colts 41
| | | | | | |
| --- | --- | --- | --- | --- | --- |
| | 1 | 2 | 3 | 4 | Final |
| Tennessee Titans | 0 | 10 | 7 | 0 | 17 |
| Indianapolis Colts | 14 | 6 | 14 | 7 | 41 |
Tennessee Titans

Passing
CP/AT
YDS
TD
INT
C. Whitehurst
12/23
177
1
1
Z. Mettenberger
2/5
17
0
1
Rushing
ATT
YDS
TD
LG
C. Whitehurst
5
40
0
23
B. Sankey
6
34
1
10
S. Greene
3
10
0
6
D. McCluster
2
1
0
1
Receiving
REC
YDS
TD
LG
D. Walker
5
84
1
31
K. Wright
5
55
0
18
B. Sankey
2
23
0
13
N. Washington
1
20
0
20
J. Hunter
1
12
0
12
Fumbles
FUM
LOST
REC
YDS
C. Whitehurst
1
0
1
0
K. Wright
1
1
0
0
Kicking
FG
LG
XP
PTS
R. Succop
1/1
36
2/2
5
Punting
NO
AVG
I20
LG
B. Kern
6
41.8
2
55
Punt Returns
NO
AVG
TD
LG
D. McCluster
1
7
0
7
Indianapolis Colts

Passing
CP/AT
YDS
TD
INT
A. Luck
29/41
393
4
1
Rushing
ATT
YDS
TD
LG
T. Richardson
20
47
1
10
A. Bradshaw
9
32
0
6
D. Herron
7
24
0
7
T. Hilton
1
5
0
5
A. Luck
1
-1
0
-1
M. Hasselbeck
3
-2
0
0
Receiving
REC
YDS
TD
LG
R. Wayne
7
119
1
28T
T. Hilton
6
105
0
37
T. Richardson
4
52
0
24
D. Allen
3
38
1
17
C. Fleener
2
26
1
24
A. Bradshaw
2
20
1
15T
D. Moncrief
2
14
0
10
H. Nicks
2
12
0
8
J. Doyle
1
7
0
7
Fumbles
FUM
LOST
REC
YDS
R. Jean Francois
0
0
1
0
Kicking
FG
LG
XP
PTS
A. Vinatieri
2/2
31
5/5
11
Punting
NO
AVG
I20
LG
P. McAfee
4
40.3
3
60
Kickoff Returns
NO
AVG
TD
LG
G. Whalen
2
30
0
32
Punt Returns
NO
AVG
TD
LG
G. Whalen
4
3
0
14