Written by Sgt. Justin Moeller
5th Special Forces Group (Airborne) Public Affairs Office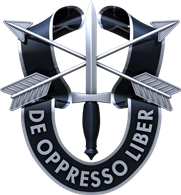 Fort Campbell, KY – The thunder of motorcycle engines rolls across a parking lot as Soldiers with the 5th Special Forces Group (Airborne), as well as Soldiers with the 101st Airborne Division (Air Assault), train on motorcycle safety.
"Motorcycle safety is very important because it is a dangerous hobby, you have to take precautions," said Staff Sgt. Elain Colon, the noncommissioned officer in charge of the water section for the Group Support Battalion, 5th SFG (A). "In the Army, we care about Soldiers, we want them in formation tomorrow morning, so we put a system in place – the Motor Cycle Safety Program teaches different levels of skills to ensure our Soldiers are properly trained while riding a motorcycle and also properly equipped with safety gear."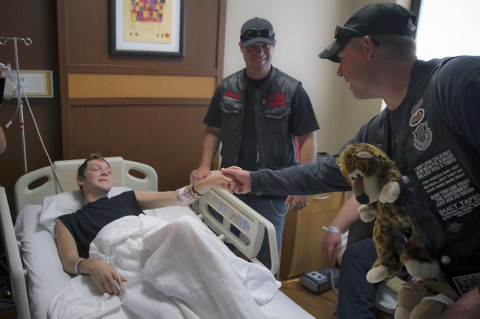 To ensure that Soldiers are efficient motorcycle riders, the Motor Cycle Safety Program was put in place to maintain their specific skills.
"We are training in three critical skills – cornering, swerving and braking – which are lifesaving skills for motorcycle riders "The second part of this event is going down to Nashville with teddy bears on the motorcycles and delivering them to the Children's Hospital at TriStar Centennial."
The delivery of the teddy bears not only gives the Soldiers a chance to practice what they learned during their motorcycle training, it also provides them with an opportunity to bring some excitement to the patients staying at the hospital.
"It's very exciting," said Joann Ettien, administrator for the Children's & Women's Hospital at TriStar Centennial. "I will tell you, every day we care for children of the community and then to have sergeant Colon and have (Soldiers) of Fort Campbell be here today, to give teddy bears, and hugs and warm wishes for them to get better; brightens the day for our children."
Bringing smiles to children who need them is why events like this exist. Colon saw an opportunity to make a difference in his local community and acted.
"I've seen this (teddy bear run) done by different civilian organizations before and I was thinking 'why haven't we done this'," expressed Colon. "I've been here for four years and I haven't seen this done so I thought 'we as military personnel should do an event like this. So I start coordinating it and four months later, we made it happen."
The results were evident in the beaming faces of the children.
"We have children that have just had surgery, children that have repertory issues, children who have fallen and gotten hurt," explained Ettien. "So it's really important on a day when you're in a bed and you can't be outside to play to have somebody come to give you a stuffed animal, a smile and a hug."
Bringing stuffed animals, smiles and hugs is all Colon was hoping to get out of this event, and he accomplished that mission.
"I'm really happy and excited that people supported this," said Colon. "From company to battalion, all the way to group level, they (his chain of command) really helped me with the process that needed to be done to make it happen."
Photo Gallery