Clarksville, TN – With the 82-48 win November 1st versus Webster University, in an exhibition game at the Dunn Center, Austin Peay men's basketball coach Dave Loos begins his 25th season at the helm of the Governors program – and 45th in the coaching profession.
Loos started his coaching career at his alma mater Memphis State (student assistant) in the 1969-70 season, followed by stops at Christian Brothers (assistant coach, 1970-74), Mehlville High School (head coach, 1974-82), Christian Brothers (head coach, 1982-86) and Memphis State (assistant coach, 1986-90) before coming to Austin Peay for the 1990-91 season.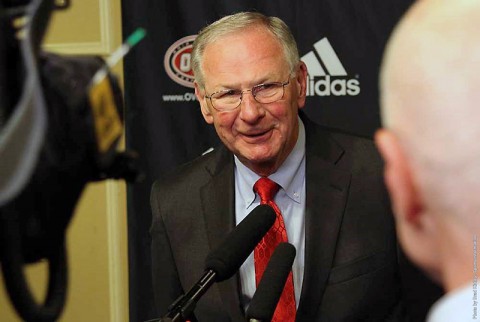 But despite all those years and games under his belt on the bench, Loos still has the excitement and anticipation that comes with the start of the season.
"When we finally got to this week, I could look at it and say 'we have a game this week' and that's exciting." Loos said. "I've got the same excitement had when I was young and I hope I'm a better coach that I was when I was young.
"So I'm looking forward to this year with a good group of guys that have that want-to factor. They're very coachable and I'm looking forward to coaching them this year."
But like any profession that that covered that much time, Loos has seen changes that have occurred in the game and players over the years.
"The game hasn't changed much, other than the culture has changed," he said. "There is a lot more summer basketball and I don't think guys work on their game as much.
"They probable play as much — or more — than back in the day, but you don't get that guy coming in and bears down and works on his shot hard for 40 minutes like that used too."
But that's not all the changes he's seen.
"There are also many more people that are in the ears of players now," Loos said. "It used to be the players, the parents and the high school coach. Now it's additional people they're listening too."
Long with that, it has changed the relationship between the coach and the players.
"It is different today with players than it was when I started," Loos said. "Back in the day, as a coach you told them what to do and a lot of them just did it, because they trusted what you were talking about.
"Now they have so many people telling them this and telling them that, you better be telling them why and showing them why you're doing that."
But one thing that hasn't changed over the years for Loos is his love of what he's doing and having spent much of that time and Austin Peay.
"This has been a great place for me and my family, with all of my children having gone here at one time of the other," he said. "I've been treated fabulously and couldn't have asked to have been treated better by the university and the athletic department. It's been a great partnership.
"I've been blessed and I love what I'm doing. I feel every time someone calls me coach I'm honored. It's been my job to do this the best that I can and do it the right way in representing Austin Peay and the basketball program."