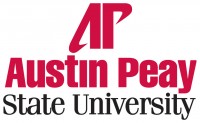 Clarksville, TN – Retired New York congressman Benjamin Gilman spent much of his 30-year political career developing relationships within the international community, so in 2000, the U.S. Department of State developed a prestigious study abroad scholarship named in honor of the former House Foreign Relations Committee chairman.
Each year, thousands of undergraduate college students apply for the Gilman International Scholarship, hoping to receive up to $5,000 to study in a foreign country. This year, the program awarded only 800 scholarships, and one of those went to Austin Peay State University student Ehlana Podgorski.
Podgorski will use the scholarship to spend the spring semester studying at Kyungpook National University, APSU's partner exchange institution in South Korea.
The University is located in Daegu, the third largest metropolitan city in South Korea and one of the host sites for the 2002 FIFA World Cup.
"Study abroad is a special experience for every student who participates," Gilman said. "Living and learning in a vastly different environment of another nation not only exposes our students to alternate views, but also adds an enriching social and cultural experience. It also provides our students with the opportunity to return home with a deeper understanding of their place in the world, encouraging them to be a contributor, rather than a spectator in the international community."
For more information on study abroad opportunities at APSU, contact the University's Office of International Education at 931.221.6851.