Austin Peay (4-7) vs. Lipscomb (4-7)
Sunday, December 21st, 2014 | 2:00pm CT
Nashville, TN | Allen Arena

Nashville, TN – Austin Peay State University men's basketball team will attempt to take momentum into the Christmas holidays when it travels to Allen Arena, 2:00pm, Sunday, to face Lipscomb.
This will be the second time in eight days the two teams have met. A week ago Saturday the Bisons came to Clarksville and defeated the Govs, 69-58.
Since then the two have headed in opposite directions as both sport 4-7 records.
The Govs rebounded from that disappointing loss to defeat Troy, 73-70, Monday, and Oakland City, 76-52, Thursday.
Lipscomb, meanwhile, suffered a pair of difficult road losses, the first at 106-61 defeat at Texas, Tuesday, before dropping a 77-55 decision at Princeton, Friday night.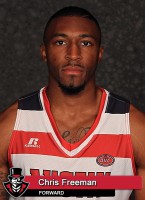 But the Bisons come home knowing they have enjoyed recent success against the Governors. Since resuming the series in 2010, Lipscomb has won all six meetings.
In the most recent contest the Bisons held the Govs to a season-low 33.3 percent (16 of 48) from the floor. The Governors failed to help themselves by shooting only 22 of 36 (61 percent) from the free-throw line.
It was a game that saw APSU's two inside people, Chris Freeman and Chris Horton, limited to just 12 totals points. Freeman left Thursday's game in the first half against Oakland City after suffering a cut over the eye and a chipped tooth after a sideline collision. He didn't return against the Mighty Oaks.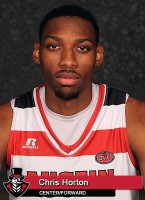 The Govs, however, received a welcomed lift from freshman guard Josh Robinson, who knocked down seven three pointers in scoring a career-best 23 points. Horton, who bounced back with a double against Troy, continued his surge with 13 points and 14 rebounds against Oakland City.
Senior guard Ed Dyson seemingly has found his niche, scoring 21 points in the first Lipscomb contest while averaging 16.3 points per game in the most three recent games.
Guard Josh Williams lead Lipscomb, averaging 14.3 points per game, while Malcolm Smith comes in at 14 points and 6.3 rebounds per contest.
What You Should Know
The Series:
This is the 71st meeting between the two programs, with APSU leading the series 39-31. After a 47-year break the series resumed in 2010 and APSU has dropped all six meetings, including the December 13th contest, 68-59 in Clarksville, TN.
What A Win Would Mean: It would make the Govs 5-7 in 2014…it would be the Govs' third straight win…it would be APSU's first road win in 2014-15…the Govs would go to 3-2 in December…it would make the Govs 40-31 all-time against Lipscomb…it would make Dave Loos 8-13 against Lipscomb…it would give Loos a 1-2 record against Lipscomb coach Casey Alexander…it would be Dave Loos' 470th career victory.
What A Loss Would Mean: The Govs drop to 4-8 in 2014…they would end the 2014 portion of their schedule without a road win…it would be the sixth straight loss to Lipscomb… they would go to 2-3 in December…Loos would drop to 469-412 overall and 387-359 as the Governors head coach.
Broadcast Information
Radio • Governors Sports Network
Play-by-Play: David Loos
Analyst: Colby Wilson
Govs On The Web
Live Video: http://es.pn/1wDOH3u
Live Audio: www.LetsGoPeay.com
Live Statistics: http://stats.statbroadcast.com