Austin Peay (7-13/4-3 OVC) at SIU Edwardsville (12-9/7-1)
Wednesday, January 28th, 2014 | 7:00pm CT
Edwardsville, IL | Vadalabene Center

Edwardsville, IL – Austin Peay women's basketball team reaches the halfway mark of its 16-game Ohio Valley Conference schedule when it meets SIU Edwardsville in a 7:00pm, Wednesday contest at the Vadalabene Center in Edwardsville, Illinois.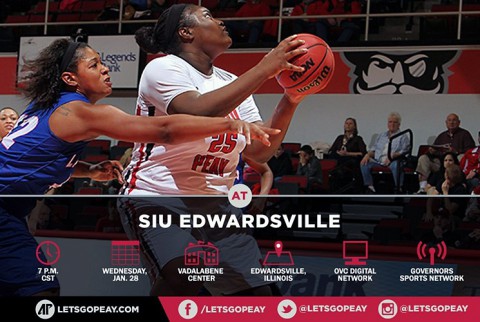 The Lady Govs opened their two-game Illinois swing with a 66-63 victory at Eastern Illinois, Saturday. Austin Peay led nearly wire-to-wire, only trailing for 47 seconds, and improved to 3-1 in road OVC contests.
Junior guard Tiasha Gray was responsible for nearly half of APSU's offense, finishing the game with  32 points, 11 rebounds, 5 steals and 3 assists.
APSU continues the roadtrip Wednesday in a game that will be a matchup between the league's top two defensive units – as measured by opponent's field goal percentage.
Austin Peay has held league opponents to a league-leading 38.2 percent shooting while SIUE is limiting opponents to 38.9 percent shooting – second in the league.
However, SIUE holds a sizeable advantage in turnover margin, ranking fourth in the league at plus-1.4 while APSU is last in the league at minus-5.0.
Gray has been Austin Peay's leader on the court this season, leading the team in scoring (20.7 ppg), rebounding (6.6 rpg), assists (5.8 apg) and steals (3.5 spg). She is the OVC leader and ranks eighth nationally in steals, while ranking second among OVC players in scoring (21st nationally) and assists (20th nationally).
About the SIU Edwards Cougars
SIUE opened its quick two-game homestand with a 78-52 victory against Murray State, Saturday. The Cougars have won seven straight OVC contests after opening league play with a three-point home loss to Jacksonville State. SIUE owns a plus-10.2 scoring margin in league play, behind only UT Martin's gaudy plus-24.3 margin in OVC games.
The Cougars are second among league teams in scoring offense (72.6 ppg) and scoring defense (62.2 ppg), largely thanks to leading the league in free throws made (133) and free throw percentage (80.6).
Junior guard Shronda Butts has seen her productivity jump in OVC play, ranking third among scorers with 18.8 points per game after averaging just 10.2 points per game in nonconference action.
Senior Tierny Austin (7.3 rpg) and freshman Gwen Adams (6.1 rpg) also form a formidable rebounding tandem, ranking 13th and 20th among league rebounders, respectively.
Last Season's Meetings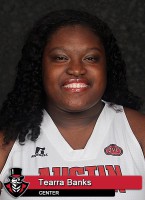 Austin Peay and SIUE split their home-and-home series last season with the road team winning each contest. The Lady Govs won a 77-67 decision in Edwardsville, January 20th, with SIUE returning the favor three weeks later courtesy a 81-65 victory in Clarksville, February 15th.
In the first meeting, the Lady Govs put together one of their finest halves of the season and built a 20-point, 42-22, halftime advantage.
Austin Peay then opened the second half with an 11-4 run to build its largest lead of the season – a 27-point, 53-26, advantage with 16:32 remaining. SIUE could only trim the deficit to single digits in the final 30 seconds, closing to within nine points, but would get no closer.
Tiasha Gray came off the bench and for the third-straight game led APSU, scoring 20 points at SIUE with four assists and four steals. Tearra Banks added a then-career-high 19 points to APSU's winning performance.
Tierny Austin posted a 21-point, 11-rebound performance to pace SIUE.
In the season's second meeting, SIUE used a 21-6 second half run to break open the game. Austin Peay would close the deficit to within six points with 6:56 to go in the half, but the Cougars closed the contest on a 15-6 run that saw APSU miss 11 of its final 13 shot attempts.
For the second half, the Lady Govs were a dismal 30.6 percent (11-for-36) from the floor and finished the contest 2-for-18 (11.1 percent) from beyond the three-point line.
SIUE's bench proved the tougher of the two second units in Saturday's contest, outscoring Austin Peay's reserves 34-12. The Cougars Tierny Austin led all scorers with 19 points, while Allyssa Decker added 13 off the pine.
Beth Rates' star shone brightest for the Lady Govs in the second game – finishing with a team-high 17 points on 6-for-10 shooting. She also led Austin Peay with nine rebounds and seven assists. Gray was held scoreless in the second half to finish with 12 points
The More You Know
An Austin Peay Win Would: Be its third straight win at the Vadalabene Center… Level the all-time series against SIUE at 4-4… Be its second consecutive win… Make it 5-3 in OVC play, its best 8-game OVC mark since 2010-11 (finished 12-6)… Improve Carrie Daniels' record to 96-170 overall… Move Daniels to 63-87 in OVC play… Make the Lady Govs 449-643 overall since 1976-77.
An Austin Peay Loss Would: Be its first loss in Edwardsville since January 12th, 2012, ending a two-game winning streak… Be its second straight loss to SIUE… Drop it to 4-4 in OVC play, equalling last season's 8-game mark… Drop Daniels' record to 95-171 overall… Drop Daniels to 62-88 in OVC play… Make the Lady Govs 448-644 overall since 1976-77.
Broadcast Information
Radio • WAPX 91.9 FM
Play-by-Play: Josh Stephenson
Lady Govs on the Web
Live Video: www.OVCDigitalNetwork.com
Live Audio: www.LetsGoPeay.com/Watch
Live Statistics: www.SIUECougars.com