Clarksville, TN – On Saturday, January 31st, 2015 at 4:06pm, the Clarksville Police Department responded to a crash near the 700 block of Needmore Road.
A 2004 Mercury Mountaineer, driven by 34-year-old Clarksville resident Deborah J. Moore, left the roadway on the right-hand side hitting a ditch, which caused the vehicle to go airborne.
During the vehicle's uncontrolled travel, it struck two mailboxes and knocked down a tree before coming to rest on the driver's side.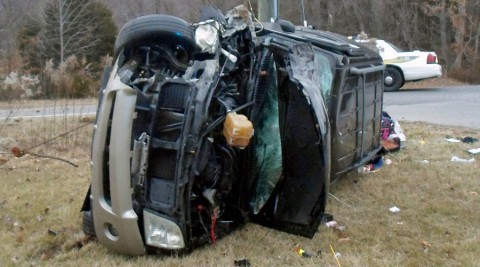 During an interview, the driver stated that she swerved to avoid a vehicle that was in her lane of travel.
The driver was transported by EMS to Gateway Medical Center with non-life threatening injuries. There was a 3-year-old passenger, not the driver's daughter, that was transported by LifeFlight to Vanderbilt Medical Center with non-life threatening injuries for precautionary reasons.
There is no further information at this time.
Photo Gallery